Detroit police fatally shoot murder suspect after he fired at precinct and officers
DETROIT - WEB UPDATE: The murdered victim of the gunman is the niece of Tenisha Yancey, a Democratic member of the Michigan House of Representatives, representing the 1st House District.
Detroit police fatally shot a 28-year-old man after he killed his estranged girlfriend Monday night and fired at one of the department's precincts Tuesday morning.
Several rounds of gunfire were exchanged in the parking lot of a closed business around 8 a.m. between special response officers and the man, who was armed with an AR-15 and had indicated plans to fire at police.
Detroit Police Chief James Craig said after the suspect fired at the precinct, he drove to a vacant parking lot on Harper Avenue where the department's special response team used an armored vehicle to block him in. Had they not, there could have been more violence, Craig said.
Earlier in the evening, the man had killed a 28-year-old woman following a dispute regarding custody of their child. The man allegedly shot her around 11:15 p.m. near Warren and Grand River.
Then around 5:15 a.m., the man pulled up to the fifth precinct, pulled out a gun with a long barrel, laid it across the hood of his vehicle, and fired four rounds into the building.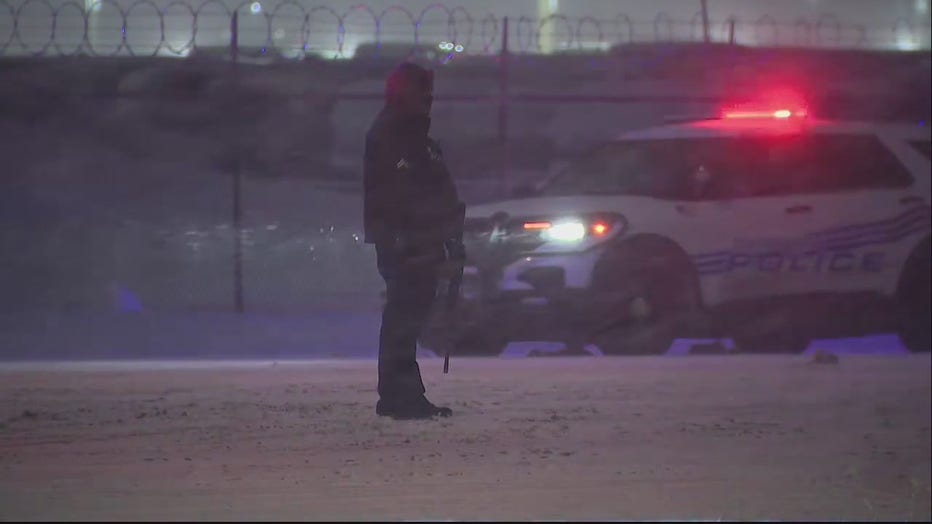 An armed police officer near a barricaded gunman scene in Detroit Tuesday morning
A commanding officer said the department has two panes of bullet-proof glass separating the outside door and the front desk and that one of them had been shattered.
A lieutenant seated at the desk exited out the back of the building and put out a help call. 
"At this point, the suspect had left and engaged in additional responding (police) cars," said Craig during an early morning press conference.
Sometime during the incident, the suspect shot at a squad car, injuring one of the officers after broken glass cut them. No other injuries were reported throughout the morning.
Officers made several failed attempts to contact the suspect, who at this point was considered a barricaded gunman because he was holed up in his vehicle.
"As they (Special Response Team) moved in, they could see he was holding an AR-15 and officers asked to see his hands," Craig said. "The man shook his head, 'negative' and there was an exchange of gunfire between this suspect and the SRT officers."
After the man was struck, officers immediately deployed life-saving measures but were ultimately unsuccessful.
Craig said this was the 31st high-risk incident involving a barricaded gunman this year, a "significantly higher" number than in previous years.
"This was a very high-risk situation for a couple reasons. We believed he was responsible for taking the life of his estranged girlfriend or the child's mother," Craig said. 
Text messages reviewed by Detroit police between the suspect and what appears to be members of the female victim's family indicated the man had planned to kill the woman if his child was taken from him.
The texts also mention police and a judge, which DPD believed was why he arrived at the fifth precinct hours later. When police were following him, the suspect put on his turn signals and tapped his brake lights - a tactic that shooters use when they are trying to lure in police, said the police chief.
"We believed if patrol officers approached him, he would have engaged them and that's exactly what happened when the Special Response Team responded. Bt they came in with armored vehicles," Craig said. "If he had gotten away, there could have been additional carnage."
The suspect has a history of domestic violence and had an arrest warrant out of Southfield. 
Michigan State Police assisted the DPD after a request for additional backup was made.
After a barricaded gunman situation was declared, a perimeter near Mack and Conner was established, closing roads in the area. 
It's unclear what the status of the child is.