'Quite complex': 5 suspects arrested in 3 states after Wayne County deputy murdered in Detroit
DETROIT - Four suspects were arrested after law enforcement in three states executed nine search warrants simultaneously in connection to the fatal shooting of a Wayne County deputy in September.
A fifth suspect was arrested Friday afternoon, just hours after police announced the four arrests. Police were following that suspect when the suspect crashed and was taken into custody on the city's east side.
Detroit Police Chief James White said 10 firearms were recovered following the search warrants, which commenced in Ohio, Georgia, and Michigan around 7 a.m. Thursday morning.
White said the investigation into deputy Devante Jones' death was "quite complex," and "very very layered" during a press briefing, but declined to go into details regarding any connection between the suspects and victim.
The collaboration between law enforcement "was a feat that in my 21 years I've never seen a local police department do," said DPD Commander Michael McGinnis, who oversaw the investigation. "It's really remarkable."
Police would confirm which charges they would be seeking, but McGinnis did say murder charges were on the table.
Wayne County Sheriff Raphael Washington was among the law enforcement personnel in attendance for the briefing, who said he had been in contact with the victim's family multiple times following the shooting. In his conversations with his mother, Washington said he promised they would not stop until both the family and the sheriffs department had justice.
Jones, he said, was a "father to a beautiful child with another child on the way."
"Devante Jones joined the police department in 2019 and worked in jail division one. Deputy Jones was a hard worker who was always eager to work when we were short."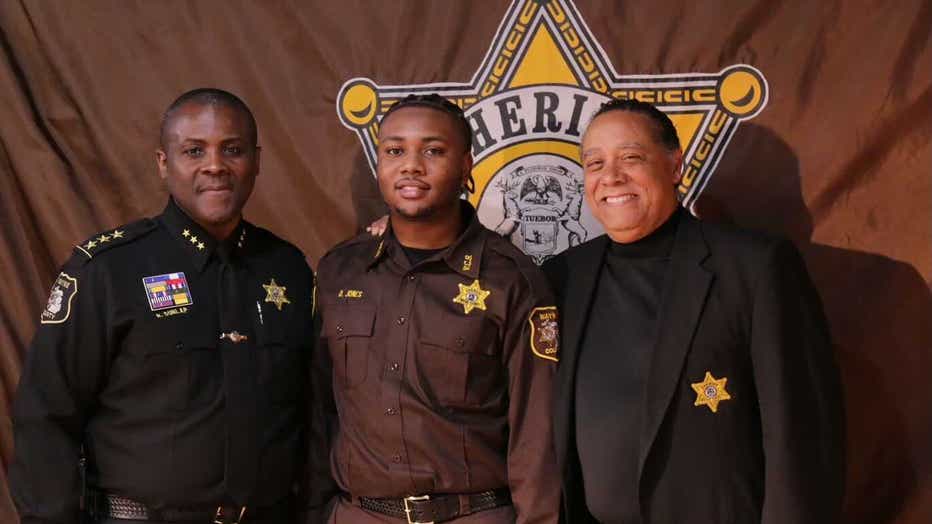 Jones was shot in the early hours of Sept. 20 after he dropped off a friend in the area of East Forest Avenue and the Chrysler Service Drive, which is just outside of the downtown area.
Jones was shot multiple times, according to police. He was in a car when the gunfire began. In an effort to escape injury, police said Jones left his car and fled the area.
He was found with multiple gunshot wounds and was taken to Detroit Receiving Hospital. He succumbed to his injuries at 4:48 a.m.
Prior to the shooting, Jones had gotten off his shift, which ended at 11 p.m. Sunday. The person he had dropped off was not a member of the sheriff's department, police said.
RELATED: Wayne County corrections officer killed after being shot several times in Detroit
"We're pretty confident we're going to get the shooter," Undersheriff Mike Jaafar said during a news conference later that day.
Police declined to offer many details on the suspects that were arrested but said two arrests were made in Macomb County, including one individual who had an outstanding murder warrant from Fort Worth Texas.
When asked if the crime involved an organized group, White demurred but said "well done."
We'll let madam prosecutor do her work first and when that happens, we'll give you an updated briefing," he said.