Driver gives girl to neighbors after hitting her, search continues for man who executed panhandler, and more
TUESDAY NEWS HIT - A Detroit girl sprinted into Addison Street with money in her hand Saturday when she heard the ice cream truck.
As the 7-year-old was headed back home, an SUV hit her, throwing her several feet. Surveillance video showed the driver getting out, picking up the girl, and handing her to neighbors. When a witness went to get the child's father, the driver backed up left.
"Why not call 911? Why not call the ambulance? Even if you are not wrong," said Mohsen Elan, the girl's father.
Elan said he has warned his children countless times about the dangers of going into the street.
"When she came in here [the house], I thought she was dead," he said.
The girl was taken to a hospital. While he was there, the driver returned to talk with investigators. Now, Detroit police are determining if charges are appropriate.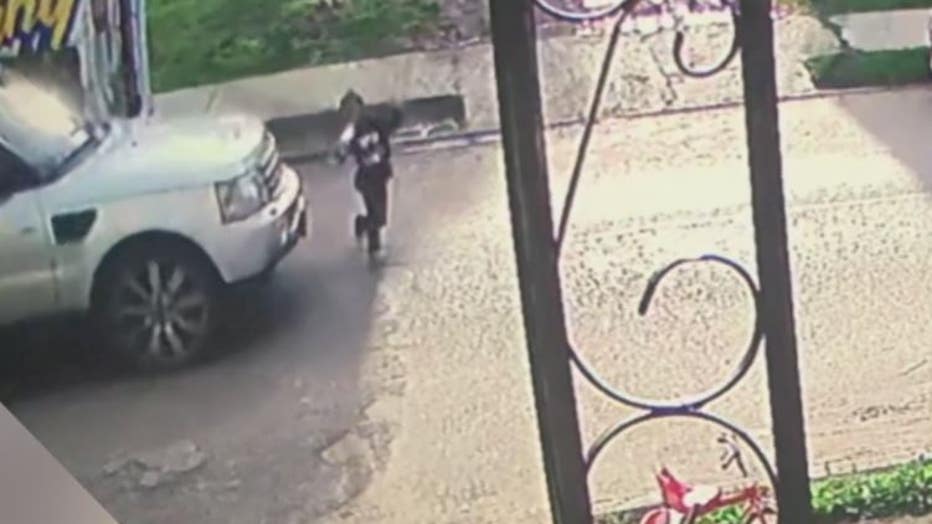 Still image of video right before the 7-year-old girl was hit.
"They give their ID to the police and they take his information and let him go," Elan said.
Elan said he is talking to lawyers, but his main concern is his daughter's wellbeing.
"The only thing I'm worried about is my daughter," he said.
The little girl is now recovering at home.
Community joins search for man who killed panhandler
Denez Dupree was outside a Detroit gas station at Dexter and Collingwood around 7:30 a.m. Oct. 3 when a man approached him, began talking to him, and gave him money.
The man walked away but then walked back and shot Dupree, killing him.
Dupree frequented the gas station and would sometimes pump gas for people in exchange for change.
Detroit police and the community are now searching for the man who committed what police called a "random execution for no reason."
Community members were passing out flyers Monday with photos of the suspect and Dupree in hopes that someone will recognize the killer and come forward.
The shooter, who fled northwest from the scene, is white, stands about 5 feet, 9 inches, and was wearing a puffer jacket, a hoodie, black pants, and black shoes. He had a backpack with bright yellow zippers.
Anyone with information is asked to call police at 313-596-2555 or Crimes Stoppers at 1-800-SPEAK-UP.
Driver yells at landscaper for damaging mirror after hitting him with car
A landscaper was blowing leaves in Detroit on Oct. 7 when someone hit him with a car.
While 71-year-old James Elmore was on the ground yelling for help in the area of Mack Avenue and Bewick Street, the driver who hit him backed up to yell at him for breaking their car mirror.
The driver then fled in a black Mercedes sedan with the license plate DAK-0874.
Elmore suffered a broken leg and his ankle is broken in three places. He will have multiple surgeries, and it is unknown if he'll ever be able to walk again.
Anyone with information about the hit-and-run are asked to call Crime Stoppers at 1-800-SPEAK-UP.
Detroit building $5 million animal care facility
Detroit Animal Care and Control is getting a new facility.
The city announced Monday that it will build a $5 million shelter that will have more space and amenities than the current one. The shelter, which only has about 84 kennels, is often overcrowded.
The new shelter will be built at Russell and Ferry. It will have 200 kennels, as well as a full-service veterinary clinic, more space for care, and more room for customers.
Construction will begin later this year and is expected to be completed in spring 2023.
What else we're watching
Live on FOX 2
Daily forecast
Temperatures are still above average – for now.
Coroner to give update on final results of Gabby Petito's autopsy
Just over a month after Gabby Petito was reported missing, authorities in Wyoming are set to provide more details on her final autopsy report Tuesday afternoon.
In preliminary findings, the coroner on Sept. 21 previously ruled the manner of her death a homicide but a specific cause of death was pending the final autopsy results.