Family says group home starved woman to death • MSP investigates freeway shooting • Man threatens professors
WEDNESDAY NEWS HIT - A family is suing after they allege a group home starved a 71-year-old woman to death.
Bertha Jones, known to her family as BJ, was born with a spinal deformity that left her blind, deaf, and in a wheelchair her entire life.
Her niece, Charlene Jones, claims that the Community Spirit Group in Van Buren Township home didn't feed. BJ had lived there since 1983.
"Why do they treat her like that? She didn't deserve that," Charlene said. "All they had to do is just take care of her. She wasn't violent. She couldn't back talk. She couldn't give you a hard time. If you fed her, everybody knew, BJ loves to eat."
According to a newly filed $25 million lawsuit, the sole cause of BJ's death was "protein calorie malnutrition."
An attorney for BJ's estate, Albert Dib, said the group didn't have enough people to care for BJ.
"I think it's because the staff, The home was understaffed, I think that the workers that did show up were not qualified," Dib said.
Police investigate freeway shooting
Michigan State Police found three bullet holes in a man's car after he called 911 to report a freeway shooting in Detroit.
The 19-year-old Hamtramck man was on his way home around 2:30 a.m. Wednesday. He was getting onto the eastbound Davison Freeway from the southbound Lodge Freeway when he heard two to three gunshots.
The victim said he heard something go over his head and sped away. He got onto northbound I-75 and exited at Eight Mile to call 911.
Police said the victim was not hurt, and the investigation is ongoing.
Man threatened to 'hide flesh of (professors') children in hamburger meat'
A Jackson County man is in custody after authorities say he sent numerous disturbing emails to professors at a Wisconsin university.
Arvin Raj Mathur was arrested at Detroit Metro Airport after arriving from Denmark. The disgusting details of his threats were revealed in federal court documents that show he was emailing former friends and professors that he was going kill and hide the flesh of their children in hamburger meat.
Mathur, who was a graduate student at the University of Wisconsin-Madison, is accused of threatening nine people, most of them graduate students, staff or professors at the Madison campus. Among those emails was one to an anthropology professor saying that two of the other people he had threatened should "sue me right away," authorities said.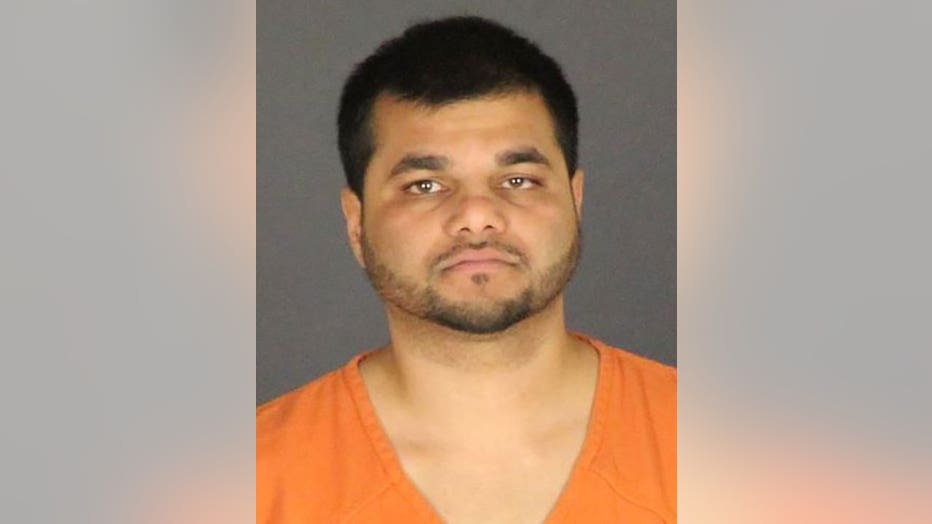 "Otherwise, I will murder their children. Call the police and a lawyer, otherwise, I will kill their children and hide their flesh inside of their burger meat," he added in the email, court records show.
He accused some victims of espionage for the Chinese government, and the emails became more aggressive as time went on.
Body cam shows officer rescuing passenger from burning SUV
When Southfield Police Officer Patrick McCormick arrived at a fiery crash scene Saturday, he saw someone was trapped in the passenger side.
Bystanders had already pulled the driver from the SUV before McCormick's arrival. The officer grabbed his fire extinguisher and worked to put out the flames enough to pull the victim from the front seat of the fully engulfed vehicle.
Despite his efforts to rescue the victim, they died the next day at a hospital. McCormick was honored by the Southfield fire and police departments for risking his own safety to try to save someone else.
Police said the driver of the burning vehicle was speeding when they ran a red light on Eight Mile and hit another vehicle. Both drivers survived.
Senate expected to vote on Michigan gun reform
The Michigan Senate is expected to vote soon on a package of bills that would change gun laws.
This 11-bill package was introduced after the Michigan State University shooting. Highlights include red flag laws, universal background checks, and safe storage requirements.
In the midst of this, a gun control rally is scheduled for the steps of the Michigan Capitol in Lansing organized by former Congresswoman Gabrielle Giffords, who survived an assassination attempt. Other shooting survivors and gun safety advocates will join her.
Live on FOX 2
Daily Forecast
The cold and snow is behind us.
What else we're watching
Biden to put issue of lowering drug costs at center of political agenda
President Joe Biden will highlight the stark differences in how Democrats are tackling skyrocketing drug prices compared to their Republican counterparts as he gears up for an expected reelection announcement.
In a speech on Wednesday in Las Vegas that could serve as a preview of the campaign ahead, Biden planned to put the issue of lowering drug costs at the center of his policy and political agenda.
The White House thinks it has a winning message in showcasing legislation passed last year that is expected to save taxpayers billions of dollars and lower the cost of drugs for the roughly 84 million Americans who rely on Medicare.