'He's a sick person': Metro Detroit trusted coach's well-known secret exposed
DETROIT (FOX 2) - Their names, at least here, are Dev, Marcus, Jayden, and Aaron. We're protecting their identities as they're sharing their stories of a coach they thought they could trust. 
They all knew Jerremy Thompkins as 'Coach J' and, over the course of his 20-year career, was known to do many inappropriate things with his players. Three independent sources who worked with Thompkins over the past two decades told us that "everyone knew what Jerremy was doing with those little boys." 
Dev was a 6'6" standout who played in college. Before that, he was recruited to Cornerstone Health and Technology High School on Detroit's west side. He got close to Coach J in his junior year. There were phone calls and sleepovers all under the guise of Coach J mentoring Dev to become a basketball star.
"We would play video games and watch wrestling because he was a big wrestling fan," Dev said.
The summer after he graduated in 2020, at the age of 18, Dev had car problems and called Coach J for help. The day ended at Thompkins' home in the old Hermann Gardens Housing Projects in Detroit and nothing seemed out of the ordinary until Dev says Thompkins jumped on top of him, pinning him down and putting his hands under his clothes.
"I couldn't really do nothing. I couldn't get him off me. I told him to stop because it was hard to breathe and he did it about two or three times," Dev said.
At 6'5", 300 lbs, Thompkins' nickname was Shaq, and Dev was underneath him, barely able to move. He says he wiggled away twice and ran to the bathroom to hide, but Thompkins busted in and pulled him back onto the couch. Dev said he tried to grab his crotch and that he told him to get off but Thompkins wouldn't stop.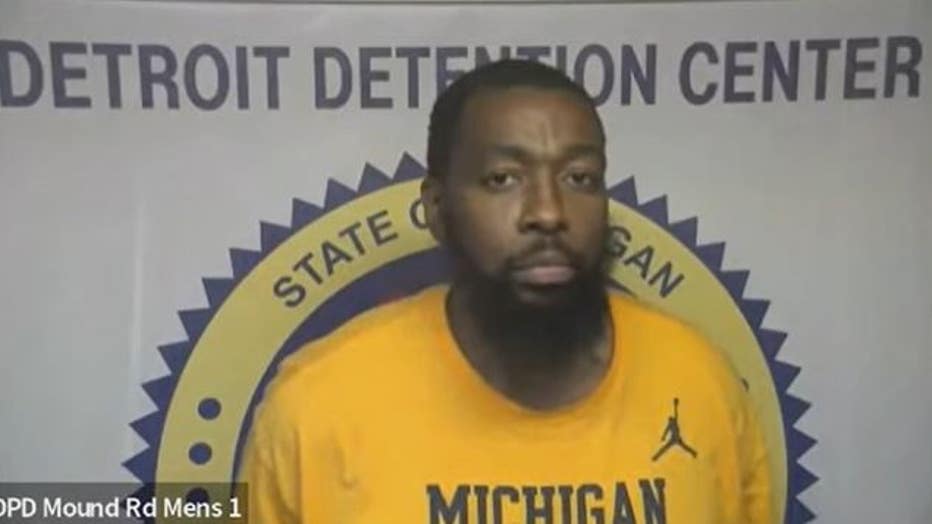 The third time it happened, Dev said he had to fake a back spasm to get away. 
He spent the past three years with the trauma of Thompkins' hand on his penis – until now.
'Sexual study parties' allegedly hosted by Farmington basketball coach, spark investigation
"Kind of feel like something happening, like, that feels like their manhood has been taken. That's something you don't do," Dev said.
Thompkins is a retired Detroit firefighter and bounced around as an assistant coach for at least nine different high schools and community colleges since the 2000s – all in and around Detroit.
A high-level anonymous source who was employed at Cornerstone when Dev was there told FOX 2 that Thompkins was having sleepovers with multiple players at his Detroit home. It happened so often, the source says, that higher-ups at the school eventually asked Thompkins to stop seeing players outside of school.
The source gave us three additional names of underage boys from Cornerstone, who were spending "a significant amount of time" after school hours and on weekends with Coach J. We were able to reach one of those players. However, he did not want to get involved with our story.
Thompkins was ultimately fired from Cornerstone for unrelated reasons.
Dev never reported the alleged assault to the police.
"(I was) scared. I was younger, I didn't think about the big picture. Like, he could possibly do that to somebody else, so I kind of feel guilty about it because I probably could have stopped it from happening in the future. I know how I was feeling at 18 years old, so I can just imagine somebody 15 or 16 is feeling," Dev said.
But what happened to the other children we met is the reason Dev is now coming forward.
Aaron, again, not his real name, would stay at Coach J's house five times a week. The term 'sleepovers' surfaced this October when two boys, ages 15 and 16, who played for Thompkins at Farmington High School. They both took the stand during Thompkins preliminary exam earlier in November.
Text messages on their phones broke open the investigation into Thompkins' alleged behavior. He was ultimately charged in Detroit for second and fourth-degree criminal sexual conduct.
One of those minors we're calling Aaron, who says Coach J bragged about how he'd convinced his parents that he was trustworthy.
"Basically manipulate my mom into letting me stay the night at his house by saying all the right things," Aaron said.
On two separate occasions this fall, Aaron said Thompkins touched his inner upper thigh and groin.
"I felt, like, rubbing on my leg and I was confused," he said. "I was thinking he was about to do something (sexual)."
His friend and teammate "Jayden" describes a similar but more aggressive attack: He said Thompkins tried to perform oral sex on him.
"(I) felt like rubbing on my leg and I was confused," Jayden said. "I was thinking he was about to do something."
Jayden testified in October, it started as a massage at Thompkins' home near Joy and the Southfield Freeway. Jayden, 16, says massages happened regularly as part of Thompkins' so-called 'training routine'. But this one was different. He said Thompkins tried to touch his testicles and that, similar to Dev's story, Thompkins used his size to overpower him and wound up straddling him.
"He had got really close to my neck kind of like where his lips were touching my neck and breathing hard," Jayden testified in court.
Jayden got free and said Thompkins said "I thought you wanted me to s*** your d***".
The teen said he then got up and, without much conversation, Thompkins drove him home.
"I wake my mom up she wasn't fully asleep I said I need you to get up I gave her a hug I started crying a little bit and told her what happened," Jayden said.
As Detroit Police investigated, Thompkins was fired from Farmington High School. Three other coaches were fired as well. One of them was boys' varsity head coach Darrick McDowell, who was well-known at the high school and collegiate level.
He and the other two coaches were fired for having some knowledge of Thompkins' alleged actions but did not report it. They are not facing any charges.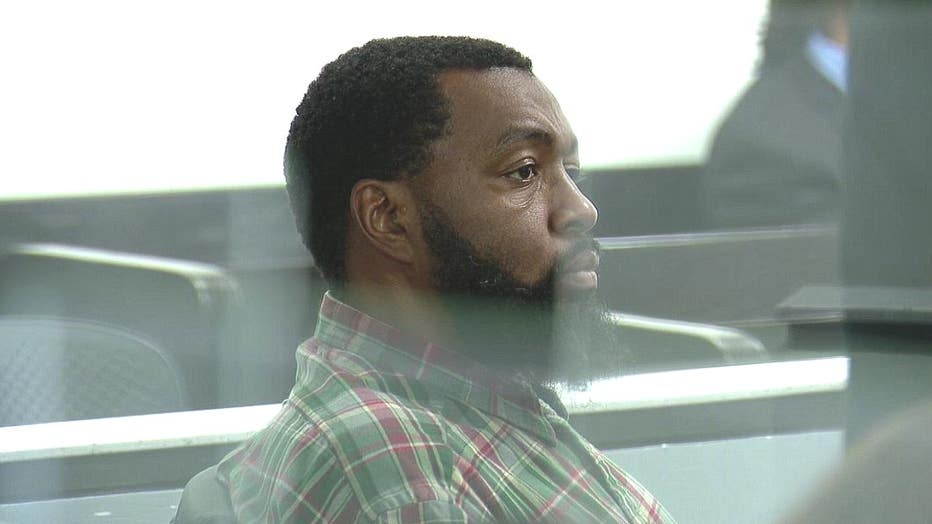 Jerremy Thompkins in court.
Thompkins' previous charges
This is not the first time Thompkins has been charged. Fifteen years ago, Thompkins was charged after a 17-year-old former player we're calling Marcus tried to warn everyone.
"(He) started to get a little handy … touching … my body (and saying) yeah you develop real good," Marcus said.
Marcus, today a dad and husband, was at a summer basketball program at Henry Ford High School in Detroit when he met Coach J.
He said incidents like the 'handsy' one added up but were still in a gray area. That changed in the winter of 2008 when Marcus was 17. He said Thompkins offered to help fill out college financial aid forms at his house when, as other boys describe, he was suddenly assaulted.
"So then he just said it's wedgy time. He gets up from his end of the sectional, walks over to where I am, and started trying to wrestle. so I said, why are you trying to wrestle? It's only two of us in here," Marcus said. "You and I know that wedgy happens in the back, but this particular time he reaches in the front of my pants, and, like, grabs the bottom of my boxer shorts to where the back of his hand is touching my, you know, my area my genitals area."
He said it was skin-on-skin contact and that he was able to get away quickly. But Thompkins had a message for him.
"He said 'no, but for real when you wanna make some real money, let me know man.' I said 'I do not know what you're talking about'," Thompkins said. "His exact words were he said from top to bottom you know what I'm talking about."
Marcus heard the offer of sex for money.
He told police and criminal sexual conduct charges were brought up. A bench trial went in Wayne County Circuit Court but charges were dismissed due to a lack of evidence.
"For the sake of this interview, I won't say what I could've done, but mad is an understatement," Marcus said.
It's taken him years to accept an move on and he's now encouraging other victims who might be out there to move out of the shadows and contact the police.
"Give yourself the grace to be able to free yourself from what it is that you went through, because, honestly, if you don't, you'll deal with it at some point," Marcus said.
Another basketball coach accused
After we first broke the story of Thompkins and his alleged sexual assault on the two teenagers, more calls came in – with one taking us in a new direction and a new name: Coach Mark White.
The 58-year-old basketball coach is one of the best to come out of Detroit and even won a state championship for River Rouge High School. He was hired at Summit Academy North High School in Huron Township in 2018 to turn around the boys' basketball program. He was ultimately promoted to assistant athletic director, until October when he was suspended.
The accusations against him - an inappropriate relationship with a 13-year-old female student. A source tells us there was a vast amount of digital communication between White and the teen.
This is not the first time White has been part of an inappropriate relationship. It allegedly started during his time at Renaissance High School in Detroit.
Six anonymous former students in the 1990s and 2000s told us they'd known of underage girls who were sexually involved with White. 
"These are serious allegations. You're not talking about one isolated incident, you're talking about multiple incidents over the years – decades, even," said Community Activist Robert Davis.
Davis was consulted in a separate lawsuit involving White and another coach, Vito Jordan, as Detroit Public Schools were sued in 2018 over a hiring and firing dispute for the head coaching job at Renaissance High School. Davis said evidence came out regarding his alleged sexual relationship with girls at River Rouge High School, where he had previously coached. 
In a deposition, White was asked by the plaintiff's attorney if he'd ever been accused of having a sexual relationship with any underage female students.
"He was crying. He put his head down. He refused to answer questions pertaining to whether or not he was engaged in sexual misconduct with female students. And that was quite alarming," Davis said. "If you had nothing to hide, it would be a very easy question to answer no and he couldn't because he was under oath, and he'd be subject to perjury."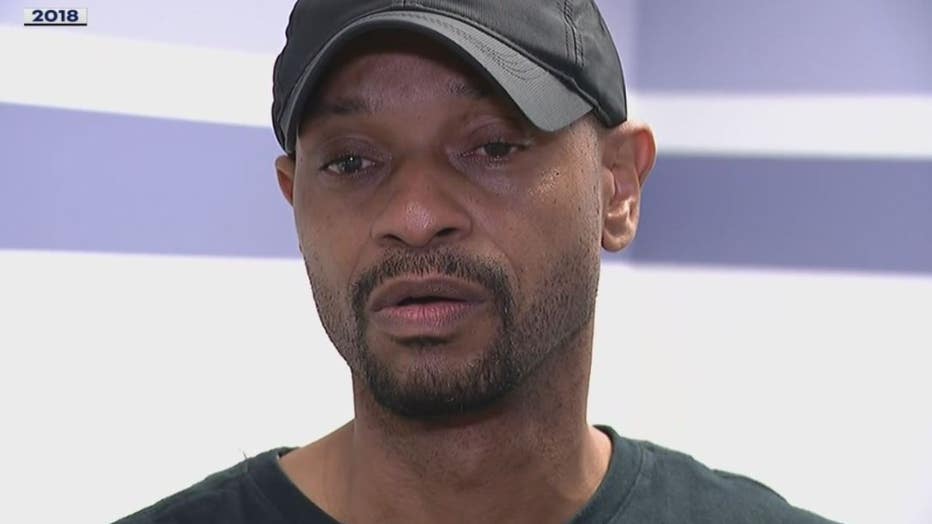 White's attorney at the time advised him not to answer.
Five years later, Huron Township Police are investigating the coach for similar allegations.
"We receive multiple tips and our investigative bureau is running down every single one of those tips. It will be included in the investigation," Huron Township Police Chief Everette Robbins.
The investigation there has only started, Robbins says. But we know the alleged victim is a 13-year-old girl at Summit and the two communicated often.
White's attorney Todd Perkins maintains no comment until the conclusion of that police investigation. White has not been charged with a crime as of Nov. 20.
Both Thompkins and White have ties to thousands of kids – many in the city of Detroit – which is why we've shared what we've found. It's both for the victims and the police. We shared details with Detroit Police to aid in their ongoing investigations.
"I think it's most important to understand that it takes everyone's cooperation, and our cooperation with you, and the information that we received, we were allowed to put a team together to investigate any outstanding cases that we may have, and certainly work toward a resolution," said Detroit Police Deputy Chief Kari Sloan.
Shortly after reviewing our findings, a task force was launched in DPD's sex crimes unit to investigate more vigorously.
Thompkins has now been charged with criminal sexual conduct and has pleaded not guilty.
"It's often, you know, a predatory lifestyle, and there could be other people out there that have been impacted," Sloan said.
Some alleged victims are still in the shadows like Dev, a former player who says Thompkins sexually assaulted him in 2020, but doesn't want to talk to police. He says he is discouraged by it all.
"You're not going to stop doing what he's doing because he keeps getting away with it," Dev said. "He's going to continue to keep getting away with it because he feels like he can. He knows like, the kids are going to be scared to talk."