Jewell Jones sentenced for violating probation after testing positive for alcohol
LIVINGSTON COUNTY, Mich. (FOX 2) - Jewell Jones was given a 30-day jail sentence in Livingston County court after he violated his probation when he consumed alcohol.
The Inskter lawmaker will get credit for time served at the SHAR house he checked himself into following a positive test for alcohol he reportedly consumed on June 1. After the completion of the 29-day program, he'll need to check himself into jail to serve the remainder of his sentence - approximately one day.
"I did make a really poor decision and I do appreciate SHAR house," Jones said in court Thursday morning. "When I got there we definitely uncovered a few things. Like Mr. Nolan (Jones' attorney) said it was just an explanation, but not much of an excuse."
Attorney Byron Nolen told Judge Michael Hatty that Jones had drank alcohol the morning his grandmother died. 
He added that once Jones tests came back positive for alcohol, he checked himself into a 29-day program for people who struggle with alcohol.
The Livingston County prosecutor advocated for the court to remove Jones' status as a juvenile criminal offender, which is granted under the Holmes Youthful Trainee Act. 
Jones was initially given two years probation and 100 hours of community service after he pled guilty to charges stemming from a 2021 incident on the side of I-96.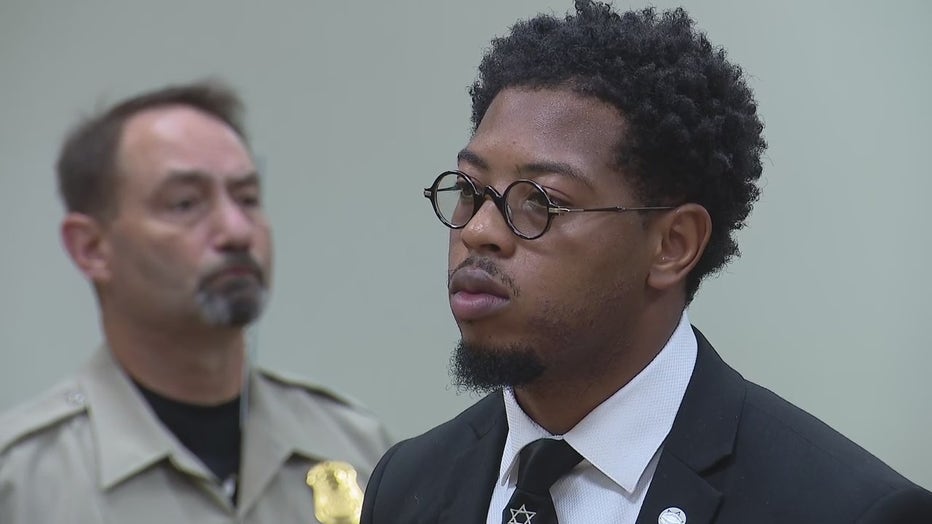 Jewell Jones in Livingston County court Thursday. 
He was required to avoid all alcohol and drugs as part of a plea agreement he accepted in March. He pled guilty to operating while intoxicated, reckless driving, resisting arrest, and being possession of a firearm while intoxicated in March. 
RELATED: Jewell Jones pleads guilty after initially rejecting plea deal
Hatty also ordered Jones to finish essays he was required to write that offered apologies to the officers who took him into custody during his drunken driving arrest last year. He'll have to have them completed by the end of the week.