Lawyer says man died by suicide after alleged jail beating • GM offers buyouts • Flooding lawsuits dismissed
FRIDAY NEWS HIT - A family of a man who died by suicide after an arrest plans to sue, saying he was stripped and beaten at the Oakland County Jail.
Milton Adelson, 59, was arrested for drinking and driving last August. 
"They booked him, and they don't have the facilities for him to dry out," Attorney Ari Kresch said. "So, they transferred him over to the Oakland County Sheriff's Office."
While at the sheriff's office, Adelson grabbed the cell door as it was closing. After this, he was grabbed by jail deputies and moved to the detox cell because he allegedly made suicidal statements. Kresch said they then stripped Adelson naked and beat him. Sped up video from the attorney shows deputies moving in and out of the cell, then Adelson naked on the floor.
Undersheriff Curtis Childs said he wasn't beaten. 
After he got out of jail, Kresch said Adelson became depressed and died by suicide.
"He just stopped coming to work, he was so shook up" Kresch said.
GM offers buyouts
In an effort to reduce costs, General Motors offered employees and executives voluntary buyouts. 
A letter sent to GM employees from CEO Mary Barra said the company is working to be "proactive regarding workforce planning" and announced the program.
The plan, known as a Voluntary Separation Program (VSP) will "presents an opportunity to explore a new industry, make a career change, further a personal business venture or decide you can retire earlier". The company is offering three different packages to employees, based on level of experience with the company.
Employees have until March 24 to decide if they want to accept a package.
Snow covers roads
The morning commute will be messy Friday.
Metro Detroit will see 2-5 inches of snow, and most of that will fall in the morning before tapering off around 2 p.m.
If you're headed out, take a look at the live road conditions:
Judge dismisses all lawsuits from 2021 floods
In June 2021, many Metro Detroit residents dealt with devastating flooding that destroyed belongings and made for an expensive cleanup.
Some people sued, but this week, Wayne County Circuit Court Judge Annette J. Berry dismissed the Detroit Water & Sewerage Department and the Great Lakes Water Authority from 10 class action lawsuits.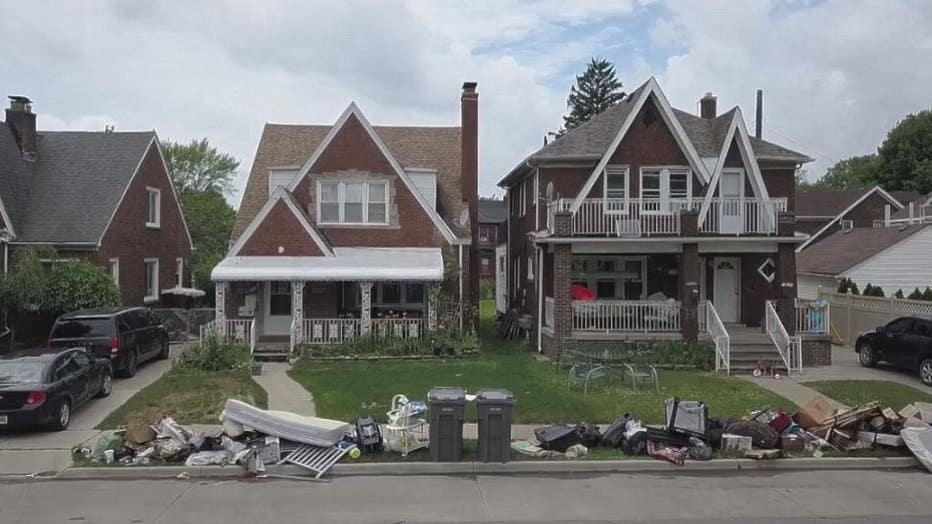 Attorney and flood victim Paul Doherty said this dismissal means the people impacted don't have a chance to show what went wrong.
"We know that a pipe burst inside Conner Creek pump station, flooded a control panel causing further electrical breakdowns," he said. "Those are the kind of things we could have gotten into. In other words, had say, 15 of the 16 pumps run like they're supposed to, how much water could have been diverted versus three or four pumps running during critical time."
Eastpointe mayor charged with lying on Covid grant app
Eastpointe Mayor Monique Owens is accused of falsifying information on an application for a $10,000 CARES ACT sustainability grant for a business through Macomb County.
"Detectives were able to confirm several discrepancies within the grant application business, Naturally Funny Talent, Agency, LLC. In November of 2020, Owens' business was awarded the $10,000 grant," said Macomb County Sheriff Anthony Wickersham in a release.
Owens is now charged with one count of false pretenses - $1,000 or more but less than $20,000.
Since being elected as the city's first Black female mayor in 2021, it has been a tumultuous period.  From a heated back-and-forth involving an alleged assault with a council member last summer to a federal lawsuit claiming she's silencing members of the public in November. And in January of this year, she told residents of the city to 'blame themselves' for the high crime rate.
Live on FOX 2
Daily Forecast
The snow falling now will continue into the early afternoon, dropping 2-5 inches on Metro Detroit.
What else we're watching
New York prosecutors signal Trump may face criminal charges
Former President Donald Trump was recently offered the chance to appear before a Manhattan grand jury about the hush money scandal with porn star Stormy Daniels — a sign that criminal charges may follow.
According to the New York Times, the Manhattan district attorney's office communicated the offer to Trump's lawyers. The office, led by DA Alvin Bragg, has been investigating the hush money scandal — which took place in 2016 — for the past five years.
In New York, the chance to appear before a grand jury strongly signals an incoming indictment. This would mark the first time a former American president was criminally indicted.