Michigan Primary Election races to watch and results for Aug. 4, 2020
The August 4 Primary won't decide who's running for President - that was back in March, the same day the first Coronavirus case was confirmed in Michigan. Instead, during the August 4 Primary, Michigan voters will pick who will be running from each party.
Here's a look at the big races we're following - not including races where candidates are running unopposed.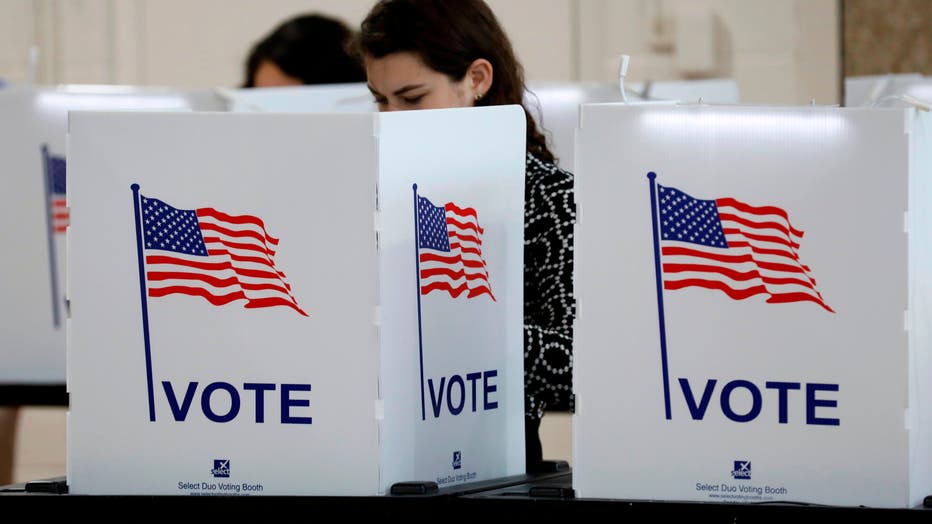 People vote in the Michigan primary election at Chrysler Elementary School in Detroit, Michigan, on March 10, 2020. (Photo by JEFF KOWALSKY / AFP) (Photo by JEFF KOWALSKY/AFP via Getty Images)
U.S. Senate
A nationally-watched election featuring incumbent Democrat Gary Peters and his Republican challenger John James, the race has featured only two contenders for most of the 2020 election season. James, a 38-year-old Farmington Hills resident who came up short in 2018 run against Sen. Debbie Stabenow is now running to unseat Peters, 60, of Bloomfield Township. 
While both candidates will be on the ballot during the August primary, neither faced any challenge in the race for their party's nomination.
Key House Districts
13th Congressional District - Rashida Tlaib wins the nomination
In what was the among the higher-profile races for Congress in Michigan's Primary, Incumbent Democrat Rashida Tlaib fended off Detroit City Council President Brenda Jones to capture the party nomination.
Jones, who had served out the remainder of the 13th District term in 2017 before Tlaib took over, had planned on using her presence in Detroit, where the district is located, as a means to overcome Tlaib's status as a liberal firebrand in Congress.
But with 87% of precincts reporting, it appears Tlaib had little to worry about after scoring an almost 2-1 victory over Jones. The freshman Democrat has made a name for herself as a member of the four-person squad in Congress. 
3rd Congressional District - Peter Meijer wins the Republican Nomination
Peter Meijer handily won the 3rd District's Republican nomination, beating out freshman state Rep. Lyn Afendoulis and three other Republicans for a seat formally held by Justin Amash. 
Meijer, who is an Iraq War veteran and the grandson of the famed Midwest grocery chain, was expected to do well in the race, owning a sizeable chest of campaign donations and personal wealth, as well as solid name recognition. 
He'll face Hillary Scholten, a civil rights attorney who worked under the Department of Justice under the Obama administration and the Demoncrats nominee for the seat.
8th Congressional District
Four Republicans are challenging incumbent Elissa Slotkin (D-Holly), who is in her first reelection campaign as representative of Michigan's 8th District. After flipping the district from Republican to Democrat in a contested race in 2018, Slotkin has served on the House Armed Services Committee in her first term as a Congresswoman. 
Vying for Slotkin's seat and the Republican nomination is Mike Detmer, a real estate agent, Alan Hoover, a former U.S. Marine, Paul Junge, a former TV anchor, and Kristina Lyke, who runs a law firm. 
10th Congressional District - Lisa McClain, Kimberly Bizon win Republican, Democratic nomination
Lisa McClain scored a victory over GOP Rep. Shane Hernandez and Doug Slocum in a primary race for the Republican nomination. Currently held by Rep. Paul Mitchell in a solidly conservative seat, McClain, a businesswoman out of Bruce Township won 41.7% of the votes, about 6,000 votes above Hernandez.
McClain scored a majority of the votes cast in four of the six counties the 10th Congressional District sits in. Hernandez won in Sanilac and St. Clair County, while McClain won in Huron, Tuscola, Macomb, and Lapeer.
On the Democratic side, Kimberly Bizon beat out Kelly Noland for the nomination by almost 4,000 votes. 
11th Congressional District
In the other district Democrats flipped from red to blue in 2018, freshman Congresswomen Haley Stevens (D-Birmingham) will face one of five candidates looking for the Republican nomination. Stevens has chaired the subcommittee on Research & Technology and co-chaired the Future of Work Task Force
Among the candidates hoping to face her in November is Frank Acosta, who started his own company in 2005 and now lives in Northville, Kenny Bentivolio, who served a term in congress in 2013-14, Eric Esshaki, a business law attorney, Carmelita Greco, founder of the International Fine Art Fund, Whitney Williams, a professional model who served as the diversity chair for the district's Republican Committee.
12th district - Debbie Dingell wins Democratic nomination
Congresswoman Debbie Dingell has won the Democratic nomination for Michigan's 12th district. The Associated Press called the race for Dingell around 9:45 Tuesday with almost 35% of the precincts reporting.  
The 12th district represents Ann Arbor, Ypsilanti, Belleville, Southgate, Flat Rock, and more cities. A Dingell has represented the area in Congress for 87 years. In 2015, she succeeded her husband, John -- the longest-serving member of Congress in history, who died in 2019. She sits on the House Energy and Natural Resources committees.
Dingell has won re-election three times since 2014 and, in 2018, won the district with almost 70% of the vote. 
14th district - Brenda Lawrence wins Democratic nomination
Congresswoman Brenda Lawrence has won the Democratic nomination for Michigan's 14th district.
Lawrence was declared the winner with 17% of all precincts reporting in the district and she had garnered 93% of the vote.
Lawrence was first nominated to Congress in 2012 and has won re-election every two years since then.
-----------------------------------------------
In 2020, all 110 seats in the Michigan House of Representatives is also up for election. To get a full list of results of every contested race for the August primary, go here.
Beyond the state senate and house, there are several key races throughout Macomb, Oakland, and Wayne Counties we're following as well. The elections below do not include races where candidates are running unopposed
Macomb County Elections
County Prosecutor
In the race to capture the vacant county prosecutor seat, Macomb County Circuit Judge Mary Chrzanowski and State Sen. Pete Lucido won their respective party nominations and will face each other in the general election in November.
After a surprise opening in a seat that was held by former prosecutor Eric Smith for the last 16 years, a crowded field of Democrats was eventually won by Chrzanowski, who squeaked out a victory over four other candidates. Winning 34.6% of the votes with 100% of the precincts reporting, Chrzanowski edged Jodi Switalski by about 2,000 votes to take the nomination.
For Lucido, the path forward was less embattled. A current senator in the state legislature who received some negative press earlier this year, Lucido scored more than two-thirds of the Republican vote over Richard John Goodman. 
For results on Macomb County's race for prosecutor click here.
County sheriff
Incumbent Anthony Wickersham will face off against Terence Mekoski, a Republican for the Macomb County Sheriff position in November. Wickersham, who ran unopposed, earned 88,835 of the votes. Mekoski scored more than 50,000 of the votes, 17,000 more than his challenger Michael Wrathell.
For results on Macomb County's race for sheriff click here.
There are hundreds of elections being held in Macomb County. For a complete list, go to the county's election site here.
Oakland County Elections
County Executive Results
With all 506 precincts reporting, Oakland County Executive Dave Coulter has clinched the Democratic nomination over County Treasurer Andy Meisner. With about 16,000 votes separating the two candidates in a primary that earned more than 200,000 ballots, Coulter is expected to face Mike Kowall in the general election in November.
Kowall won 91,000 of the 122,000 votes that were cast in the Republican nominating contest. He beat out Jeffrey Nutt.   
County Sheriff Results
Vincent Gregory will face off against Oakland County Sheriff Mike Bouchard for the county's top cop seat in the November election after he beat Barnett Jones and Randy Maloney for the Democratic nomination.
County Prosecutor Results
In one of the higher-profile upsets of an incumbent this primary cycle, Karen McDonald, who was endorsed by several first responder associations, beat out Oakland County Prosecutor Jessica Cooper by a 2-1 margin. 
She'll face Lin Goetz who ran unopposed for the Republican seat. 
There are hundreds of elections being held in Oakland County cities. For a complete list, go to the county's election site here.
Wayne County Elections
County Prosecutor
In her first major challenge for Wayne County prosecutor, Kym Worthy easily beat out Defense Attorney Victoria Burton-Harris for the Democratic nomination. With 88.9% of precincts reporting, Worthy earned 156,249 votes to Burton-Harris's 92,953 votes.
Because Republicans did not run anyone on the GOP ticket, Worthy will almost certainly remain the county prosecutor for another term. 
County sheriff
Benny Napoleon, the other Wayne County incumbent facing down challengers for an executive position, won the Democratic nomination for sheriff. He scored more than 190,000 of the 241,000 votes cast in the primary race. 
Unlike Macomb and Oakland Counties, Wayne County publishes results in one document, which you can read here when it's updated by the county.