Michigan Primary Election results: Shri Thanedar wins House District 13
The race for the newly drawn 13th congressional district in Michigan was crowded, to say the least. 
The democratic primary race included John Conyers III, Sherry Gay-Dagnogo, Micheal Griffie, Adam Hollier, Sharon McPhail, Sam Riddle, Portia Roberson, Lorrie Rutledge, and Shri Thanedar.
Thanedar won the race.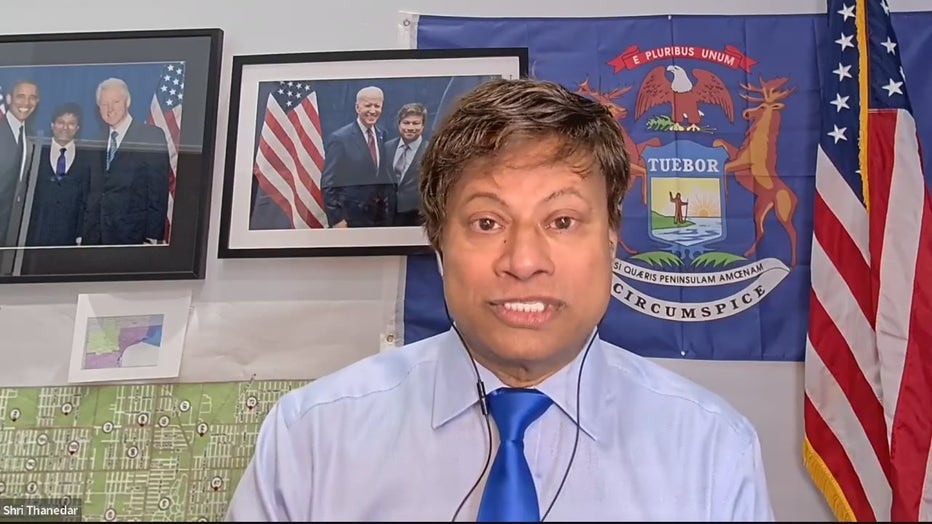 Michigan's new 13th Congressional District, which encompasses much of east Detroit, including its downtown and midtown areas. The cities also included in the district include Melvindale, River Rouge, Lincoln Park, Allen Park, Wyandotte, Taylor, Wayne, Southgate, and Romulus. 
Around 11 p.m., votes started coming in with Hollier, Roberson, and Thanedar leading the field but only 5% of votes counted. According to the Wayne County election dashboard, all precincts were reporting results Wednesday morning.
Thanedar released a statement:
"It has been an incredible campaign, and I am so grateful to have your support. Thank you to my amazing team, my family, and the volunteers who helped make this campaign successful.
This race was not about me. Michigan's 13th Congressional district is one of the poorest in the country, and I will fight for economic and racial justice in Congress. We must continue the fight against the special interests that seek to divide us and prevent us from achieving the basic rights that we all deserve. We have a lot of work in front of us, and you can count on me to continue fighting for our communities.
"Congratulations to my primary opponents - including Adam Hollier, who graciously called to wish me congratulations this morning - as well as Portia Roberson, Sherry Gay-Dagnono, Michael Griffie, Sharon McPhail, Lorrie Rutledge, John Conyers III, and Sam Riddle - on hard fought campaigns and years of public service and activism. I look forward to continued partnership in the coming months, and appreciate your efforts to stand up for our communities."
Hollier released a statement congratulating his opponent:
"I want to congratulate Shri Thanedar on his election. I'd like to thank everyone who has helped us get to this moment – from our volunteers, to our supporters, to our staff – while we may not have pulled off a win, you all still deserve to celebrate the great work you did for the people of the 13th. I gave this race everything I had, and we all worked hard for the causes we believe in – all gas and no brakes since launching our campaign in January. One of the highlights of the past 8 months has been connecting with so many people in this District, and learning about their lives and experiences. I have met some amazing people out on the campaign trail - and look forward to making positive change in Metro Detroit for years to come. Today it really hurts, but now we must come together and make sure Democrats win up and down the ballot in November. Thank you for the opportunity to run for Congress to represent the people of the 13th District."
There are many other important races to watch around Michigan and we're tracking them here:
Michigan Primary Election results: GOP governor's race
Michigan Primary Election results: House District 10
Michigan Primary Election results: House District 11 - Andy Levin vs. Haley Stevens
Michigan Primary Election results: House District 12
Michigan Primary Election results: House District 13
Michigan Primary Election results: All 13 Congressional races
Michigan Primary Election results: State Senate races
Michigan Primary Election results: State House races 1-60