VIDEO: Suspects in stolen Charger run out of gas mid-chase with Michigan State Police
DETROIT (FOX 2) - Michigan State Police are wondering if high gas prices helped them catch two suspects in a stolen Dodge Charger after the car ran out of gas mid-chase Thursday morning.
It was just after 4:30 a.m. on Thursday in the city of Detroit when troopers on patrol near 8 Mile and Meyers were behind a Dodge Charger that was determined to have been stolen with a gun in the car.
The MSP troopers tried to stop the hot car but the driver didn't stop and led a chase that eventually took them onto I-75.
The driver kept speeding away from the trooper and eventually got onto I-75 and kept driving all the way to Southgate.
RELATED: Stolen Charger hits 110 mph during Troy police chase
When the car got to I-75 and Northline in Southgate, the Charger had an issue: no gas.
MSP released dashcam video of the chase which starts with the Charger making a U-Turn on 8 Mile and then turning right on Meyers. In the video, edited by MSP, the trooper chasing the charger has his lights and sirens running as the driver speeds south on Meyers.
WATCH:  Aerial video shows street racing in Detroit
At McNichols, the car runs a red light and bottoms out, sending sparks flying behind him. The video jumps forward to the driver running south on I-75 and the officer chasing the car could be heard saying that speeds had hit 130 MPH. That's when the back driver's side of the bumper breaks off and it starts bouncing as the car is speeding down the freeway on I-75, just before the Davison Freeway, 
The video then fast forwards to the car taking an exit, apparently the Northline exit in Southgate - based on what police have said. The car takes the exit turns left and then comes very slowly to a rolling stop as police were trying to perform a maneuver.
MORE: Driver going 120 mph in stolen Charger crashes in front of MSP trooper on I-75
It came to a stop and MSP arrested the driver and a back seat passenger. The front seat passenger was able to escape but troopers said they have information about who the person is.
A gun was not found in the car.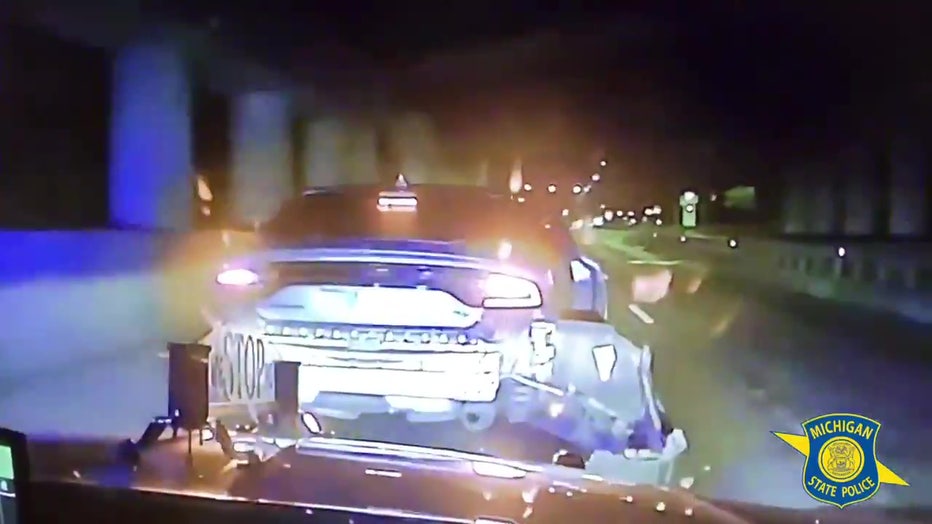 Michigan State Police released dashcam video of a police chase that ended when the driver ran out of gas.
The chase lasted a little less than 26 miles. A base model Dodge Charger gets roughly 30 miles per gallon - meaning the car had less than a gallon of gasoline when the suspects ran from police.