Vigilante confronts alleged predator • Deadly crash in Detroit leaves 2 dead • Trump indictment sparks GOP ire
FRIDAY NEWS HIT - A metro Detroit man who considers himself a self-styled vigilante in his efforts to expose child predators has published another sting.
This time, Robert Lee is seen in a video confrontation with a man named Sinan Kalemaj. Though Kalemaj didn't know it at the time, explicit conversations he'd been having with someone posing as a female teenager would eventually make its way to police - along with felony charges.
"The cell phone is like the new white van, the guy with the candy in it - that's this now," said Lee.
Lee and the group "Dads Against Predators" work by targeting would-be predators on chat apps. They strike up conversations with unsuspecting criminals before exchanging more explicit messages. 
This time, Lee was posing as a 13-year-old girl. Their conversation included a shirtless picture followed by discussions of what they'd do afterward. The two planned to meet at the pop aisle at a Harrison Township Kroger this past month.
The confrontation between Lee and Kalemaj was posted on Facebook.
"Who are you here to meet?" Lee asks, pointing his phone at Kalemaj, who denies having any plans.
"Like everybody else, he said he didn't know the girl was 13, he didn't come to do anything and he panicked and he ran off," Lee said, explaining the typical motions that people caught in the position go through.
An investigation by the Macomb County Sheriff's Office – led to six felony charges for child sexually abusive activity and using a computer to commit a crime.
"I can appreciate anyone who wants to protect children - why wouldn't we," said Macomb County Prosecutor Pete Lucido.
Lucido supports the group's efforts, but urges caution that the interactions may not always be safe.
Read more about the confrontation here.
Deadly crash leaves two dead on Detroit's east side
A deadly accident on Detroit's east side left two people dead after a crash involving a semi truck. Two men died after the vehicle they were in collided with a semi truck around 3:10 a.m.
The mangled remains of the vehicle involved in the accident was spotted on a tow truck around 6 a.m. in the area of Gratiot and Wilfred. It's not clear what kind of vehicle the men were traveling in due to the severity of the crash.
As of Friday morning, the men were listed as John Does. 
There were previous reports of a police chase, however there was no active pursuit prior to the crash. Detroit police didn't provide any other details on the crash.
State GOP rush to support Trump amid indictment
Donald Trump has been indicted for his involvement in an alleged hush money payment the former president made during his 2016 presidential campaign. It's the first time someone who has held the office has been named in such an investigation.
The announcement, coming during a tumultuous period in American politics and just as the next presidential election peeks into the news cycle, inspired a fresh round of rebukes from Republicans.
In Michigan, the chair of the Republican Party said "Today it's President Trump. Tomorrow it's you." Several other lawmakers and conservative figures in Michigan also expressed ire at the indictment. The Michigan Conservative Coalition, which has already endorsed Trump in his 2024 bid, called the charging decision a bad precedent. 
Meanwhile, most Democrats have stayed mum on the issue. It's still not clear what specific charges Trump was indicted on. A formal reading is expected next month.
Teens involved in Fraser student's murder in court
Three teenagers who were charged in the stabbing death of a 14-year-old Fraser boy will be in court Friday for a preliminary exam. The defendants, all juveniles, were originally charged with first-degree murder.
Each teen, two 16-year-olds and one 15-year-old, had a murder charge dropped due to a self-defense argument. Still, the prosecution argues, that violence was intended.
The three have since been charged with assault with intent to murder. 
The preliminary exam will begin around 8:30 a.m. FOX 2 will stream the conference live. 
Food trucks return to Detroit next month for Downtown Street Eats
Downtown Street Eats kicks off April 10 with dozens of food trucks in Detroit.
Weekdays from 11 a.m. to 3 p.m., food trucks will park at Cadillac Square and serve up a variety of fare.
"It's an exciting and electric time of year when the various food trucks line the streets and Detroiters and visitors line up themselves to support these small businesses with big ambitions," said Laura Dean, Senior Manager, Parks and Public Spaces for the Downtown Detroit Partnership. "We are proud to offer a platform for local food truck owners while also creating a lunchtime destination worth visiting."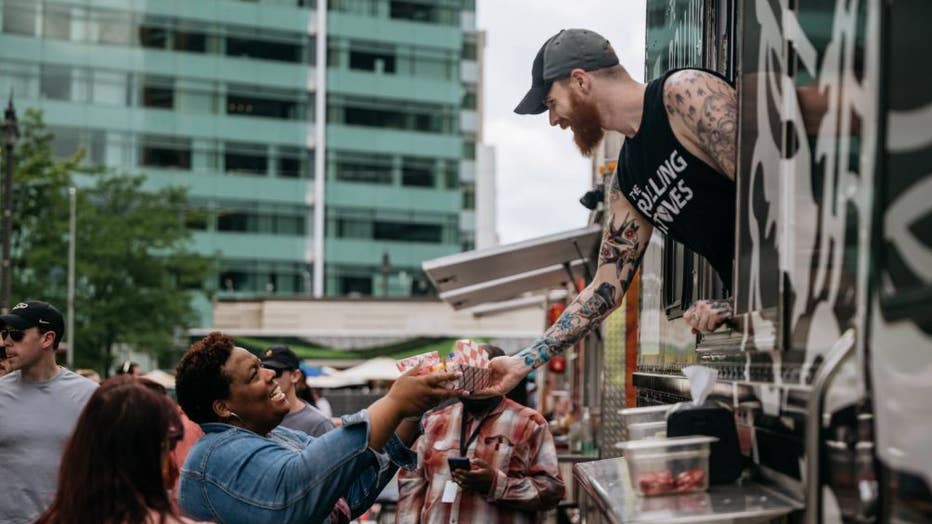 (Photo: Downtown Detroit Partnership)
Before April 10, sample some trucks at next week's Detroit Tigers Opening Day Tailgate Party at Grand Circus Park from 9 a.m. to 5 p.m. on April 6. Several food trucks, such as Big Bo's Grill, Curt Got Crabs, Great Greek, Poke Ur Way, Stix & Stone Pizza, and Wing Snob will be there.
Live on FOX 2
Daily Forecast
Rain is in the forecast for most of Friday with potential to spill over into the weekend. Wind gusts could also add to the mix along with some severe temperature swings.
What else we're watching
A 42-year-old Detroit man was arrested after waving a firearm at someone during a road rage incident on I-96 Thursday morning. Police later determined the firearm to be fake.
It may be a long baseball season in Detroit. The Tigers suffered their worst loss on Opening Day ever in a 4-0 loss to Tampa Bay.
A new neighborhood funding project is expected to kick off in Southwest Detroit Friday. An announcement will come at 10 a.m.
Wayne State University is hosting Concrete Canoe races in Lake St. Clair's Metropark Friday. The regional races are included America's Cup of civil engineering.
The Novi Home and Garden Show is this weekend. Check out the Suburban Collection Showplace to see the launch of the spring home improvement season.
Gwyneth Paltrow not at fault for ski collision, jury decides
Gwyneth Paltrow won her court battle over a 2016 ski collision at a posh Utah ski resort after a jury decided Thursday that the movie star wasn't at fault for the crash.
"I felt that acquiescing to a false claim compromised my integrity," Paltrow said in a statement released by her representatives. "I am pleased with the outcome and I appreciate all of the hard work of Judge Holmberg and the jury, and thank them for their thoughtfulness in handling this case."
A jury dismissed the complaint of a retired optometrist who sued Paltrow over injuries he sustained when the two crashed on a beginner run at Deer Valley ski resort, siding with Paltrow after eight days of live-streamed courtroom testimony that made the case a pop culture fixation.