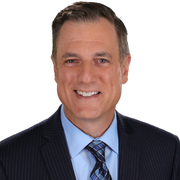 Dan Miller
Sports Director
Hi and thanks for stopping by. So I guess that I'm supposed to tell you a little about me. Let's start with the good stuff. I'm literally doing exactly what I wanted to do from the time I was 8 years old. Now, I had no idea that it would be in Detroit but as soon as I was old enough to know what sportscasters and play by play guys did for a living, I knew that I wanted to make that my life.
I could tell you how I got here, which basically involves me having zero luck finding a tv job for years and then things just started happening. It's a long story with a lot of people that helped me and believed in me.   Hard work. Right place, right time and some lucky breaks. I feel like my wife and I ran through a maze to get here. I wouldn't want to do it over because the stars aligned so many times that it wouldn't ever turn out the same.
It was difficult. When you begin your career with everybody saying thanks but no thanks, you never lose that feeling. At least, I haven't, and I won't. I've never taken a day for granted or felt entitled in any way. I want to be hungry. I want to stay hungry. When you look at me and see a guy who is blessed with a couple great jobs, I look in the mirror and see the guy nobody wanted. I work hard so they'll never figure out that somehow I snuck in.
That said, as of this morning, I'm still here. When we came to Detroit in 1997, my plan was to be here for two years and then make my triumphant return home to Washington, DC. Very quickly though, this became home.  I can't think of a place where I would have the support and the resources that The station has given me and my department. I will argue with anybody that Detroit is the best sports city in the country. We'd have been nuts to leave.
Simply put: Fox2, the Lions, you and this City have given me every opportunity I could have dreamed of.  It's on me not to screw it up.
Some other facts to leave you with.
-Yes we have a lot of animals. Currently 2 dogs, 4 cats and 4 foster kittens. I was lucky enough to marry somebody who is as crazy as I am. We've passed on that "crazy"to our kids. Please support your local shelter. I am a big fan of Friends for Animals of Metro Detroit in Dearborn.
-The wave at the end of the show is to my kids. 20 plus years ago they would cry if Dad didn't say "goodbye" when I was on tv. My wife said "you have to do something..". The wave was born. Now, they're older and don't care. Dad still waves.
-My favorite tv show to do is Lions Game Day Live. It's just a loose hour with great friends. No script. Just having fun. That's what tv is supposed to be.
-Life isn't easy for anybody but I've had amazing examples of how to deal with problems. My Mom had Multiple Sclerosis for 46 years and never gave an inch. It took everything from her, but she fought. Life isn't about problems, it's about solutions. Fight and never be afraid to ask for help. Always move forward. If I ever got a tattoo, it would say just that, "move forward"
-Three of my favorite quotes are from John Wooden:
"Never mistake activity for achievement"
"Failing to prepare is preparing to fail"
"You can't live a perfect day until you do something for someone who will never be able to repay you"
If you've never done it, just google Woodenisms.  Spend 10 minutes reading.
That'll be the most important thing you get from me.
I leave you with a sincere thanks.  I don't know how long I will be here. None of us do in this business or this life.  I do know, however, that everything I have professionally has come from you. I promise I will never forget that.
The latest from Dan Miller