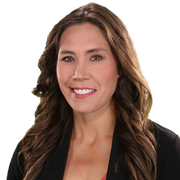 I can't believe I've been working at Fox 2 News for over a decade! Time sure does fly when you love what you do. Rain, snow or sun I'm happy to wake up with you every morning beginning at 4:00 a.m.! No day is ever the same and that's what makes getting up so early easy. You might find me standing along an ice encased Metro Detroit freeway, reporting live from a deadly shooting  scene or knee deep in a pit of mud surrounded by hundreds of kids. I get to highlight heroic actions and at other times tell you about  actions that break my heart. I do it because YOU need to know what's happening around you. This is more than a job. It's a privilege. 
I grew up in Concord, New Hampshire and eventually attended Emerson College in Boston. My reporting career began in Alpena, Michigan many, many years ago. I've also worked at stations in Cadillac and Knoxville, Tennessee before eventually making the move to Detroit. I can't imagine being anywhere else. Our FOX 2 viewers are the best!
When I'm not at FOX 2, you will likely see me at a baseball park with my daughter and twin boys. I'm so proud of the people they've become! I also stay active skating with Detroit Roller Derby. And yes, the hits are real and they hurt! I only wish I had more time to travel with my family and experience the amazing world around us. Going on a safari is on my bucket list! 
The latest from Robin Murdoch
Beaumont Dearborn is getting 22 military personnel to help relieve strain from the COVID-19 pandemic.
Metro Detroit freeways are clear Tuesday morning despite the snow that fell overnight.
The U.S. has put a travel ban in place for people coming from eight African nations in an attempt to slow the spread of the COVID-19 omicron variant.
Most shoppers stayed home in 2020 but that changed in 2021 with Black Friday returning to a bit more normal.
Police are asking the public to be on the lookout for a four-door burgundy-colored Cadillac that is connected to the shooting.
With Michigan's infection rate being the highest in the country, health officials are increasingly concerned about the waning immunity from COVID-19 vaccines. That's why they're emphasizing the importance of booster shots.