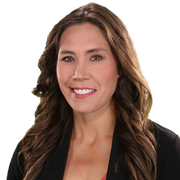 I can't believe I've been working at Fox 2 News for over a decade! Time sure does fly when you love what you do. Rain, snow or sun I'm happy to wake up with you every morning beginning at 4:00 a.m.! No day is ever the same and that's what makes getting up so early easy. You might find me standing along an ice encased Metro Detroit freeway, reporting live from a deadly shooting  scene or knee deep in a pit of mud surrounded by hundreds of kids. I get to highlight heroic actions and at other times tell you about  actions that break my heart. I do it because YOU need to know what's happening around you. This is more than a job. It's a privilege. 
I grew up in Concord, New Hampshire and eventually attended Emerson College in Boston. My reporting career began in Alpena, Michigan many, many years ago. I've also worked at stations in Cadillac and Knoxville, Tennessee before eventually making the move to Detroit. I can't imagine being anywhere else. Our FOX 2 viewers are the best!
When I'm not at FOX 2, you will likely see me at a baseball park with my daughter and twin boys. I'm so proud of the people they've become! I also stay active skating with Detroit Roller Derby. And yes, the hits are real and they hurt! I only wish I had more time to travel with my family and experience the amazing world around us. Going on a safari is on my bucket list! 
The latest from Robin Murdoch
A record-number of people are expected to travel this weekend. But after traffic fatalities hit a 16-year high in 2021, police are pleading with drivers to take it easy on the road.
Detroit police say at least six people were inside an apartment unit when someone opened fire at a rear window, striking three people. All victims were teens.
Dearborn police are looking for a hit-and-run driver after two young sisters were hurt.
Bedrock has asked the Detroit City Council not to vote on a $60 million tax break for the Hudson site yet.
A judge decided not to move the trials of James and Jennifer Crumbley out of Oakland County. The judge also decided to restrict what prosecutors and the defense can publicly say about the Oxford High School shooting.
The Detroit Police Department is investigating the death of a 3-year-old boy who was found dead inside a freezer on the city's west side early Friday morning.