3 Michigan rappers missing • Whitmer draws GOP ire • Deadly head-on crash in Macomb County
TUESDAY NEWS HIT - Three men are missing from Detroit after an event they were supposed to attend more than a week ago was canceled.
Armani Kelly, 38, Montoya Givens, 31, and Dante Wicker, 31, are rappers who were slated to perform at Lounge 31 on Seven Mile near Gratiot on Jan. 21. However, the event was canceled.
"From there we just have a whole lot of unanswered questions that we're trying to find the answer to," Detroit Police Cmdr. Michael McGinnis said. "The fact that the three of them are missing together is very concerning and very alarming for us."
McGinnis said a family member of one of the men believes they made it to the club before they disappeared, but police are still trying to confirm that. Phone records for all three men ended late Jan. 21 or early Jan. 22, police said.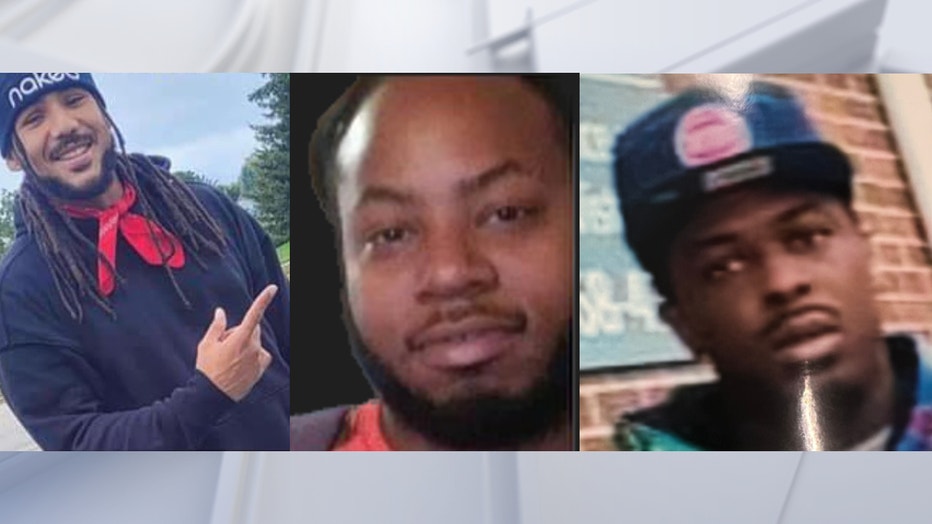 (From L to R) Armani Kelly, Dante Wicker, Montoya Givens
Kelly's mother reported her son missing Jan. 23. On Jan. 27, family members of Givens and Wicker saw a media report about Kelly and realized all three men who knew each other were missing.
Police said Kelly's mother was able to use OnStar to track the vehicle he was driving to Warren, where it was recovered Jan. 23. Kelly is from Oscoda. Detroit police said Givens and Wicker are from Detroit and Melvindale, so those police departments are investigating along with DPD and Oscoda. 
Police are asking that anyone with information contact one of the investigating departments to give the families answers.
"They have no answers. They don't know where their loved one is," McGinnis said. 
Submit tips anonymously to Crime Stoppers at 1-800-SPEAK-UP. 
Read more about the disappearances here.
Whitmer draws GOP ire over 'bigoted' cracks at Indiana, Ohio
Governor Gretchen Whitmer is facing backlash over some comments she made during her state of the state address. Her opinion that two bordering states that do not support abortion and gay rights are, "bigoted" is drawing the fire of some conservatives.
"I'm looking at you Indiana and Ohio," said Gov. Gretchen Whitmer in her State of the State Address. The Republicans did not applaud when the governor singled out those two states for allegedly being bigoted when it comes to abortion and civil rights for the gay community.
"States with extreme laws are losing talent and investment because bigotry is bad for business," Whitmer continued. Both governors of Indiana (Eric Holcomb) and Ohio (Mike DeWine) are Republicans. 
Republican House Rep. Andrew Beeler (R-Port Huron) defends those citizens who believe in traditional marriage and are anti-abortion. "I do think it's fair to call a vast majority of religious people in our state bigots," said Beeler. Many businesses in Michigan want to change the state Civil Rights law to protect gay persons from being fired or evicted from their apartments. 
Deadly head-on collision in Macomb County
Two people are dead after a head-on crash in Macomb County Monday. The crash between two trucks happened just after 2 p.m. and was so severe, the road remained closed for five hours by investigators.
"It was like a bomb went off, (my husband) immediately ran outside because he thought something exploded, and then saw the collision," said neighbor Nicole Hardwood. Hardwood said she and her husband found out about the crash on a curve in North Avenue near 26 Mile. Two vehicles collided on the two-lane highway, right where the speed limit changes from 55 to 45 miles an hour.
The Macomb County Sheriff's Office says the driver of a white GMC work van died on impact. We were told that there were two people inside the red Dodge Ram truck. That driver also died. A passenger in the same truck was taken to the hospital with minor injuries.
Those living near the scene say unfortunately crashes like this happen far too often. Nicole Hardwood says over the years there have been attempts to address the problem. "A bunch of other people in the area. They petitioned Macomb County to change the roads right here and they did, and it's helped, but as you see today - things still happen," she said.
MSU's Khary Crump to be sentenced Tuesday for Michigan Stadium tunnel brawl
The Michigan State football player who was charged with a felony over his involvement in a brawl with members of the University of Michigan football team is scheduled to be sentenced Tuesday.
Khary Crump, whose assault charge was the only felony among seven counts brought against Spartan football players, had the offense reduced to a misdemeanor. He's scheduled to be sentenced in Washtenaw District court at 9:30 a.m. 
Seven Michigan State Spartan football players were charged following a brawl that broke out in the tunnel of Michigan Stadium. The Wolverines beat the Spartans 29-7 during the Oct. 29 match. But it was the skirmish between at least two Michigan players and several MSU players that made the most news following the rivalry match-up. 
Videos of the fight showed MSU players shoving, stomping, and in Crump's case, swinging his helmet at UM players. Itayvion Brown, Angelo Grose, Justin White, Brandon Wright, and Zion Young were also charged with misdemeanor aggravated assault. Jacoby Windmon was charged with one count of misdemeanor assault and battery. 
Michigan reaches first PFAS settlement
Michigan has settled the first of many cases involving companies accused of contaminating the environment with 'forever chemicals' such as PFAS, the attorney general announced Monday.
Under the conditions of a consent decree agreed upon by both the state and Fowlerville-based Asahi Kasei Plastics North America, Inc., the manufacturer would be required to investigate the extent of its PFAS contamination in the surrounding water and land, as well as develop a plan that addresses the pollution.
Assistant Attorney General Polly A. Synk says the money expected from the settlement will be in the "multiple millions" amount. It will take a while to determine a specific amount since the company needs to investigate where the pollutants reached.
Currently, the scope of the contamination is not fully known. The company will work with the Michigan Department of Environment, Great Lakes, and Energy during its investigation. It was one of 17 companies named in a lawsuit filed by the AG's office in 2020. It was eventually separated from the larger lawsuit and moved to Livingston County Circuit Court. 
Live on FOX 2
Daily Forecast
Tuesday's freezing-cold start to the day likely won't be the last this week, but it may end up being the chilliest. Temperatures aren't expected to rise higher than 19 degrees, along with some wind and flurries.
What else we're watching
New details have emerged in plans for a massive development project in Detroit. Proposals by Ilitch-owned Olympia Development and Stephen Ross' Related Companies would be completed with about $800 million in incentives, the companies requested. It could get a key committee's approval as soon as Feb. 8.
Haley Stevens has taken herself out of the running for U.S. Senate. The Congresswoman's name was floated as a potential candidate to replace outgoing Sen. Debbie Stabenow. She wrote on Twitter that she felt she could best serve her constituents in her current role.
An upcoming community center expected to be built in Van Buren Township will have its groundbreaking Tuesday. Several county and township leaders will attend the public event, which will show off both the renovations and the addition that's expected at the site. It'll be completed in the spring of 2024.
Want to learn more about the $100 million scholarship program offered to Detroit residents for job training? Check out FOX 2's coverage of the newly available funds here.
A Dearborn man has been convicted of supporting ISIS after he attended a terror training camp in Syria. 
Study: Vaping causes more inflammation in lungs than regular cigarettes
According to a new study from the University of Pennsylvania, people who vape are more at risk of lung inflammation than if they had smoked normal cigarettes.
According to the study, published on Jan. 1, in the Journal of Nuclear Medicine, researchers found significantly more inflammation in the lungs of people who used e-cigarettes than people who smoke regular cigarettes and non-smokers.
'We find evidence that [e-cigarette] use causes a unique inflammatory response in the lungs,' researchers wrote in the study. It's the first study of its kind to provide evidence that vaping e-liquids creates a unique and detrimental response in the body that is not as prominent in regular cigarette smokers.