Couple dead after ambush at gas station, man defends fiance after phony 911 call, Mitch Albom on Haiti issues
TUESDAY NEWS HIT - Two men are wanted in the double murder of a couple at a west Detroit gas station after the pair approached a vehicle and began firing on both sides.
A baby in the back of the vehicle was left unharmed, but the adults in the front died after suffering multiple gunshot wounds.
The ambush happened around 8:40 p.m. at a Marathon gas station near Ashton and W. Warren.
Detroit police said both suspects came running up on either side of the vehicle when they began shooting. 
Surveillance footage and still photos released from the incident show two men sprinting toward the vehicle before they started shooting.
Officers aren't aware of a motive and don't have an identity of the suspects, but are asking the public to be on the lookout for the two men.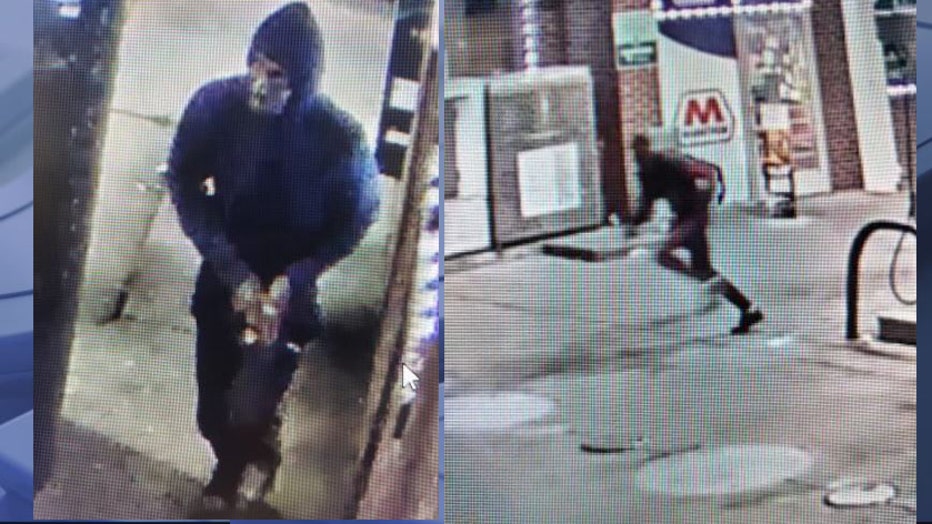 If anyone has any information, they're asked to call 911 or Crime Stoppers at 1-800-SPEAK-UP.
Fiance of woman who made phony 911 call defends action
The Macomb County Sheriff's Office says Tressa Williams made a fake 911 call back in September reporting a bogus armed robbery at a CVS on Crocker in Harrison Township. Deputies had just pulled over Devin Douglas who says Williams - the mother of his son and unborn child - is his fiancee. He says he told her that he was being pulled over. Douglas was stopped while driving at night without his headlights on. His driver's license is suspended and deputies say he has an arrest warrant for fraud.
"I take all responsibility for it. she knows she's going to be good though," Douglas said. "So the deputies are talking to the man getting the traffic stop going and suddenly a call comes out for an armed robbery in progress at another business in Harrison Township just down the road," said Sgt. Renee Yax, Macomb County Sheriff's Office.
The deputies cut Douglas loose and raced to the CVS before realizing what had happened. Investigators dug up the caller's name and pinged the cell phone tower to find the house from which the call was made. They found Williams there as well as Douglas who, they say, refused to cooperate. Deputies impounded the SUV he was driving on a suspended license. 
Williams was arraigned Monday and is charged with false report of a felony- which carries a four-year penalty. Douglas thinks it's not that big of a deal. "It's crazy to me, it's just a phone call," he said. "If she did or she didn't, it's just a phone call."
Man accused of killing firefighter out on bond
Terell Josey, the man charged with shooting Lt. Frances Dombrowski, a Detroit firefighter, is at home on a tether right now after his attorney said the shooting was in self-defense. "There is a good chance that my client will be found not guilty if it gets before a jury," said Attorney Marc Lakin.
Dombrowski was a decorated firefighter who spent decades with the fire department before becoming involved in a road rage incident that spilled into a gas station at Rochester Road and Wattles in Troy. "Mr. Dombrowski couldn't have gotten out of his car faster," Lakin said. "He opens the door and went on a full sprint towards their car. "
Since the July incident, Josey has been charged with murder. But his attorney says a toxicology report showed Dombrowski had a blood-alcohol level almost three times the legal limit. 
The attorney says his client does not have a violent history which helped the defense when they asked for a lower bond. dipping from $1 million to $100,000 with a tether. 
Michigan chamber of commerces challenge Biden's vaccine mandates
A coalition of businesses in Michigan says it believes the new vaccine mandates from President Joe Biden will do more harm to business owners than the virus itself. We "urge the president to reconsider," said Rich Studley, of the Michigan Chamber of Commerce. 
A federal mandate from the executive branch announced this summer requires business owners with more than 100 employees to require COVID-19 vaccines or weekly testing will go into effect in the next few days. But in the eye of the chamber, not every business is alike.
"At the minimum, they hope they will revisit the rulemaking process to allow Michigan workers and business owners to have meaningful input into the standard," said Studley. In total, seven Michigan chambers that launched the group over Zoom Monday say they are for people getting vaccinated. But they didn't like placing the burden on businesses to draw the line.
"Ultimately it puts job suppliers in a really tough position," said Andy Johnston, Grand Rapids chamber. "From both a political and just logistical position, trying to enforce mandates when we actually see what the rules are."
Mitch Albom talks about his Haiti orphanage and the country's instability
Author and journalist Mitch Albom is on a crusade, starting an orphanage called Have Faith Haiti. "I've been operating it for almost 12 years and I'm here (in Haiti) every month," he said.
He was in the country over the weekend when a group of missionaries including 16 Americans and one Canadian, were kidnapped. Among those being held against their will are five children. "They make a very good ransom on it," Albom said. "These kidnappers, they own much of the streets in Haiti."
He says he was with a friend from the World Health Organization who started receiving messages from the missionaries. "Messages from one of the people on the bus who were being kidnapped - messages in real-time - saying there are men outside the bus and they have guns and are kidnapping us and please tell everybody," Albom said.
The FBI is working to recover the kidnapped missionaries in Haiti, where the president was recently assassinated. Kidnappings are common and law and order are in short supply. But despite this turmoil, Albom says his work in Haiti will continue. "There's important work to be done here and the kids who we take care of, are more important than the risks - but I'm not going to act like we're not scared," he said.
What else we're watching
The installation of the rink at Campus Martius Park has begun, adding momentum to the area's gradual transformation into the winter wonderland it takes on for Christmas.
Former business leaders and government officials will be speaking during an urban design summit in Detroit, as part of the Dutch Design Week. 
Dr. Joneigh Khaldun has taken a new position at CVS as the company's chief equity officer after leaving the state health department earlier this year. Khaldun was the main voice behind much of the COVID-19 policy once the pandemic made landfall.
FEMA has opened another center to assist with recovery efforts following heavy rain events this June. It's located in Eastpointe at city hall on Gratiot Avenue.
Just how busy is the electric battery business? Ask Subhash Dhar in Lake Orion, who has become a business success story in Michigan, earning the accolades of Gov. Gretchen Whitmer on Monday. Learn more here. 
Live on FOX 2
Daily Forecast
Sunny and 70 on Tuesday and Wednesday before some chances of rain and the possibility of thunder tomorrow evening and Thursday. 
California becomes only U.S. state to improve to yellow 'moderate' COVID-19 transmission level
New numbers from the CDC show promising signs for California's response to the coronavirus pandemic.
According to the latest CDC data, California has improved to the yellow "moderate" color code in the agency's COVID-19 level of community transmission. As of Monday's data, seven states are in the orange "substantial" community spread level while 42 other states are in the "high" level of community transmission.
Califonia is the only state in the country that is in the yellow "moderate" level. The state has averaged 34.4 cases in the last seven days for every 100,000 people, CDC reports. The following states are in the orange "substantial" level: Connecticut, Florida, Georgia, Hawaii, Illinois, Louisiana and Mississippi.