Credit for shorter prison sentences • Detroit's new greenway • Son attacks dad with hatchet
WEDNESDAY NEWS HIT - Under current Michigan law, before an inmate can be released, he or she must complete their minimum sentence.
At a State House hearing Tuesday, supporters of the so-called productivity credit program want inmates to leave early if they complete job training and education programs.
"These are common sense proven anti-crime bills," said Priscilla Bordayo, advocate. "Productivity credits are proven incentives for incarcerated people to participate in rehabilitation programming like jobs and education training.
"These rehabilitation programs have been proven to reduce recidivism so that people are less likely to re-offend and improve safety."
But various law enforcement entities argue that crime victims need certainty in sentencing in order to heal.
"For many of the victims where somebody does get sentenced, they are going to serve a for-sure number (of years) and for them that's good, and that for the next 20 years, they don't have to worry about that person," said Robert Stevenson, Michigan Police Chiefs Association.
Another opponent argues that all sorts of dangerous criminals, including arsonists, would be eligible to reduce their time behind bars under this plan. Representative Graham Filler is on the Criminal Justice Committee.
"Some of these crimes included domestic violence, arson, attempted murder - you can cut into your sentence, and get out early," said Filler (R-93rd District).
Proponents of the legislation contend that victims will be notified if a sentence is reduced.
And this crime victim survivor argues the current release program from the state, has barriers that inhibit criminals from making it on the outside. She says that she will feel safer if this plan passes.
"These barriers make it much more likely that they will return to a life of crime," said Elle Travis. "These incentives work. They turn lives around, they keep people out of trouble."
At this reading, it is unclear if the votes are there to alter the prison release timeline.  
New Greenway opens in Detroit
Detroit will get a little bit more walkable when the city unveils its newest strip of the riverfront Wednesday. After a year of construction, the Southwest Greenway is officially open. A significant portion of the Detroit Riverfront Conservancy's larger plan to build a 27.5-mile path called the Joe Louis Greenway, this portion connects the riverfront to Michigan Central.
It also attaches several other surrounding neighborhoods to a growing network of trails and paths along the Detroit River. The Southwest Greenway's grand opening will include figures from the city, Ford, as well as several nonprofits hoping to further beautify the riverfront. It'll be unveiled at 2:30 p.m. Wednesday.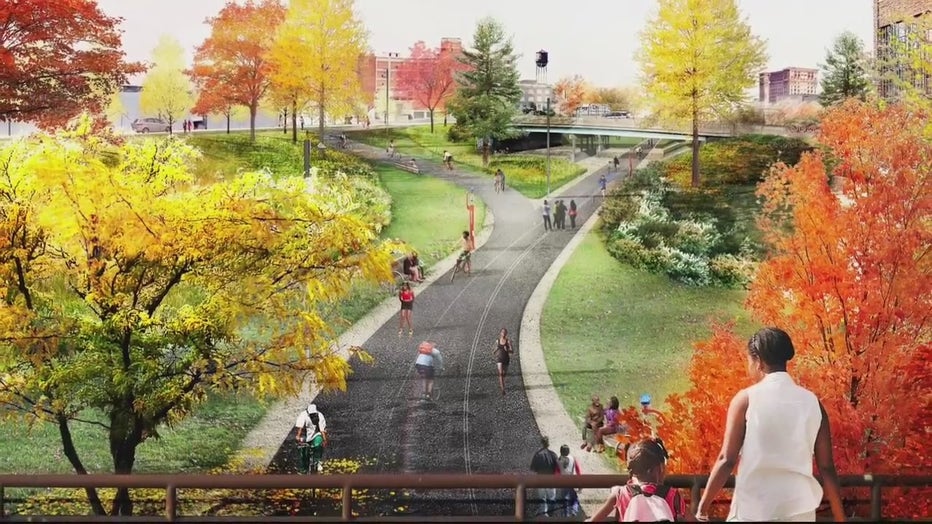 When work began on the Greenway, it came with renderings that showed trees dotting a rolling landscape where people can run, walk, bike, and recreate next to the shoreline. While the riverfront has already scored accolades celebrating it as a national tourist spot worth seeing, the spanning walk along the river shows the city has no interest in slowing down.
Along with Corktown, the trail will also help connect Detroit's coming "Mobility District" around the old train station as well. It will also connect to a newly-planned location called the Ralph C. Wilson Jr. Centennial Park. 
Son attacks dad with hatchet
A man is accused of attacking his father with a hatchet Monday night in Southfield. James Darby, 51, is hospitalized in critical condition after being struck with a hatchet around 11 p.m. in the 25000 block of Orchard Grove.
"The nurse said his vitals were good. He wasn't necessarily conscious and couldn't see anything, but I saw movement," said James Muhammad, Darby's brother. Police said the 22-year-old son, who has no criminal history and may have been suffering from mental illness, took his father's truck.
"We're just trying to make sure that my brother gets himself into a better condition, so he can move forward with his life. And that my nephew get the help that he needs," Muhammad said. A Be On the Lookout was issued for the suspect, who was stopped and arrested by Michigan State Police. Troopers say they found a bloody hatchet during the stop.
"A search of the immediate area of the vehicle did render the hatchet that was used in the crime and there was certainly evidence from the crime scene still on that hatchet," Southfield Police Chief Elvin Barren said. The suspect is expected to be arraigned on a charge of attempted murder Wednesday.
Backlash after skincare brand pairs MSU shooting with ad campaign
A skincare company is receiving backlash after it paid a social media influencer to advertise their new nasal strips, linking the care they provide to helping overcome the trauma from a mass shooting.
The influencer is a graduate of Michigan State University. In the video which was posted on TikTok, Cecilee Max-Brown talked about the "countless obstacles" from the recent year, "from a school shooting to having no idea what life is going to look like after college."
In support of Mental Health Awareness Month, she said she was partnering with Bioré Skincare to "strip away the anxiety." The ad campaign has received strong backlash online from other MSU graduates upset the company was conflating the tragic shooting which left three students dead and several others injured with selling a product.
In response to the backlash, the brand said it "lacked sensitivity around an incredibly serious tragedy, and our tonality was completely inappropriate. We are so sorry."
Oxford schools weighs purchase of emergency gun safe
In the aftermath of tragedy, the Oxford School District continues to look at ways to add security so it never happens again.
One of those answers could include buying a state-of-the-art gun safe for school resource officers where the only access is granted by the optic scan. The safe in question is made in Brighton by 360 Life Safety and the proposal was floated at Tuesday's school meeting.
It can only be accessed through an optic scan. Inside would be long guns and bulletproof vests that the school resources officer, private security or the sheriff's office would provide. During a school board meeting the proposal was made to buy two or even six of the safes at roughly $8,000 to $9,000 each.
The proposal was met with mixed reactions. The proposal would only give access to the safe to school resource officers - but many parents feel this is not the right way to make oxford schools safer.
Live on FOX 2
Daily Forecast
Temperatures will be slightly more chilly today than in recent days as a cold front brings in some stronger winds which will send temperatures down. Expect northern communities to get even some frost potential. 
What else we're watching
A simulated plane crash will play out Wednesday as crews put together a mock emergency response exercise in the Detroit River Wednesday. It's expected to be one of the largest exercises the state has ever put on.
Is this the end of the St. Mary's Polish Country Fair? Following Covid's pause, the longtime tradition in Orchard Lake may be coming to an end. Read more here.
New legislation endorsed by several law enforcement groups in Michigan will establish a trust fund to help fund police services in cities, villages, and townships. House Speaker Joe Tate (D-Detroit) will oversee the legislation. 
Detroit's population loss continues to make waves this week, with new reporting saying the city is now longer the largest Black-majority city in America. It fell behind Memphis, area media is reporting. The mayor has argued the census bureau's figures are wrong. 
The Sam Bernstein law firm is giving away gas to 100 Metro Detroit drivers Wednesday. However, the free gas giveaway location hasn't been announced. Details will be released on social media channels at 3:30 p.m. 
1 year after Uvalde, Texas shooting, investigation of police response continues
A criminal investigation in Texas over the hesitant police response to the Robb Elementary School shooting is still ongoing as Wednesday marks one year since a gunman killed 19 children and two teachers inside a fourth-grade classroom in Uvalde.
The continuing probe underlines the lasting fallout over Texas' deadliest school shooting and how the days after the attack were marred by authorities giving inaccurate and conflicting accounts about efforts made to stop a teenage gunman armed with an AR-style rifle.
The investigation has run parallel to a new wave of public anger in the U.S. over gun violence, renewed calls for stricter firearm regulations and legal challenges over authorities in Uvalde continuing to withhold public records related to the shooting and the police response.