Detroit's violent weekend • Fungal outbreak kills 1 at UP paper mill • Fifth arrest in Monroe woman's murder
MONDAY NEWS HIT - A store employee killed in Greektown, a curfew ordered for minors, and half a dozen shootings all made up what turned into a violent weekend in Detroit.
Almost in lockstep with the return of warm weather came a busy few days for Detroit police.
Before the revelry had even started in Detroit's nightlife, police found themselves investigating a shootout between neighbors last Thursday when the wrong delivery for a pizza order ended in five gunshot victims.
Over the weekend, there were six more shootings that left at least two people dead. 
"Our community deserves better, our city deserves better," said Police Chief James White.
"There's a whole lot of kids right now but yeah we saw a whole lot of kids, thousands last night up and down the Riverwalk and Greektown," he added. "We have to remember our responsibility,"
On Friday night, four people were shot and one person died. The suspect in that shooting was eventually struck by police after pointing a gun at them. He was arrested and taken to the hospital a short time later. 
Four other shootings happened Saturday night, including the murder of an employee who was shot and killed inside his store. 
White said the incident was tied to a dispute about someone cutting in line. The suspect was arrested immediately.
"You've got cameras all around here, we've got the eagle eye in the sky on this area - so we're literally seeing all the movement down here," he said.
RELATED: Pizza delivered to wrong Detroit house leads to shootout that injured 5, including 2 teens
The violence prompted police to order a curfew for downtown Detroit, requiring minors 15 years and younger to be accompanied by an adult or be off the streets by 10 p.m. Saturday. Minors ages 16 and 17 had until 11 p.m.
"Soon as it gets hot, everybody's bringing out their animosity, and they're just going wild and going crazy," said a woman named Kay, who saw one of the shootings. 
Fungal outbreak from UP paper mill grows
One person has died and close to a hundred probable cases have been linked to an outbreak of a fungus at a northern Michigan paper mill, officials said this weekend.
Public Health Delta & Menominee Counties said over the weekend that one person had succumbed to the disease, which has now been identified as Blastomycosis, which was confirmed in 21 people and classified as probable in 76 others. So far, 12 people have been hospitalized due to the illness. The individual who died was a contractor who worked at the Billerud Paper Mill.
"We were saddened to hear this news. Our heartfelt sympathies and prayers go out to the family, friends and co-workers who have lost their loved one," said Michael Snyder, who works with PHDM.
Last week, the paper mill's owners announced the temporary idling of the plant to allow for additional cleaning of the facility. Blastomycosis is a disease associated with a fungus that grows in moist soil and decomposing matter like wood and leaves, release from the public health agency said. Typically, the fungus infection can be contracted by breathing in the spores from the air.
Fifth arrest made murder of Monroe County woman
A fifth suspect has been arrested in a widening investigation around the murder of a 23-year-old Monroe County woman who was found dead in an abandoned school in Frenchtown Township.
Shortly after announcing a fourth arrest, state police put out a release about an additional arrest being made in North Carolina. A female suspect was charged with a single count of murder and a single count of conspiracy to commit murder. 
Three of the suspects arrested were made in Michigan before a standoff with U.S. Marshalls led to the arrest of a fourth individual who was only identified as a male. 
Kayla Sedoskey went missing in February and her body was found in early March. Brin David Westley Smith, Sierra Bemis, and Kaylyn Ramsey have all been arraigned on similar charges.
House where King planned Alabama marches moving to Michigan
A lot was happening in March 1965 in the bungalow in Selma, Alabama, that then-4-year-old Jawana Jackson called home, and much of it involved her "Uncle Martin."
There were late-night visitors, phone calls and meetings at the house that was a safe haven for the Rev. Martin Luther King Jr. and other civil rights leaders as they planned the Selma to Montgomery marches calling for Black voting rights.
The role the Jackson House played was integral to the Civil Rights Movement, so Jackson contacted The Henry Ford Museum near Detroit about a year ago to ask if it would take over the preservation of the Jackson House and its legacy.
Starting this year, the Jackson House will be dismantled piece-by-piece and trucked the more than 800 miles (1,280 kilometers) north to Dearborn, Michigan, where it will eventually be open to the public as part of the history museum. The project is expected to take up to three years.
– Courtesy of the Associated Press
Rain and snow chances greet the new week
Winter's back! Rain and snow will be mainly light and won't amount to much as most or all of the snow melts, yet it's still snow coming off of our summer stretch in April and that doesn't feel great. 
The wind will be noticeable, sustained at 20 mph and gusting out of the Southwest up to 30 mph.
Back to the warmth -- four 80s in a row in April is exceptional. The last time we were so lucky was 14 years ago.
So don't plan on a comparable stretch to return anytime soon, but the cold will ease pretty quick, we're back to the 60s Thursday and 70s aren't out of the question. 
Live on FOX 2
Daily Forecast
Temperatures will tumble Monday as precipitation and a cold front move in. Expect to see better stuff later this week, but it will only be temporary.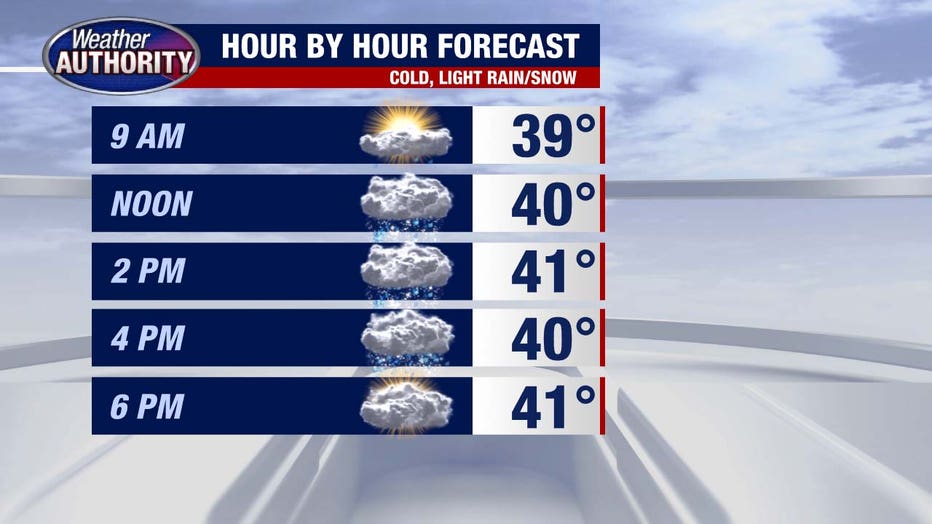 What else we're watching
The Ford Mustang turns 59 years old today. To celebrate the iconic car, the new chief engineer of the vehicle's manufacturing will join a Cars & Coffee event at Ford's World Headquarters in Dearborn.
Gas prices dipped down slightly after setting a new high for costs this year last week. The average cost for gas is now $3.71 a gallon - 9 cents more than a week ago.
Just as they were finding their mojo, the Tigers had to postpone the third of their three-game series with the San Franciso Giants. They had won the last three games which helped them snap an early-season losing streak. 
Detroit's first meeting of its 13-member Reparations task force met last week. It marked the beginning of a new process for paying back the descendants of enslaved people. 
The undisputed middleweight world champion is making a return to Michigan and FOX 2 where she'll discuss her headlining the first boxing event in the history of Little Caesars Arena in Detroit on June 3. Hop on the Nine at 9:20 a.m. to learn more. 
El Niño is making a comeback; What does that mean for hurricane season?
It may be difficult to appreciate, but weather and ocean patterns that are on the other side of the world from each other can be closely related. In the case of the Pacific Ocean El Niño and La Niña status, the number of hurricanes that threaten the US and even the Gulf Coast can see a big impact.
More storms during La Niñas and fewer during El Niños.
First, what exactly is an El Niño or a La Niña? Both are related to a larger pattern, a sort of see-saw known as ENSO or El Niño/Southern Oscillation. This is a periodic back-and-forth of pressure patterns across the equatorial region of the Pacific Ocean that can take a few years to affect winds and result in shifting the direction of the water. A wind shift from the west carries warmer water toward South America, while an east-blowing wind pulls water away from South America and causes colder water to rise from beneath the surface of the Ocean.