Fight over refund leads to triple shooting • TSA dog handler removed after video • Dan Gilbert's son dies
MONDAY NEWS HIT - A 27-year-old man is sought in a deadly triple shooting investigation that unfolded at a Detroit gas station over the weekend.
Detroit Police say Samuel McCray is wanted in connection to the incident, which left one dead and two others injured after the suspect got into an argument with the cashier.
The dispute, which was allegedly over a small refund escalated into McCray shooting three patrons who were also inside the gas station at the time.
"Tragic, ridiculous, unnecessary situation, three patrons at 3 a.m. in a store and something like this happens and it's unacceptable," said Chief James White. 
"We need to get this suspect off the street before he injures someone else."
The shooting happened at a Mobile gas station on McNichols near the Lodge Freeway early Saturday morning. According to White, the argument was over a refund of about $3 at the gas station.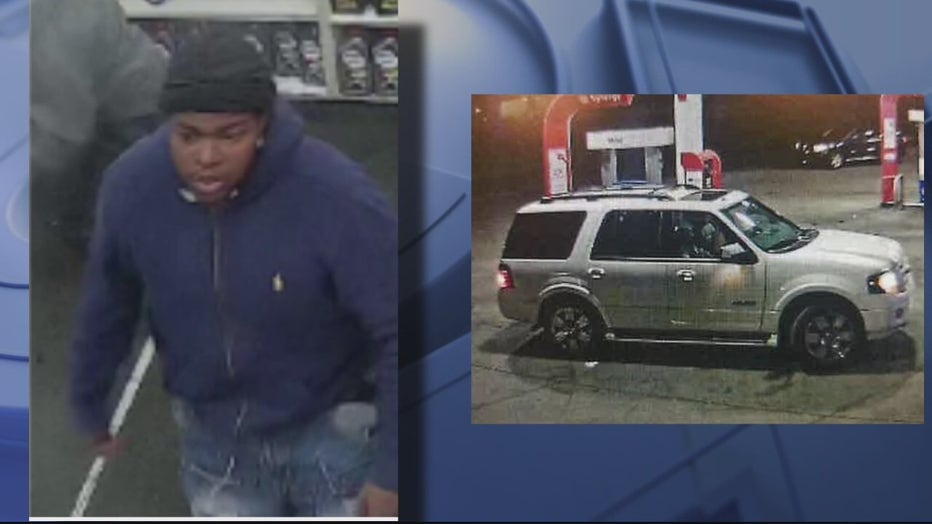 Samuel McCray, 27, is sought in connection with the triple shooting. 
Through the investigation, police also learned the gas station was also unlicensed and has since been temporarily shut down. 
Police are offering a $1,000 reward to anyone who helps police catch McCray, though they ask anyone that identifies him or the white Ford Expedition he's traveling in to keep their distance and call officers. 
McCray is to be considered armed and dangerous.
TSA canine handler at DTW under investigation 
A TSA canine handler is under investigation after a video captured him aggressively pulling his dog. The video was taken at Detroit Metro Airport and has since gone viral.
The video shows the canine handler walking back and forth. Each time he made a turn, he aggressively pulled the dog. FOX 2 spoke to Michael Burkey — the owner of Michigan Dog Training and a former police canine handler who's been training dogs for over two decades.
"One, it doesn't look good; it looks horrible. Two the dog's not learning from it, and it's just rough on the dog - don't need to be," said Burkey. "The dog wasn't ready to be put in that situation that many distractions. Should have been more training of the dog and more training of the handler."
TSA says that the handler has since been removed from his duties. They released the following statement: 
"Video showing a TSA explosive detection canine handler aggressively pulling a dog working in a Detroit Metropolitan Airport (DTW) terminal was shared with local leadership this morning. The behavior displayed by this handler is unacceptable and not within the high standards we hold our officers to. TSA officials at DTW have removed the employee from handling duties pending completion of an investigation, and directed that the canine be taken immediately to a veterinarian for a wellness exam."
Nick Gilbert, son of Cleveland Cavaliers owner Dan Gilbert, dies at 26
Nicolas "Nick" Gilbert, the son of Cleveland Cavaliers owner and Quicken Loans founder Dan Gilbert and his wife Jennifer, died Saturday at the age of 26.
He had a lifelong battle with Neurofibromatosis (NF1); a hereditary condition that is characterized by the growth of tumors along nerves all across the body. There is no specific treatment or cure.
Nick is one of five children in the Gilbert family. "Nick died peacefully at home surrounded by family," said The Ira Kaufman Chapel.
Dan spoke with FOX 2 in 2015 about Nick's battle with neurofibromatosis. The Gilbert Family Foundation was established in 2015 to further NF research efforts. In 2017, they founded NF Forward; a nonprofit 501c3 organization to fund groundbreaking NF research.
Eight Mile joins the construction scene
There is more construction coming to Metro Detroit to tack onto the restrictive travel options already in place on Woodward, I-75, I-96, I-696, and elsewhere. On Eight Mile, the state will be reducing to two lanes for construction.
The road work is expected to be completed in the summer of 2024. According to the Michigan Department of Transportation, approximately five miles of Eight Mile, between Woodward and Van Dyke avenues will have traffic barrels the line the streets. 
A lane configuration kicks off today and will be in effect the entire year. The upgrades include resurfacing, concrete patching, signal upgrades, sidewalk ramp improvements, and drainage upgrades.
There is also bridge work at I-75 that's being worked on. 
See more construction news here. 
MSU shooting victim gifted sneakers from 76ers' Harden
James Harden sank the overtime 3-pointer that sent the 76ers to a playoff victory and instantly waved over John Hao, a paralyzed Michigan State shooting survivor who developed a long-distance FaceTime bond with Philadelphia's star guard.
Harden had just scored 42 points, removed his sneakers, signed them and handed them to his new friend. Hao was all smiles as he looked on from the court, a needed respite from looming rehabilitation for the international student from China who attended Game 4 as Harden's guest.
Before the game, Harden leaned into Hao and got small pats on the back before resuming his pregame drills. "You look good," Harden told Hao.
The 20-year-old Hao and his parents had been invited by Harden to attend a 76ers game once he was available to travel. Hao recently left a Chicago rehabilitation facility where he'd been since a February shooting on the East Lansing campus that killed three students and injured five others.
— Courtesy of the Associated Press
Live on FOX 2
Daily Forecast
Don't expect a lot of bad news from the weather forecast this week. It'll be 60s and 70s for the bulk of the week with chances of rain Monday and Friday. A mix of sun and clouds will provide some of the main variability this week. 
What else we're watching
The Detroit Tigers had their five-game winning streak snapped this weekend after losing 12-6 to the St. Louis Cardinals. Prior to that, it didn't seem like the Tigers could lose after a so-far streaky season.
Two men, ages 27 and 29, were injured by gunfire during a shooting late Sunday night in Detroit. Police did not release the condition of either of the victims, but said the shooting happened on Goulburn.
Detroit Parks and Recreation is looking to fill almost 100 seasonal positions that range from life-guards to play leaders. Jobs start at $15 an hour and hiring dates will be underway at the Heilmann Recreation Center on Monday, the Adam Butzel Center on Wednesday, and at Kemeny on Thursday.
Gas prices fell another 11 cents from a week ago with the average at $3.38 a gallon, which is down 23 cents from this time last month. With the summer swing almost here, the prices aren't anything close to what they were last year.
If you need more Mother's Day ideas ahead of the week, FOX 2 has already spoken with several guests about new ideas that are trendy this year. Tune into The Nine for a look at some jewelry that might also go over well.
Britain zoo hiring human seagull-scarers: 'Must be an excellent flapper'
Are you outgoing, energetic and an "excellent flapper"? A zoo in Britain has the job for you.
Blackpool Zoo is in the seaside resort town of Blackpool, where zookeepers have always had problems with seagulls trying to steal food from visitors and penguins alike.
"Seagulls make a real nuisance of themselves during busy times at our eateries and also during talks, feeds and demonstrations that involve fish," zoo officials tell FOX TV Stations.