Mother dies after giving birth • GOP leader defends Holocaust tweet • Girl killed in multi-vehicle crash
THURSDAY NEWS HIT - A girl is dead after a crash Wednesday night in Walled Lake.
UPDATE: Suspects flee after causing crash that killed child during police chase
At least four vehicles were involved in the crash near Maple and Decker roads. Police are expected to release more details about the crash, which was described as high-speed, later Thursday.
FOX 2 does know that a 13-year-old girl was killed and others were hurt. Two people ran from the crash scene. 
Mother of 2 dies after giving birth
A Detroit family is now raising two young girls while grieving the death of their mother, who died after giving birth to one of the children.
"She was 25, perfectly healthy, I just don't know what went wrong," said Katina Ponder, Alona White's mother. "We went from being joyful to devastated."
White died days after her daughter Ari was born.
Ari was born the afternoon of March 7 and taken to the NICU. There is a photo of Alona a few hours after her C-section. Hours later she would get to nurse her infant daughter - but then Alona said she had a headache and was soon unresponsive.
"She went down for a CT scan and that's when they saw like a really large massive bleeding on the left side of her brain," Ponder said.
Alona had an emergency craniotomy - and was in the ICU for five days before she died.
Michigan GOP chair defends gun control Holocaust tweet
A tweet posted by the Michigan GOP on Wednesday drew immediate criticism. 
The tweet said, "History has shown us that the first thing a government does when It wants control over its people is to disarm them." This, along with a quote from President Ronald Reagan. But the controversial part is a meme with the picture and text, "Before they collected all these wedding rings, they collected all the guns." This is a reference to the genocide of Jewish people during World War II.
Michigan GOP chairwoman Kristina Karamo defended the tweet during a press conference, saying that is meant to be about learning from history - the potential tyranny of the government if Second Amendment rights are trounced upon.
Suspect shot by deputies after killing father-in-law
A suspect is dead after authorities say he killed his father-in-law and shot his mother-in-law and wife.
Oakland County Sheriff's deputies were called to a home on Delmar Court in Highland Township on Wednesday morning about a shooting. Authorities say an 8-year-old girl who did not live at the home called them. When they arrived, deputies got two children safely out of the condo. They then heard a gunshot.
Deputies rushed into the home and found a man on top of his wife, hitting her. When he refused multiple commands to put his hands up, deputies shot and killed him.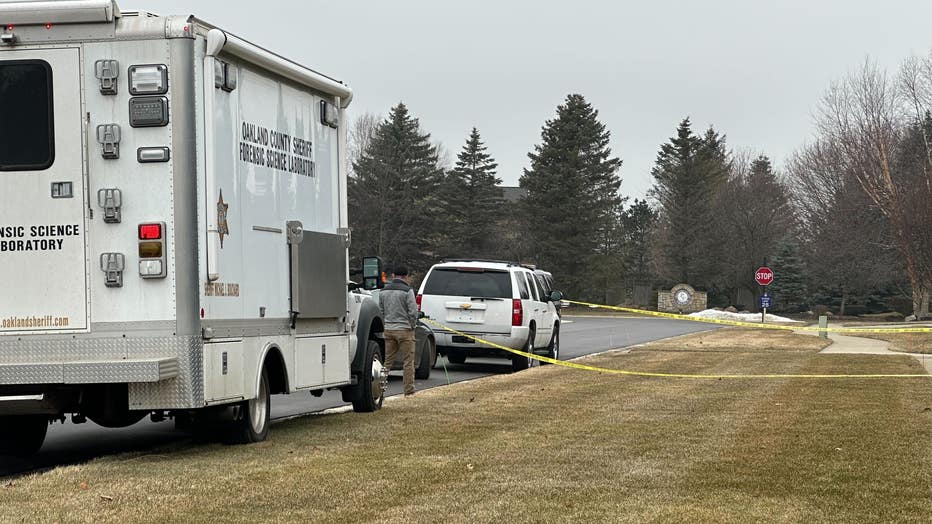 Sheriff Michael Bouchard said the woman was seeking a divorce from her husband and had left their home in Dearborn Heights to stay with her parents in Highland Township. Before the shooting, her estranged husband parked a couple of blocks away, crept through backyards, and then smashed through a sliding glass door with a crowbar.
The wife and her mother are expected to survive, and three children who were in the home were not hurt.
DTE, Consumers presenting to Energy and Environment Committee
Representatives from DTE Energy and Consumers Energy will appear at the Michigan Energy and Environment Committee meeting Thursday.
The utility companies will present to the committee after power outages that impacted hundreds of thousands of customers in Southeast Michigan.
Live on FOX 2
Daily Forecast
Rain Wednesday morning will fade around the early afternoon.
What else we're watching
Berkley police issued an alert after a suspect grabbed a girl while she was walking home from school.
Prominent attorney Geoffrey Fieger is recovering after suffering a stroke.
A mother of a former Wayne County juvenile jail inmate detailed the horrific conditions inside the facility.
Bloomfield Township police are looking for the owners of stolen property found when they arrested a suspect.
A vehicle crashed through the Grosse Pointe Farms post office early Thursday.
Body found near suspect's abandoned car after Denver school shooting
A body was found Wednesday night in the Colorado woods near the abandoned car that belonged to a 17-year-old student accused of shooting two administrators at his Denver high school earlier in the day, a sheriff said.
Park County Sheriff Tom McGraw said the body was discovered not far from the car in a remote mountain area about 50 miles (80 kilometers) southwest of Denver, near the small town of Bailey, in Park County. The town had been ordered to shelter in place while officers from a number of agencies including the FBI combed the forest.
But, authorities said they have not yet identified who it was and McGraw declined to say if it was a man or reveal the cause of death.