Southwest Detroit land swap • MSU Students return to class • Barricaded gunman scene in Grosse Pointe
TUESDAY NEWS HIT - A 3.8-acre plot of land along the Detroit River has become a flash point for residents worried about what the owners of the Ambassador Bridge will do if it's transferred to them.
The city would receive $5 million in improvements to Riverside Park, which lies just to south of the bridge.
The Detroit City Council is expected to vote on the land transfer deal, which involves Detroit International Bridge Co., which is owned by the Moroun family.
The city council previously rejected a similar land swap deal with the Moroun family after bowing to intense public pressure. Land swap deals are intended to include benefits to the community that are funded or serviced by the business that is receiving the land. 
The land in question Tuesday is the Hubbard Richard neighborhood.
Neighbors are worried that by swapping the land over to the bridge owners, the Moroun family's business will expand, sending more truck traffic near local neighborhoods. 
Some neighbors are arguing the council needs to negotiate a community benefits agreement with the family before approving in land transfer. However, the DIBC says the city is required by law to approve the deal. 
Paczki lovers descend on Hamtramck for Fat Tuesday
The big tradition with the big calories is back, and this time it's orange creamsicle flavored. At least it is if one is lined up outside the New Palace Bakery in Hamtramck. The unofficial headquarters for paczki opened early this Fat Tuesday to cater to the dozens of people who woke up early to get a taste of the year's most filling treat.
 "I think it's just the tradition. They're great doughnuts - well, they're better than doughnuts - it's a long wait out here," said Randy Streicher, who traveled from Troy.
While orange creamsicle is the newly-introduced flavor for this year's Fat Tuesday, MAN opted for apple and the classic flavor custard. While some leave the bakeries of the Polish community with boxes of paczki, Streicher will only be leaving with a few.
"Can't afford to eat that much more. I could pack it away when I was younger but not anymore," he said. For many locals, the combination of good food and Carnival celebration is the biggest day of the year. Mardi Gras, which is French for Fat Tuesday, marks the last day of indulgence before the Christian fasting season of Lent commences on Ash Wednesday.
One arrested after standoff in Grosse Pointe Shores
One man was arrested after an hours-long standoff in Grosse Pointe Shores after police responded to reports of family trouble at a home near Lake Shore Road.
Officers arrived shortly after 7 p.m. after getting a call about a verbal argument between a couple. When police arrived, the female spouse told police it was not unusual for the couple to argue, but Monday's fight had gotten out of hand.
The male subject was intoxicated and emotionally unstable, police said, as well as there were weapons in the home. One firearm was on the counter, prompting the woman to fear for her safety. At times the male suspect made gestures toward the gun after looking at police.  
After multiple rounds of making contact with the suspect, police eventually got him to surrender peacefully. He was taken to the hospital for evaluation and weapons were removed from the home.  
Spartans return to class a week after mass shooting
As night falls on MSU's campus, officially one week after the deadly shooting there, students and faculty processed their first day back with classes resumed. Students took time meeting up, laying flowers at the makeshift memorials, while university officials are focusing on boosting security.
"I spent all day on campus just to see everybody and try to come back to normal a little bit," said Jarrett Maki. Maki, a fifth-year senior from Clinton Township spent the day taking it all in. What he found, helped give him hope for the future.
"There was a cafe around here that offered free admission to students. That was nice. Go hang out with some animals for a bit," he said. "I'm a (Communication) Arts student so there were donuts and coffee and dogs and stuff so, just taking advantage of all the resources possible.
All around campus, there were signs with messages of love and support for the returning student body. And at the storied Sparty Statue, usually a site of celebration and jubilation, is now a growing memorial for the victims. And it's a place of reflection and remembrance while everyone ponders what the future will look like as it relates to safety.
Read more about Spartans' return to campus here.
Furniture shopping spree for family that lost home in fire
A family who lost everything in a house fire earlier this month received a big surprise Monday – a furniture shopping spree, so they could furnish their new home.
Josiah Simmons, Samantha Reynolds, their three children, and Reynold's grandmother lived in New Hudson before a fire ripped through the home. Reynold's grandmother died from injuries she suffered.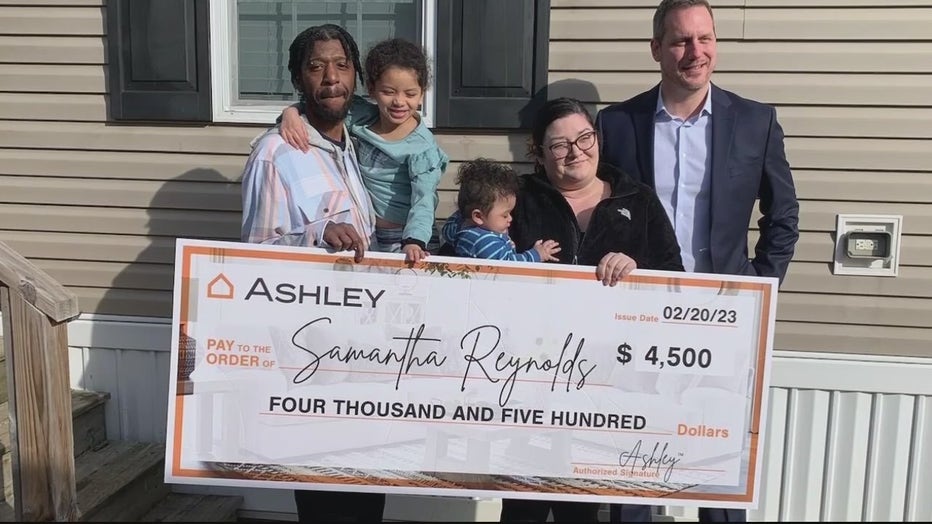 "Living in the vehicle was really tough," Simmons said. 'Just that moment of what to do next? You know what I mean? It was really terrifying. It was really scary." The family was living in their car until Simmons' job and the community rallied to help them get a new home. There was just one problem – they had no furniture.
Ashley HomeStore provided the family with $4,500 to get what they need. The family filled their home with a new couch, beds, pillowcases, and more. "It's just a blessing that so many people came together to help us," Simmons said.
Live on FOX 2
Daily Forecast
Tuesday will be a bit colder than Monday with temperatures maxing out in the mid-30s along with some clouds. Expect more of the same as far as temperatures go tomorrow, along with some sleet and rain.
What else we're watching
It's not just in Hamtramck. The dispensary in Walled Lake The Greenhouse is teaming up with Star Bakery to give away 500 paczki, available to visitors 21 and older starting at 9 a.m.
Arielle Anderson, one of the three students killed in the MSU mass shooting last week, will be laid to rest Tuesday. A service is planned for the morning, followed by a funeral.
Winter weather will dip its toes back into Michigan this week after some heavy storms pound the Midwest with snow. Detroit will likely only see slush and snow falling this week - but it could still make for some tricky weather. 
Alternatives for Girls broke ground in Detroit Monday with a new $17 million center now being built. Once complete, it will help at-risk youth.
A Detroit woman is heartbroken after her dog was attacked by a loose pit bull on the city's west side. Hear Jacqulyn Clark's story here. 
Putin blames West for Ukraine war, defends invasion in major speech
Russian President Vladimir Putin accused Western countries Tuesday of igniting and sustaining the war in Ukraine, dismissing any blame for Moscow almost a year after the Kremlin's unprovoked invasion of its neighbor that has killed tens of thousands of people.
In his long-delayed state-of-the-nation address, Putin cast Russia — and Ukraine — as victims of Western double-dealing and said Russia, not Ukraine, was the one fighting for its very existence.
"We aren't fighting the Ukrainian people," Putin said in a speech days before the war's first anniversary on Friday. Ukraine "has become hostage of the Kyiv regime and its Western masters, which have effectively occupied the country."
The speech reiterated a litany of grievances that the Russian leader has frequently offered as justification for the widely condemned war and ignored international demands to pull back from occupied areas in Ukraine.