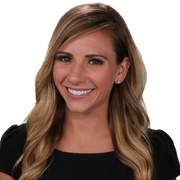 Kellie Rowe
Traffic Reporter
At FOX 2, my goal is to get you where you need to go and try to make your morning a little better. Along with that, I cover stories of all types, featuring the amazing people in the Metro Detroit community. 
Born in California, I was raised in Davison, Michigan with my amazing parents Mike and April, and siblings Savannah and Nick. I'm incredibly close with my family and thank God for them every day, I can't imagine where I'd be without them. 
I went to Michigan State University (Go Green!) and graduated from the Honors College with a BA in Journalism, while working at the student newspaper The State News. Over those years I interned with a number of news outlets including USA Today, ABC 12, and FOX 47. 
I started at FOX 2 on the digital side, hosting our live streaming program FOX 2 News Now. Then I began reporting, finding my favorite reports involved people in the community with incredible stories, and started traffic in August 2020.
I'm a diehard sports fan, especially when it comes to football. My future goals include coaching my son OR daughter's football team with a Belichick style short sleeve hoodie, embarrassing them to smithereens. When I'm not watching a game, in my free time at home I enjoy reading, gaming, and weightlifting (okay they're not THAT big of weights, but I'm getting there).
For the past couple years I've lived in the heart of downtown Detroit with my chinchilla Tiggy (Google chinchillas, you won't be disappointed). If you need recommendations, I'm your girl. My ideal day includes picking up flowers and groceries at Eastern Market, relaxing at a Tigers game, dinner at La Lanterna in Capitol Park, and grabbing an Old Fashioned on the roof of Monarch Club. 
I'm very active on social media and love interacting with viewers, so come by and say hi, I'd love to meet you. Thanks for watching!
The latest from Kellie Rowe