At least 6 suspects in dozens of crimes across Southeast Michigan arrested after Detroit standoff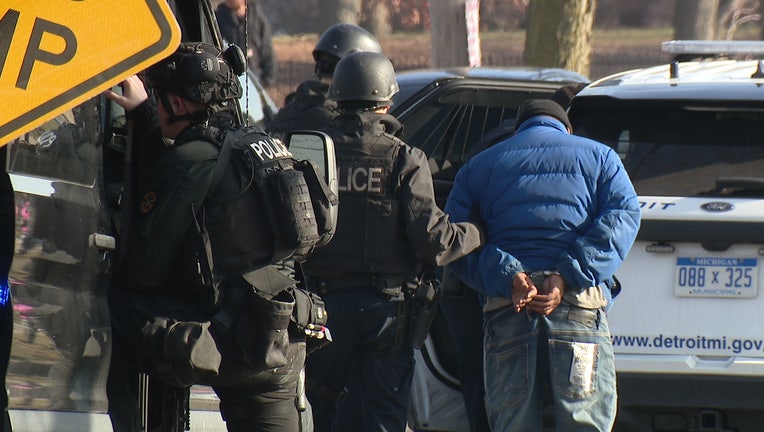 article
DETROIT (FOX 2) - The Warren Police Department announced on Wednesday that a group of suspects they say are responsible for at least 30 crimes in Wayne, Macomb, and Oakland counties were arrested after a chase and standoff in Detroit.
According to police, the investigation started in January after a report of a break-in at a business near Stephens Road and Ryan. In that break-in, authorities said three men in an older Ford pickup forced their way in with a pry bar. As Warren police investigated, they contacted neighboring agencies and learned similar crimes had occurred in Troy, Clawson, Madison Heights, Harper Woods, and Detroit – all with a matching vehicle. 
Investigators from the Warren Special Operations Unit (SOU) said the group was also responsible for a high-value retail theft from businesses in Detroit and stole several cars as well. 
Warren police investigated the group and early Wednesday morning, they said they watched the group try to break in to a tobacco shop near Warren and Chalmers in Detroit. 
READ NEXT: Bloomfield Twp Police arrest three for 25 car thefts in Metro Detroit, find stolen guns during raids
Detroit Police immediately tried to arrest the suspect but they drove off. Police did not pursue them on the ground but police followed them in a chopper to the Jefferson Square Apartment Complex.
Police then arrived and negotiated with the people inside. After several hours, the suspects inside came out peacefully and were taken into custody.
According to Detroit Police, there were several children inside the home when they arrived and negotiated with the suspects.
Warren Police Commissioner Bill Dwyer praised the work of all officers from all cities involved in this case. 
"This case is a testament to the hard work of Warren SOU officers and Detectives. Warren investigators were able to work with other law enforcement agencies to learn that members of this organized group had been plaguing businesses in the tri-county area for months. Many of the suspects involved in this group have previous convictions for theft-based crimes. Thanks to the assistance of the Detroit Police Department, 6 suspects were taken into custody this morning without injury or incident. There is no doubt that many cities are safer now that these suspects are off the street. This investigation is by no means over and I am confident that additional suspects will be arrested and charged for their involvement in these various incidents. The Warren Police Department will continue to work with our law enforcement partners and use any resources necessary to arrest all those involved in such crimes."