Missing Wynter Smith: Body found on Detroit's east side is kidnapped 2-year-old
FOX 2 (WJBK) - A body believed to be missing 2-year-old Wynter Cole Smith has been found on the city's east side Wednesday according to Lansing police and FBI investigators. 
The location is near Knodell and Erwin streets east of Van Dyke and north of Harper. The body was located in an alley near a house. 
Wynter Smith's body recovered in Detroit; What we know about case of Lansing 2-year-old
FBI Acting Special Agent Devin Kowalski gave a briefing near the scene where Smith's body was found.
"At approximately 6:50 p.m. this evening, the body of Wynter Cole Smith was recovered by FBI agents, this is not the outcome that we were hoping for," he said. "And our hearts go out to Wynter's family. Based on information developed through this investigation, our teams were searching multiple areas across the state over and over again, and specifically in the area adjacent to where we are standing."
Smith has been missing since the early morning hours of July 3 when an Amber Alert was issued following the sexual assault and home invasion of her mother in Lansing.
"I am deeply saddened to report the search for Wynter Cole Smith has come to an end," said Lansing Police Chief Ellery Sosebee. "At approximately 6:50 p.m. a federal search team in Detroit located Wynter's body near the Coleman A. Young Airport. This case has moved to a missing child to a homicide investigation. I want to remind everyone that this is an open investigation and I will not comment on specifics at this time.
"This is not the outcome anyone hoped for. But I promise law enforcement will see the family gets the justice that they so deserve."
Kowalski said the FBI Detroit's Evidence Response Team is working the scene where she was discovered.
"Our best people are back there to do what is necessary to be as respectful as possible to Wynter and her family. This will be a thorough and deliberate crime scene investigation. It will take time to carefully collect evidence that we need to help bring the person responsible to justice."
The suspect, Rashad Trice, 26, was arraigned on Wednesday on several charges including criminal sexual conduct, home invasion, unlawful imprisonment, and domestic violence – among other charges. 
When Trice was arrested, Smith was not with him. Police said Trice took 2-year-old Wynter from her home in Lansing on Sunday. 
Lansing police gave a brief press conference Wednesday night, which can be watched in the video below.
Investigators said the toddler was taken by Trice, her mom's ex-boyfriend, after he stabbed her. He then fled to Metro Detroit with Wynter, prompting an AMBER Alert and was eventually arrested in St. Clair Shores.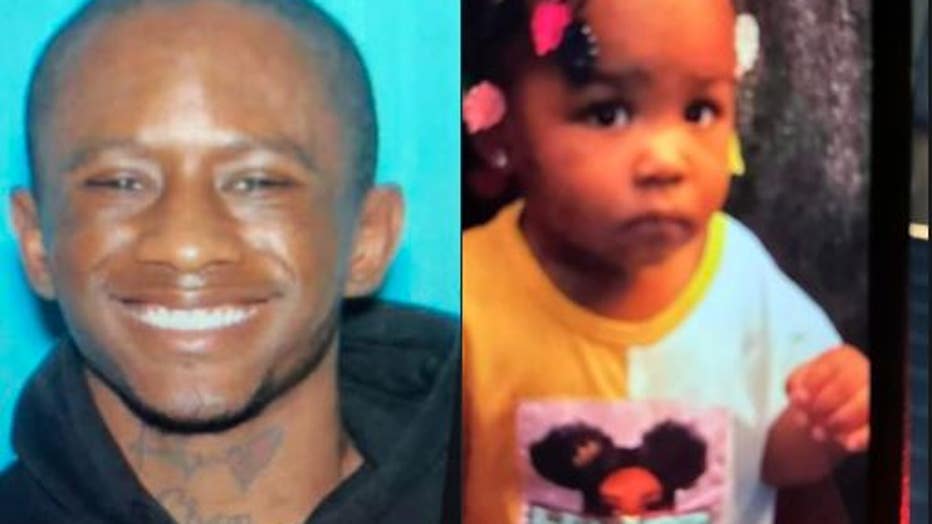 Suspect Rasheed Malik Trice, 28, left. Wynter Cole Smith. Courtesy Lansing police.
More Coverage