Home hit by car then ransacked • Lawsuit at Camp Dearborn over drowning • Brief return of summer temps
THURSDAY NEWS HIT - David and Monique, both best friends since high school, had only lived in this house on Charlevoix for six days.when a car crashed into it on April 10th.
"It sounded like a bomb went off," said David Fisher. "His wheels were in the basement, his front wheels. I'm so happy he lived because it was miraculous."
The driver of the white Jeep told FOX 2 he's feeling better - but doesn't remember much about the crash. Police closed the case.
"Just looking at it now it's so surreal. I'm at a loss for words, I've actually never been this close to it actually," said David.
Nine days later, the two still can't believe it. What damage the Jeep didn't do, vandals stole everything inside the home. Their dream home, and where they worked - a total loss.
"We had everything going for us," he said. "The thing that was holding us back before as a company is that we didn't have a house."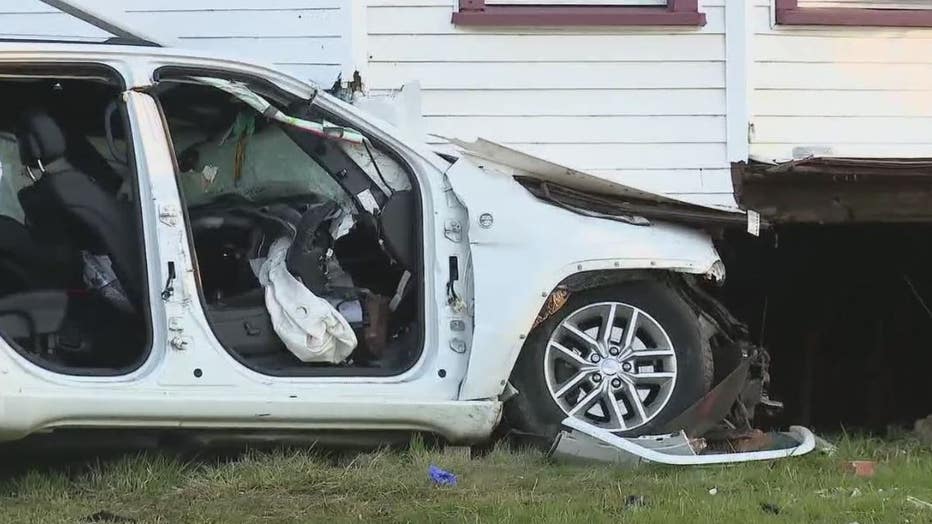 The 1,800-square-foot home was originally built in 1912- deteriorated throughout the years, and eventually became a Land Bank home.
"We had never owned a home before and we thought this was the best place to start building our life in Detroit," he said.
The home was purchased in December of 2020 and compliance with Land Bank rules was achieved in October 2022, using all of the money they earned from their company.
"The Euphoric Tree Fort, we sell 'smell-o-vision' candles," David said. "You take one of our candles, we have over 70 different scents, ranging from Harry Potter to Quintin Tarantino movies. The idea to burn it during the show or movie for a 4-D experience."
And the candle business - gone. A GoFundMe account has been set up. Go HERE for the link.
"My dad said something to me that Lovell forgot. He said you'll know how strong you are when your back is against the wall," David said.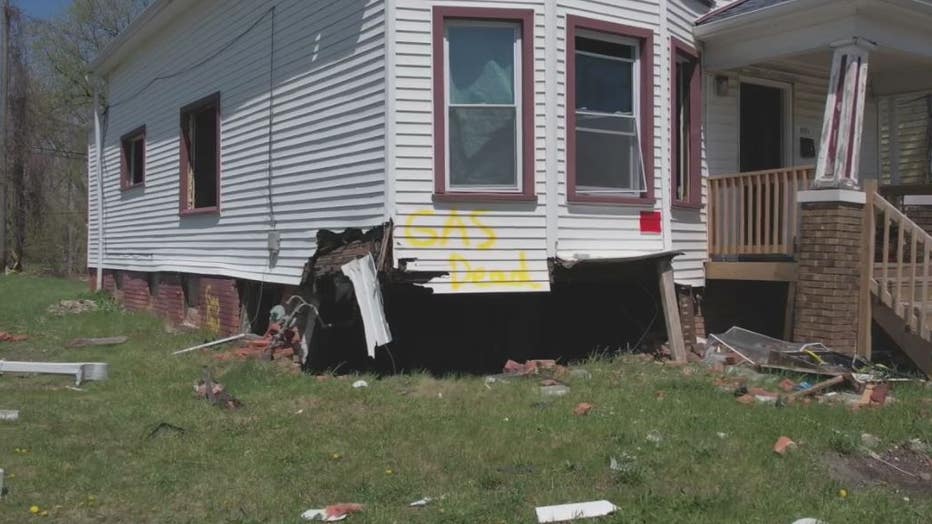 FOX 2: "Is your back against the wall?"
"Oh definitely but I'm making it," he said. "We're making The best out of it. And I think everything will be fine."
10-year-old boy's family sues after Camp Dearborn drowning last summer
The family of a 10-year-old boy who died after falling off a water play structure at Camp Dearborn last summer is suing. Carson was playing on a jungle boat at the campground in Milford Township when he fell from the highest platform and hit a protruding ladder July 6. He later died at a hospital.
"When you have a platform like the one 10-year-old Carson was on, 10 feet, 10 inches above the level of the water, and then you build a protruding folding ladder that goes out over the top of the edge…" attorney Venn Johnson said.
Johnson says it is a dangerous design. Couple that with only one lifeguard on duty and Carson had no hope, he says. However, there's one problem with suing. The campground is owned by the city of Dearborn, meaning that there is government immunity. So, Johnson is going after the owner of the water playscape.
"It's very difficult. When we go to his grave, I say we're going to visit bubby, and that's what he has. That's what he knows is his bubby. He sees pictures, and he recognizes him, and he can say his name, and he remembers him, and when I show him videos, he wants me to play it over and over and over and over," Carly Burgess, Carson's mom said. 
Summer returns (for a day)
Today's the day! A brief, but decent warmup is on tap as temperatures turn up a bit. So we'll all be warmer than yesterday (55°), but the warmth will differ from place to place as the warm front may struggle to clear the entire area.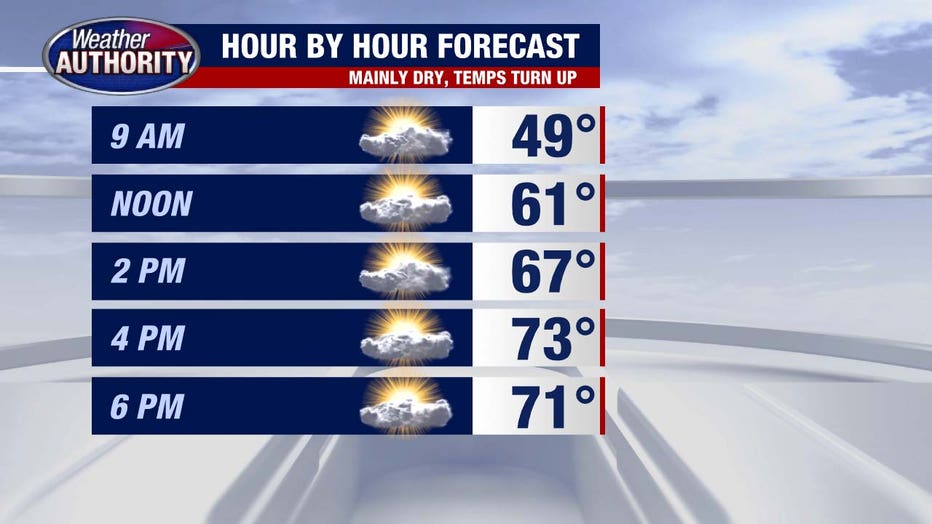 I'd say Lenawee County stands the best chance to catch an 80 degree-day. Most of us will get into the 70s and 60s in St. Clair and Lapeer Counties. The Southeast flow off of Lake St. Clair and Macomb County may lag behind a bit too.
Rain chances are limited. I'd say most of the day is dry with nothing more than an isolated shower or storm with limited energy to work with in the atmosphere. The cold front swings through Friday bringing rain with it and falling temperatures through the morning.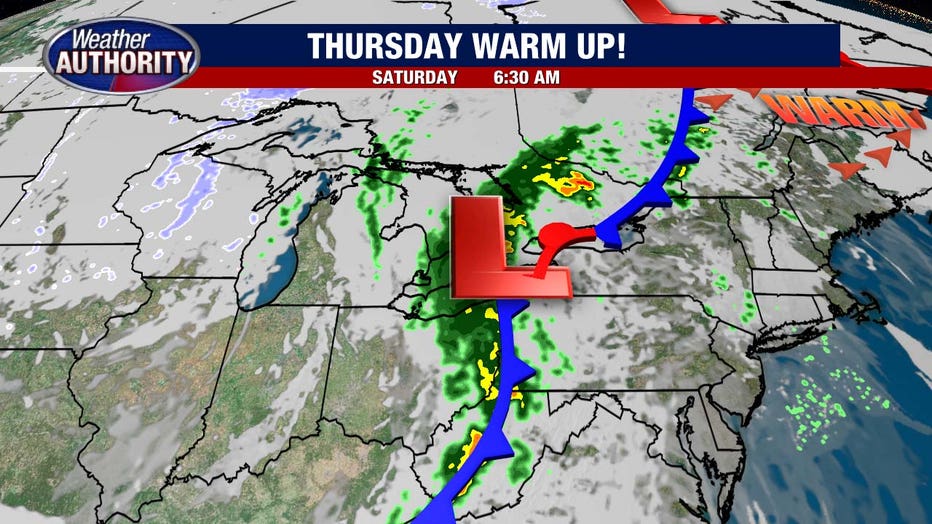 That cooling trend carries us right into Saturday. Saturday rain is a good bet, though the widespread soaking rain looks to lie just to our east. Should this trend hold, just some lighter showers will be around with our western communities possibly even staying dry. 
I-375 project looks to rite problematic past
A highway redesign in Detroit is giving the city a second chance to re-imagine how to best use the space that was paved over for the construction of I-375. With the cloud of its controversial past hovering over the project, the state is paying extra attention to how best pay homage to Black Bottom and Paradise Valley
"The vision is for it to be a vibrant boulevard, one that gets a lot of use from the community - not only the transportation aspect, but also the land use aspect to serve those reconnections," said Jon Loree, senior project manager."We realized that there's a lot more work that we want to do with the public engagement around what the corridor looks like, the look and feel of it."
The concept of connectivity and maintaining avenues for transit will be key during the redesign, the Michigan Department of Transportation said. A historian passed on their own wishes that the next round of development not mirror that of the 50s and 60s.
"We want to really celebrate all of the great things that that community brought forward at that time," Loree said. "So we're looking at ways within the aesthetics, but also within the land use - ways that we can incorporate that history into the project as well."
What the next batch of gun bills could look like
The Michigan Senate has passed a so-called Red Flag law designed to take guns away from those who could harm themselves or others. The law deals with providing an avenue for police who are concerned about someone a means to confiscate their firearms.
The governor needed every Democrat's support to pass it and on Wednesday she got it by a 20-18 vote. All 20 Democratic senators voted yes on the red flag law and every Republican voted no. But the next set of so-called gun safety measures including size of gun magazines as well as opening up gun makers and sellers to being held liable to be sued for shootings, may be tougher to pass.
That next batch of anti-gun violence legislation is more controversial, and there's a good bet some Democrats will vote no. Those pending issues included limiting the number of bullets you can put into a gun magazine, banning assault weapons and allowing the public to sue gun makers and gun shop owners that sell weapons that injure or kill victims somebody.
Polling data even says the issues don't have widespread consensus. 
Live on FOX 2
Daily Forecast
Temperatures return to their summer-feel with high 70s and 80s expected for most of Southeast Michigan. Expect the sun to poke itself out by midday as well. 
What else we're watching
A Romulus man had his home raided by the DEA for suspected drug trafficking. An agent observed the suspect making "numerous" narcotic transactions before he was arrested. 
Michigan State Police Are accepting new and gently used purses and bags they plan to fill with comfort items to help survivors of sexual assault. They will include toiletries, socks, hand sanitizer, and candy. Donations can be taken to either of MSP's locations on 10 Mile in Oak Park or Telegraph in Taylor.
Cherry blossoms are blooming on Belle Isle. Make sure you check them out since Thursday will be the warmest day for the next week.
A large-scale partnership that includes local law enforcement and the U.S. attorney for the Eastern District of Michigan are rolling out a new plan to combat crime in Detroit. Read more about it here. 
A song using Eminem's voice but created with artificial intelligence is the latest example of the legal murkiness of content generated with AI. A music professor spoke to FOX 2 about the fine line between what is parody and what isn't.
This is the No. 1 top-selling grocery item in the US
An online grocery store delivery and pick-up platform has revealed which is the top-selling grocery item in the U.S. and Canada.
Instacart, headquartered in California, shared its shopping data with FOX Business on Americans' add-to-cart preferences.
In fact, Instacart revealed that when it comes to this particular item, the company recently hit quite the "a-peel-ing" landmark: More than 1 billion bananas have been delivered by Instacart to date – making the yellow fruit the most popular grocery purchase.