How 8-year-old survived being lost in forest • Wayne State's mass shooting research • Oxford's safety report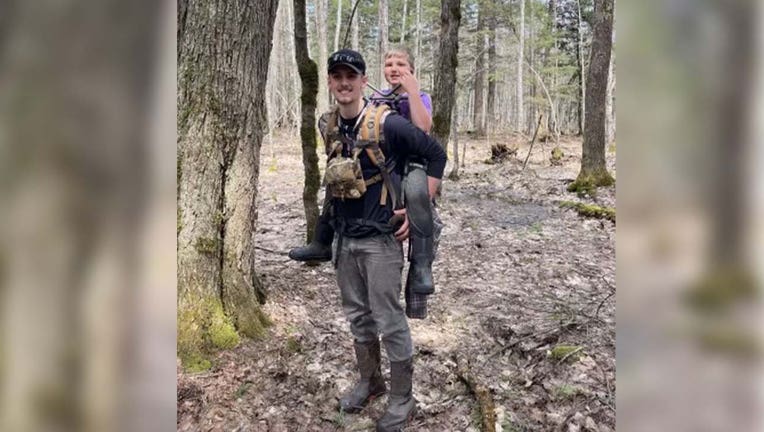 article
TUESDAY NEWS HIT - When Nante Niemi was found after going missing in a remote state park in the Upper Peninsula, the 8-year-old refused to be carried. 
Instead, the Wisconsin boy told the search and rescue team that discovered him that he'd rather walk.
Niemi was found after he went missing over the weekend when his family went camping in the Porcupine Mountains. Michigan State Police said he went missing on Saturday around 1 p.m. after he left to gather firewood for the family's campsite. 
He went missing at approximately 1 p.m.
Rescue teams safely located Niemi around 1:30 p.m. Central Standard Time on Monday approximately two miles from his campsite. Police said he had taken shelter under a log where he was ultimately found. 
Niemi originally went looking for rescue on a trail after he went missing for a day. When he ran out of trail, according to state police, he "figured the best thing to do was to just stop and wait."
Niemi also told rescuers that he had covered himself with branches and leaves for warmth, blanketing the log he was under to weather the cold conditions that remain in the U.P.
He didn't have any food, but ate clean snow for hydration as well.
Read more about the 8-year-old's rescue here.
Wayne State initiates mass shooting research
Bioengineers at Wayne State University are studying the differences between bullets fired from a handgun and bullets fired from an assault rifle to better understand what they do when they strike the body. 
A controlled gun lab on the Detroit campus will enable them to see clearly how rounds fired from both categories of weapons impact the body. They'll use a gelatin that mimics human muscle to test the fired rounds.
When the assault rifle is fired at the gelatin, "you have a lot more tissues affected and to a larger degree," Professor Cynthia Bir said. She's the chair of biomedical engineering at Wayne State.
This sort of damage means there is often little doctors can do to help someone who has been shot. "I've heard people, those surgeons that have gone in after something has occurred and said basically it looked like a bomb went off inside the body," Bir said. "This is definitely not a protection round." 
Safety report highlights more changes for Oxford schools
A review of Oxford Community Schools shows changes the district should make to improve safety. Guidepost Solutions released its "independent report on threat and suicide assessments and physical security" on Monday after being tasked with reviewing policies following the 2021 Oxford High School shooting.
The report addresses current school safety and security policies and practices, not policies in place during the deadly school shooting. There have been several changes in the schools since the shooting, including the addition of weapons detection systems. 
According to the findings, the district needs to improve its suicide and threat assessments, along with physical security. Guidepost provided dozens of recommendations for what the district should do it increase safety.
Recommendations include inquiring about access to weapons, including school resource officers in threat assessments, and evaluating its search policies. The report noted that every threat assessment since the shooting has included a search, a practice it says should be evaluated continually "to ensure sustainability and compliance with district policies and administrative guidelines."
Dearborn Heights student plan walk-out in solidarity with principal
Students at a Dearborn Heights high school are planning to walk out of the building in solidarity with a principal who was recently suspended.
Those enrolled at Annapolis High School plan to walk to the district's Board of Education building around 11 a.m. to protest the Superintendent's decision to suspend Aaron Mollett. His temporary removal happened during a difficult week for the community after a student died by suicide.
Mollett's suspension has frustrated parents and students, leaving many confused by the reason due to the principal's standing in the community.
It's unclear why he was suspended, but in an email to parents Superintendent Ty Weeks wrote "we appreciate your concerns and are thanking you in advance for your patience and Mr. Mollett's privacy as we work through this situation."
See more of the superintendent's statement here.
Michigan's infrastructure gets a C-
Michigan's infrastructure received a C- grade, meaning that it is mediocre and in need of attention. This grade is the same as the United States and is an improvement for the state since 2018. A group of engineers says the state's roads are slightly improved compared to five years ago, but our bridges and energy reliability are worse.
"We are not surprised to see at all to see what we consider poor grades of Michigan's infrastructure. Lawmakers in Lansing have, for decades, have underinvested in our infrastructure, and here are the results," said Lance Binoniemi, with the Michigan Infrastructure & Transportation Association. Experts say a combination of old infrastructure and weather is contributing to this.
"Our state is home to some of the oldest infrastructure in the nation. We face increasingly severe weather events," said Brad Ewart, the vice president of corporate development with Soil and Materials Engineers Inc.
Michigan's grades improved in the drinking water, rail, roads, schools, and stormwater categories, while they dropped in the bridge and energy categories. Bridges dropped from a C- to a D+. Engineers say some bridges went from being considered good to fair, and $8 billion is needed to fix them.
Read more about the report card here.
Live on FOX 2
Daily Forecast
More beautiful weather is on the way with temperatures reaching the high 60s Tuesday, along with lots of sun. 
What else we're watching
Summer travel surge alerts are returning. AAA is recommending people book their summer travel plans soon to avoid the crunch that comes for cruises, planes, and hotels.
You might have seen artificial intelligence's mocking up of Detroit mascots from the Lions and Pistons. The results were mixed. Well another mock-up is back, and this time it's for the Redwings. The results are equally terrifying, but this time it's equipped with a weapon.
Farmington Road over I-696 will be closed for the next three weeks for bridge construction. Traffic will be detoured at 12 Mile.
The 12th Annual Construction Science Expo is Tuesday and will host more than a thousand Detroit Public Schools students. The opportunity will give students some hands-on learning experience as well as different careers in engineering, design, construction, and skilled trades.
The Detroit City Council may vote on a resolution requesting to create gun-free zones in parts of the city today. The resolution would request authority from the state.
Jeffrey Epstein-related suit: Virgin Islands says it can't find Google co-founder Larry Page
The U.S. Virgin Islands government says it's unable to locate Google co-founder Larry Page to serve him a subpoena in an ongoing lawsuit against JPMorgan Chase for allegedly enabling Jeffrey Epstein's sex trafficking ring, a new federal filing revealed.
The Virgin Islands sued the world's largest bank in December, alleging it knowingly facilitated Epstein's exploitation of women and minors.
The lawsuit argues that the bank "turned a blind eye to evidence of human trafficking over more than a decade because of Epstein's own financial footprint and because of the deals and clients that Epstein brought and promised to bring to the bank."
Page, a reclusive 50-year-old billionaire, co-founded and co-owns Alphabet Inc., the parent company of Google.