Judge rips Kwame Kilpatrick • Arctic cold in Metro Detroit • Tax credit for blood donation
FRIDAY NEWS HIT - Former Detroit Mayor Kwame Kilpatrick will remain on supervised release and will continue to pay restitution after a judge denied his request for an end to it.
Kilpatrick was granted clemency by former President Donald Trump in 2021 after he was sentenced to 28 years in prison for corruption. He was ordered to three years of supervised release and must still pay restitution for taking kickbacks while mayor.
Last month, he filed a motion asking for an end to that release, saying that he had learned and changed. He also claimed that the restitution he owes was paid through liquidated and seized liquid assets from co-defendant Bobby Ferguson.
However, Judge Nancy Edmunds denied that request Thursday, saying in her opinion that "Defendant has not identified any new or unforeseen circumstances that would warrant early termination of supervised release. 
"Defendant states that he wishes to travel as a part of his new job as an ordained minister, but he admits that the probation office has approved his travel requests in the past. And any purported hardship due to the requirement that he seek prior approval for any travel is not sufficient to justify early termination."
Edmunds said Kilpatrick has only paid $5,000 toward the restitution he owes. She also noted how he tried to raise $800,000 last year to buy a luxury condo in Florida. He owes more than $1.5 million.
Detroit Free Press columnist M.L. Elrick has been covering Kilpatrick for decades
"When I heard what Judge Edmunds said, I said 'Right on,' Elrick said. "The judge sees Kwame Kilpatrick the way people clearly see him, he's the same guy that put the city into bankruptcy and put self-service over public service."
Judge Edmonds did not hold back in her assessment. 
"While that effort was later canceled, it demonstrates a desire to resume his former lifestyle, rather than a focus on repaying the debts he owes. By continuing Defendant's supervised release, the Court will ensure that Defendant will remain under supervision during continuing efforts to collect the restitution owed in this case," she said.
Edmunds also noted that Kilpatrick has claimed to take responsibility for his actions while denying the crimes he was convicted of during an interview.
"Such statements undermine society's faith in our criminal justice system and do not show an acceptance of responsibility," she said.
Elrick, who won a Pulitzer Prize with Freep reporter Jim Schaefer for their coverage that exposed and helped bring Kilpatrick down, concurred.
"For someone with his intellect and talent it's staggering that he thinks we're still fooled by the same old game he's been running since 1990-something," he said.
Wind chill near Zero all Friday
Bundle up for one of the coldest mornings of the season! We begin with temperatures in single digits, and wind chills well below zero. In fact, some spots could get as low as -12 degrees! A wind chill advisory is in effect four parts of southeast Michigan until 9:00 a.m.
By the afternoon, we'll see our high temperature of the day at 14 degrees, but thanks to a northwest wind of up to 20 mph, it will remain feeling like 0 all day long. Skies will be partly sunny with a possible passing flurry but no accumulation.
Heading into the weekend, we have a warm-up in store! Saturday remains windy with a high of 31, meaning it will still feel like the mid-20s. Warmer still heading into Sunday as we build into the upper 30s with a slightly lower breeze and partly cloudy skies.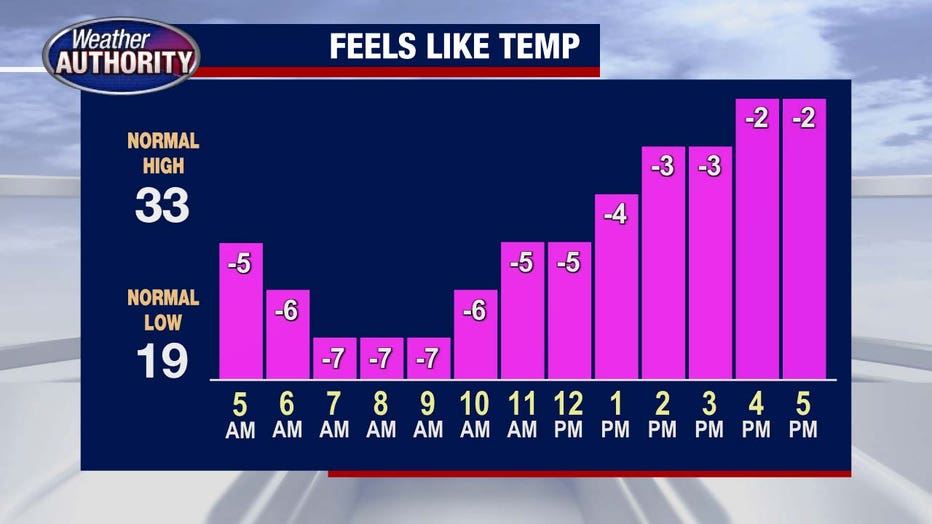 Get ready for an abnormal February stretch next week! Multiple days in the middle 40s and even a chance or two at touching 50. Buckle up everyone - Have a good weekend!
Read more about the freezing weather here.
State proposal would pay for blood donations
The national blood shortage has our local lawmakers thinking outside the box. A new proposal offered by two state House representatives would grant a $25 tax credit every time someone donates.
It would max out at $100 a year. But even a slight bump in donations could do wonders, the American Red Cross says. A steady need for more blood has climbed since the pandemic.  
"Giving blood is a selfless act and could help save lives," said David Olejarz, the Detroit regional director with the American Red Cross. "And we encourage people, and we encourage everyone to give and donate."
Giving blood is also a safe process. Anyone who is 17 and in good health and weighs 110 pounds will likely be eligible to give blood. 
$37K raised for woman who returned bag of cash
The woman who returned $15,000 in cash after finding it on her work route has seen her charity returned - and then some. A gofundme setup to reward Diane Gordon raised tens of thousands of dollars.
Gordon was walking to work when she found an envelope full of cash. It also had some wedding-related items in it as well. The money could have gone toward a new car - after all, she does walk the 2.7-mile route to work. 
She found it at the VC Fresh Marketplace on Highland Road in White Lake. When she did, she called police who later returned the money to its rightful owner. "Inside the bag was also wedding cards, these were gifts from a wedding that occurred that day," said Lt. Matthew Ivory. "I think it was $14,780 worth of cash."
After her kind gesture and word got around the White Lake Police Department, a GoFundMe was set up with an initial goal of $10,000. After our story aired on Wednesday, that amount was passed very quickly and, so far, has raised more than $37,000 for a new car for Diane.
Bodies believed to be rappers missing from Detroit found in Highland Park
Three bodies found in Highland Park on Thursday are believed to be rappers missing since a Detroit gig they were set to perform at was canceled nearly two weeks ago. Armani Kelly, 28, Montoya Givens, 31, and Dante Wicker, 31, are rappers who were slated to perform at Lounge 31 on 7 Mile near Gratiot on Jan. 21. However, the event was canceled.
Sources with law enforcement say the three bodies found at an apartment complex at McNichols and Log Cabin in Highland Park appear to be the men. The bodies were found sometime Thursday afternoon, and police are still investigating.
Investigators say that Armani Kelly's vehicle was located in Warren and had been moved a few times before police found it.  A 15-year-old who had been driving it has been arrested by police, as the investigation continues. 
Warren police did say there was no blood inside the vehicle. Police in Detroit, Warren, Melvindale, and Oscoda were all searching for the men. "Forensic Scientists from the MSP Lab are currently making their way into the building and are beginning to gather evidence.," MSP tweeted. "The building is in very poor condition and rat invested which is slowing progress.
Live on FOX 2
Daily Forecast
Brutal cold will freeze Southeast Michigan in place for much of Friday. A Wind Advisory is in effect until 9 a.m. but expect temperatures to feel at or near zero degrees for the entire day. Warmer temperatures will move in after that before an even warmer next week.
What else we're watching
Friday is the 20th annual WWJ Winter Survival Radiothon in partnership with The Heat and Warmth Fund. A fitting day to help those who don't have heat in the winter. Any donation will help. Learn more by clicking here.
There's a new class at Michigan State University, but it doesn't teach math or science or writing. It's Adulting 101 and it'll help teens and young people learn about the essentials in life that likely aren't being taught in high school. An even bigger perk? It's free.
Pawn Stars Do America, the spinoff series of the popular show out of Las Vegas, is coming to Detroit and Ann Arbor. Here's what to know and how you can get involved.
The QLine is launching a pilot program with Wayne State University. There will be $5 parking at the Wayne State Parking Lot 12 on the weekends.
Chinese spy balloon spotted over Western US, Pentagon says
The U.S. is tracking a suspected Chinese surveillance balloon that has been spotted over U.S. airspace for a couple days, but the Pentagon decided not to shoot it down due to the risk of harming people on the ground, officials said Thursday. The discovery of the balloon puts a further strain on U.S.-China relations at a time of heightened tensions.
A senior defense official told Pentagon reporters that the U.S. has "very high confidence" it is a Chinese high-altitude balloon and it was flying over sensitive sites to collect information. One of the places the balloon was spotted was Montana, which is home to one of the nation's three nuclear missile silo fields at Malmstrom Air Force Base. The official spoke on condition of anonymity to discuss sensitive information.
Brig. Gen. Patrick Ryder, Pentagon press secretary, provided a brief statement on the issue, saying the government continues to track the balloon. He said it is "currently traveling at an altitude well above commercial air traffic and does not present a military or physical threat to people on the ground."