Man mourns friend's death after both shot • Michigan's coming immigration influx • Couple's murder charges
WEDNESDAY NEWS HIT - A man is mourning his friend after the pair stopped at a Detroit gas station and became the target of an angry customer.
David Langston and Carlos Kelly stopped at a Mobil gas station on McNichols near Lodge Freeway around 3 a.m. Saturday after a night of celebrating Cinco de Mayo.
"We just walked into the gas station. We were there to grab some cigarettes and some blunts," Langston said.
Langston said the men heard a customer arguing with the clerk over a few dollars.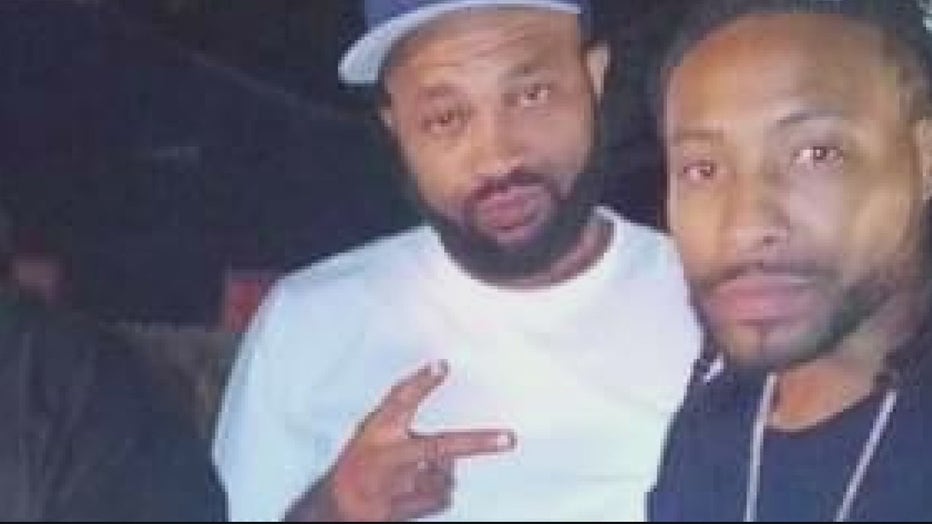 "He (the clerk) locked the door. We were like let us up out of here, we don't have anything to do with this.  The guy like, 'If you don't unlock this door, I'm gonna shoot everybody in here,'" Langston said. "'Please man don't shoot us we don't got nothing to do with this, man.' And my friend said something like, 'Man, he ain't gonna shoot us, let us up out of here.' And he started shooting."
Langston was shot in the back and arm. Another man was shot and injured, while Kelly was killed.
"I ran to my best friend, but he was gone," Langston said.
The pair have been best friends since grade school and are now 37. Langston will have surgery Wednesday to remove the bullets that are still in his hand, and Carlos' family is planning a funeral.  
"He was very loving and warm, caring, and everybody loved him. He had plenty of friends. He just did not deserve a death like that," his mother Marilyn Fortner said.
Detroit police shut the gas station down because it did not have a business license. The shooter, who tried to escape, was caught and is expected to be arraigned this week. 
Michigan immigration attorney prepares for Title 42 end
Immigration attorney Herman Dhade is busy and is about to get even busier with a surge of travel across the southern border expected when a Trump-era policy known as Title 42 ends later this week. 
Title 42 barred border entry into the U.S. with heavy restrictions in the name of public health due to the Covid-19 pandemic in 2020. Noncitizens looking for asylum and those who came across illegally were promptly sent back to Mexico.
A key reason for the projected influx is that scores of migrants who were sent back to Mexico have faced dire situations and want relief now. Dhade says he will be among many immigration attorneys helping those coming over to find jobs and begin new lives while they wait for their paperwork to get processed. Many could face significant delays. 
"Fortunately while they're waiting to be processed they are able to apply for a work permit, get a Social Security Number and start working and supporting themselves but unfortunately for a lot of these asylum seekers they could be waiting years in the backlog," he said.
Couple arraigned in murder of Monroe County woman
A husband and wife were arraigned Monday on charges stemming from the murder of Kayla Sedoskey. Steven Bails and his wife Narena Bails are charged with open murder and conspiracy to commit homicide. The couple was arrested in North Carolina but hadn't been named pending their extradition to Michigan and arraignment. 
Sedoskey's body was found at the abandoned Boysville facility in Frenchtown Township on March 2. Six people have been arrested and charged in connection with her death.
Sierra Bemis 23, Brin Smith, 20, and Kaylyn Ramsey, 32, were charged with open murder and conspiracy to commit homicide. Alexander Feko, 26, was charged with three counts of accessory after the fact to a felony, and one count of tampering with evidence.
Charges against more suspects are possible as the investigation continues. Anyone with information is asked to contact Michigan State Police at D/Sgt Michael Peterson at 734-242-3500.
Henry Ford College grad receives degree while in labor
A Henry Ford College student didn't let being in labor stop her from walking across the stage to receive her degree Saturday.
The school's president, Russell Kavalhuna, came on stage early after learning shortly before the ceremony that a graduate was in labor but still planned to graduate.
Kavalhuna called Kelsey Hudie, who was 38 weeks pregnant and dilated, up to receive her associate in arts. 
Then, she headed to the hospital to give birth.
Michigan likely to ban holding cell phones while driving
Michigan could be the next state to ban holding a phone while driving, pending Senate approval of a bill that would make it illegal to drive and use a phone or other electronic device in your hand while driving.
The Michigan House passed the bill on distracted driving last week and now, it's the Senate's turn. Assuming the Senate signs off, it will now head to the governor's office where it will likely be signed into law.
The numbers speak for themselves. Based on 2021 data in Michigan, there were 21 deaths and 2,765 crashes all linked to distracted driving. Additionally, crash chances increase 400%. Some say cell phone distraction is just like driving drunk.
"The technology. And our younger people has really taken them over. They are constantly on their phones - adults are constantly clued to their phones," Rep. Mike Mueller said. "There are 12 states that have these laws. On average, out of those 12 states, they have decreased fatalities by 16%."
Live on FOX 2
Daily Forecast
More perfect weather is on the way with mid-70s and mostly sunny conditions expected Wednesday. The next shift in our weather will come Friday when rain returns to the forecast. 
What else we're watching
The end of a pandemic-era public health emergency will mean polices in place since 2020 could wind down - leaving many in Michigan without the additional health coverage they've had the past few years. Wayne County could be the most affected.
Two first-time mother stingrays gave birth to pips at the SEA LIFE Michigan Aquarium. Both Cashew and Macadeamia will be spotlighted at the aquarium for Mother's Day this weekend.
C-SPAN is coming to schools in Troy and Royal Oak Wednesday and Thursday to honor local winners for their prize-winning entries submitted to the channel's annual student video documentary competition.
An upgraded pier on Lake St. Clair in Blossom Health Park will be unveiled this weekend. Both the view and community access to the lake will be expanded as a result.
Concert Week begins today. Starting at 10 a.m., patrons can buy $25 tickets to 60+ concerts across several Metro Detroit music venues.
Wendy's adding Google Cloud AI tech to drive-thru ordering as part of test
Some customers hitting the Wendy's drive-thru will soon see a new artificial intelligence (AI) technology as they do so.
That will happen for Wendy's patrons in the Columbus, Ohio, area after the company adds generative AI tech from Google Cloud to a location there. That company-owned restaurant will receive the AI chatbot in June as part of a pilot, according to a Tuesday press release.
At the restaurant where the test will soon take place, the AI will "have conversations with customers, the ability to understand made-to-order requests and generate responses to frequently asked questions," according to Wendy's. It has been dubbed Wendy's FreshAI.