Southfield strip mall torched • Deadly gas station shooting fallout grows • Bloody hatchet found during stop
TUESDAY NEWS HIT - Dozens of firefighters from several departments spent Tuesday morning battling a blaze at a Southfield strip mall which had been wreathed in smoke and flame by the time crews arrived.
Two hours after the fire stated, crews were still locating hot spots within the five-business establishment, which is located on 10 Mile and near the Southfield Freeway. 
The cause of the fire has yet to be determined, but crews believe the fire started inside a beauty store at the strip mall. 
The other stores at the mall include a men's store, a dollar general, and a restaurant. 
No injuries have been reported.
"It's a larger response no doubt about it. Systems in place worked out, called for mutual aid off the get-go so just really happy how it worked out," Southfield Fire Capt. James Bunker.
Crews were called out to the 18200 block of 10 Mile around 4:15 a.m. following reports of fire and smoke coming out the front and top of the structure.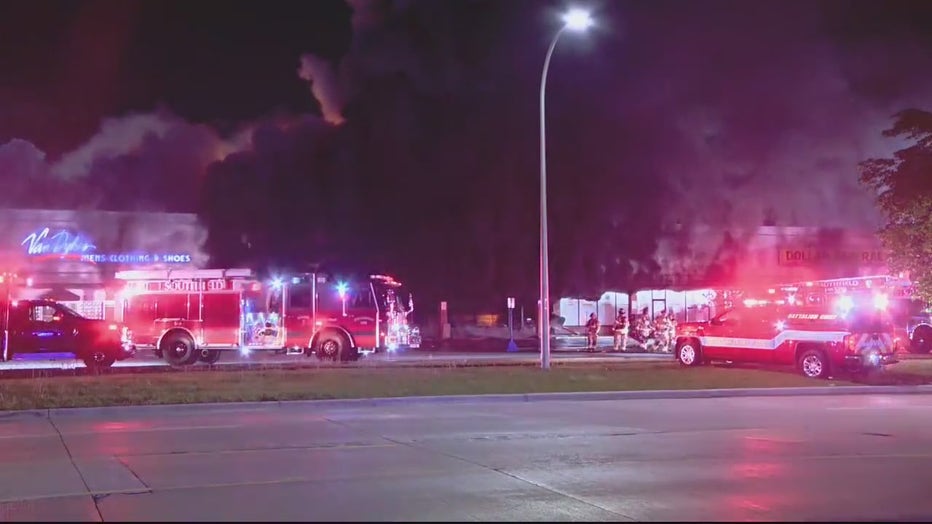 While some of the businesses may have escaped the fire damage, it would have been tougher to avoid potential water damage after two ladder trucks were deployed to get access to the roof of the building.
Crews that responded included Royal Oak, Birmingham, and Ferndale. 
ExxonMobile sued as fallout from gas station shooting grows 
The fallout from a deadly triple shooting at a Detroit gas station continues as the owners of the Exxon Mobile located at McNichols and the Lodge were also named in a lawsuit alleging the companies were negligent.
The chaos from the May 6 left one dead and two others injured after a man's $4 purchase was declined, causing him to threaten violence which then prompted the gas station owner to lock the doors to the store. It prevented other customers from getting out before Sam McCray started firing. 
Since then, gas station clerk Al-Hassan Aiyash has been charged with involuntary manslaughter. In new developments reported Monday, attorneys representing 60-year-old Anthony Bowden who was injured that night have sued the gas station owners SMM Investment and ExxonMobile Corporation. 
"I think what we're looking at here is more of a systemic problem, of a training failure - that the gas station and it's supervisors and parent corporation of ExxonMobil failed to do," Attorney James Harrington said. "This man locked people in. If they were trained - this never would have happened.
Bloody hatchet found during traffic stop
It didn't take long for the police sergeant on duty to find his man after receiving a BOLO alert for a suspect recently involved in a violent assault. The Michigan State Police trooper was on patrol on Grand River near Grand Boulevard when the dispatch center alerted him to "Be On the Look Out" for a suspect in a Southfield assault with intent to murder incident.
Around 11:30 p.m. Monday night, the sergeant spotted a vehicle matching the description from the Detroit Regional Communication Center. Both the plate and description matched what the dispatcher said, which enabled him to move in.
A felony stop was conducted by the sergeant as well as back-up troopers. The suspect was taken into custody without incident. Also found inside the vehicle was a hatchet that had been used in the assault. It still had blood on it. 
The suspect, a 22-year-old man, was arrested and taken to Southfield police. 
Questions remain on new red flag gun law
Michigan became only the 19th state to pass an extreme risk protection order Monday after the governor signed her third gun safety bill into office. This one enables a judge to petition law enforcement to remove a weapon from a home where its owner is considered a threat to himself or someone else. 
Family members, mental health professionals, and police can all request a weapons' removal. However, a question about legality remains - especially in places like Livingston County where the sheriff has said he won't enforce the law. 
Sheriff Mike Murphy presides over a self-labeled "constitutional county" which means its enforcement won't back nay laws that violate the Second Amendment in their view. The conservative county has many residents who support the sheriff's stance. 
Governor Gretchen Whitmer was asked about the local authorities who refuse to enforce the newly-signed law. "I think that every prosecutor takes his oath to uphold the laws of the State of Michigan," she said. "And that's the expectation."
NAACP issues travel advisory for Florida
The NAACP released a travel advisory for Florida on Monday in response to what it calls "Gov. Ron DeSantis' aggressive attempts to erase Black history and to restrict diversity, equity, and inclusion programs in" the state's schools.
"People need to understand that Black history is American history. Now, Ron DeSantis wants to decapitate our history," said Rev. Dr. Wendell Anthony, a member of the NAACP National Board of Directors and president of the Detroit chapter of the org. "It's not a ban. It's a travel advisory, warning you against travel in those areas could be bad for your health: mentally, academically, socially, politically. So, beware."
The civil rights group says the state has become openly hostile to African Americans, people of color, and LGBTQ+ individuals. The advisory comes during a week where DeSantis is expected to announce that he is running for president.
"He wants to become president standing on the backs of Blacks and browns and women, and others who he may have some differences with," Anthony said.
Live on FOX 2
Daily Forecast
We'll get close to 80 degrees Tuesday in another warm spring day. After that, temperatures will take a dip into the 60s Wednesday and Thursday. 
What else we're watching
A school board meeting at Grosse Pointe went well past anyone was expecting when residents showed up to discuss potential budget cuts to the school district. The public comment period ended at 3 a.m. and the meeting was adjourned at 3:16 a.m.
The longtime owners of Durst Lumber & Ace Hardware in Berkley died recently. Jerry and Wanda Durst passed away within hours of one another, one from complications with dementia and the other after suffering a stroke. They were staples of the community.
A recently-introduced bill in Lansing would employ a productivity credit system hat would allow prisoners to earn reduced sentences based on work they do inside the facility. Sponsored by Tyrone Carter, it will be discussed in the Criminal Justice Committee Tuesday. Republicans plan to rebuke the bill following its hearing.
Detroit City Councilman Joe Tate is pushing for an amended ordinance that would make more land available to house recreational cannabis businesses. Bridge Detroit was first to report on the drafted ordinance.
The Detroit Water and Sewerage Department is planning another announcement to help basement backups and street flooding. The deputy mayor will discuss the initiative later Tuesday.
Man killed, two teenagers wounded when they find grenade inside grandfather's belongings
A man was killed, and two teenagers wounded, when they found a grenade inside a grandparent's belongings in Lake County, Indiana on Saturday.
The Lake County Sheriff said that around 6 p.m., police responded to an explosion at a home in Lakes of the Four Seasons.
A family had been going through a grandfather's belongings when they found a hand grenade. It is unclear whether the pin of the grenade was pulled which caused the detonation, or whether the age of the explosive and it being handled is the reason it went off, police said.