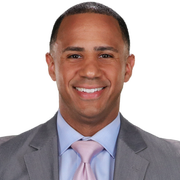 Josh Landon
Reporter/Anchor
Hello METRO DETROIT!!! I am so happy to be back home in the D, working at FOX 2 News as an Anchor/Reporter. Born in the City of Detroit, raised on the City's east side, I graduated from Denby High School, and earned my degree in broadcast journalism from Eastern Michigan University. Go TARS!!! Go EAGLES!!!
I started my broadcasting career working in Lansing, Michigan as a reporter. From there, I worked in Florida, Virginia, Wisconsin, and now back home. I had been gone for eight years before the wonderful opportunity to work FOX 2 came my way.
Local TV news has been in me since I was a kid. My mother used to make me watch the local news in Detroit growing up. She taught me that it's important to know what's happening around you. At some point during my childhood, the local news became COOL to me.
I recall a time when I was maybe four or five years old, my cousin Andre and I were at the Detroit International Auto Show. We were two little kids sitting in the car, checking it out, and out of nowhere a news crew walked up to interview us. We made the news later that. That was a cool experience I still remember to this day.
Another time, I recall when I was a kid walking around at Eastland Mall, and I noticed a former TV meteorologist shopping with his kids. I know this is kind of weird, but I followed this gentleman in the mall until I got his attention. He introduced himself, shook my hand, and wished me a good day.
There was also a time when I was 15 years old, working on my first job at McDonald's outside Eastland Mall. I was working in the drive thru one day, when a news crew passed through to grab food.
The point with my stories is that I've ran into local TV personalities on more than one occasion as a kid. I truly believe it has been God's plan for me to take on this profession.
It took me to reach the age of 19 before I realized broadcast journalism would be my path. It was my sophomore of college at EMU, I was currently a secondary education major, and I conversed with a college friend about her internships at FOX 2 NEWS and the radio station 97.9. She told me about her experiences, and something told me to give it shot.
I'm so happy I did. From the moment I saw anchors and reporters doing their jobs, I was officially hooked, and knew this was the job for me. It took me eight years in the business, working in different cities before coming back home, and I am so happy to be back in the city I love dearly.
The latest from Josh Landon
A Metro Detroit man cleared his name after Friend of the Court sent him a letter saying he had a baby with a woman he never met.
In Friday's News Hit: - A self-identified vigilante posted a confrontation between him and a suspected child predator - Deadly crash in Detroit leaves two dead after collision with semi - Michigan Republicans rushed to support Donald Trump after news of his indictment became public
The vehicle the two men were traveling in collided with a semi truck.
In Wednesday's News Hit - Police have confirmed a woman found dead in an abandoned Monroe County building was murdered - Crews battled a fire at a Grosse Pointe Park roofing business this morning - A doctor is accused of trying to meet with a 15-year-old to have sex
An infant was also found inside the home, though it was unharmed and has since been turned over to police.
A Metro Detroit man has levied some strong accusations against Friend of the Court after they claim he's the father of a child. The problem is, he's happily married and says he's never met the mother.
The funky dance style has some roots in Detroit where it's woven into the city's fabric.
Both Republican Tudor Dixon and Democrat Gretchen Whitmer were on FOX 2 Monday to make last-day pitches for any undecided votes this season.
When his players ask Wendell Brown about his time in China, they ask what it was like over there or if he can speak Chinese. They ask how he got through it. "Many days I feared for my safety."