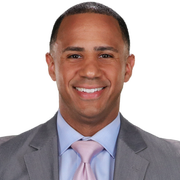 Josh Landon
Reporter/Anchor
Hello METRO DETROIT!!! I am so happy to be back home in the D, working at FOX 2 News as an Anchor/Reporter. Born in the City of Detroit, raised on the City's east side, I graduated from Denby High School, and earned my degree in broadcast journalism from Eastern Michigan University. Go TARS!!! Go EAGLES!!!
I started my broadcasting career working in Lansing, Michigan as a reporter. From there, I worked in Florida, Virginia, Wisconsin, and now back home. I had been gone for eight years before the wonderful opportunity to work FOX 2 came my way.
Local TV news has been in me since I was a kid. My mother used to make me watch the local news in Detroit growing up. She taught me that it's important to know what's happening around you. At some point during my childhood, the local news became COOL to me.
I recall a time when I was maybe four or five years old, my cousin Andre and I were at the Detroit International Auto Show. We were two little kids sitting in the car, checking it out, and out of nowhere a news crew walked up to interview us. We made the news later that. That was a cool experience I still remember to this day.
Another time, I recall when I was a kid walking around at Eastland Mall, and I noticed a former TV meteorologist shopping with his kids. I know this is kind of weird, but I followed this gentleman in the mall until I got his attention. He introduced himself, shook my hand, and wished me a good day.
There was also a time when I was 15 years old, working on my first job at McDonald's outside Eastland Mall. I was working in the drive thru one day, when a news crew passed through to grab food.
The point with my stories is that I've ran into local TV personalities on more than one occasion as a kid. I truly believe it has been God's plan for me to take on this profession.
It took me to reach the age of 19 before I realized broadcast journalism would be my path. It was my sophomore of college at EMU, I was currently a secondary education major, and I conversed with a college friend about her internships at FOX 2 NEWS and the radio station 97.9. She told me about her experiences, and something told me to give it shot.
I'm so happy I did. From the moment I saw anchors and reporters doing their jobs, I was officially hooked, and knew this was the job for me. It took me eight years in the business, working in different cities before coming back home, and I am so happy to be back in the city I love dearly.
The latest from Josh Landon
The pandemic inflicted trauma on many and the consequences on mental health are yet to be determined. But they could be severe.
Whether you're a former Wolverine quarterback or a Milford preschool teacher, guiding kids into the post-Covid world will be a challenge. We spoke to both to learn how they're helping guide them through it.
It's been a long time since cooking an omelet - or eating one at a restaurant - wasn't a potential health hazard for the cook and the customer. But at Dodge Park Coney Island in Sterling Heights, we found both.
A segment of the Detroit Pistons get fit campaign offers an array of bike routes for cyclists to travel around Detroit, hitting many of the city's most iconic neighborhoods.
The latest incentive to get Michigan residents vaccinated is a BOGO deal with the Detroit Tigers baseball team.
Only two Best Buy locations in Michigan are selling a coveted piece of technology, each store only carrying only 50 items.
Detroit's COVID-19 vaccine rate is the lowest in the Metro Detroit area and the question of why or why not to get one is hotly debated in places where most people feel very comfortable holding these conversations - the barbershop and hair salons.