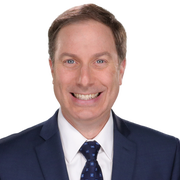 Rich Luterman
Meteorologist
Chief Meteorologist Rich Luterman joined the FOX 2 Weather Authority Team in 1997. You can see him every week night during the 5 p.m., 6 p.m., 10 p.m., and 11 p.m. newscasts.  Rich obtained the American Meteorological Society (AMS) Seal of Approval in 1994.
Originally from Pittsburgh, Rich graduated in 1988 from Penn State University with a Bachelor of Science degree in meteorology.  He was commissioned a second lieutenant through the U.S. Air Force ROTC and served four-and-a-half years on active duty as a weather officer.  For six months in 1991, he was a weather detachment commander in Southwest Asia during Operation Desert Storm. 
Following his time in the Air Force, Rich was chief meteorologist at WKTV in Utica, New York.
Rich serves the community by sharing his knowledge with young students who are interested in weather.  He also works with the American Diabetes Association to raise awareness after being diagnosed with diabetes in 2012.  Rich also works with Veterans groups across Southeast Michigan.
Q&A with Rich:
Moment I'll Never Forget: Landing at Royal Air Force Base Mildenhall (north of London) after serving in Desert Storm and smelling "green" for the first time in 186 days.
Favorite Movies: The King's Speech, The Right Stuff, Jaws and The Cider House Rules.
Exciting thing to do with my kids: Heading to Palmer Park to jump into the St. Clair River in St. Clair Michigan     
Perfect Day: Canoeing and fishing down the Huron River near Dexter.
Favorite Vacation Spots Close to Home: Sleeping Bear Dunes and Niagara Falls  (I love the scenery!)
Favorite Quote: "It's real easy to forget what's important, so don't"  Michael Keaton in Mr. Mom
Least Favorite Food: Thai Food… it does NOT agree with me at all.
Family: Terrific twin daughters.
What people would never guess about me: I was the Captain of my high school Table-Tennis team (Taylor Allderdice H.S. in Pittsburgh)
Interests: Michigan History, Mount Everest, The Mohawk Valley of central New York.
Pets: We lost our beloved Indy (shepherd-husky mix) to cancer in August 2014. She was 8 ½. I miss her.
What I wanted to be when I was young: An Astronaut.
Favorite book: Young Men and Fire by Norman Maclean (1993)
Favorite local State Park: Proud Lake (Commerce Township)
The latest from Rich Luterman