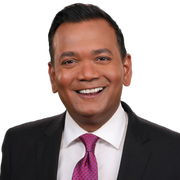 Hi there, I am the evening anchor and host of Let it Rip on FOX 2 News.
My career started at age 14 when I produced and hosted my own television program in Troy, Mich. In my first two years at Michigan State University, I was on the air at the CBS & ABC stations in Lansing, Mich.
I was then hired to anchor the news in Flint, Mich. where I did news and weather for four years. That was followed by seven years at NBC in New Orleans. After 24 hurricanes including Katrina, I moved to Detroit in '09 where an economic storm was brewing. I am an ardent believer in the city's future.  
FOX 2 led the way during the 2020 elections, bringing you more exclusives than any other station in town. I was proud to have nailed down three exclusive, one on one interviews with then candidate Joe Biden. I also secured three, one on one exclusives with former President Trump. My final interview landed me in the Rose Garden with a one on one with Trump for 15 minutes at the White House. Election Day was exciting.  After getting access to candidate Kamala Harris in Detroit, I decided to call the White House and ask if former VP Pence would be game for a phone interview.  He called my cell phone minutes later, capping off an extraordinary political season.  
I believe getting exclusives is about building relationships with people.  I am committed to continuing this connection with our community so that we can bring you stories you won't see anywhere else.
I am also a public speaking coach and keynote speaker. At TEDxDetroit In 2019, I headlined with my talk highlighting the gifts of rejection. 
I live with my wife, Julie, and our boxer pup Louise. In my spare time I enjoy cooking, traveling and reading. I hate wearing winter caps but I love a good baseball cap on the weekends as we hack around parks throughout the area. 
My parents live down the road and I am so happy they are able to watch me on TV every night. There's nothing like coming home.