Another MSU shooting victim in stable condition • Detroit cops found dead in Livonia • Biden visits Ukraine
MONDAY NEWS HIT - A week after tragedy struck Michigan State University's campus, students and staff are still reeling as the school tries to restart class and distill a slice of normalcy to the community.
The students injured in the attack continue to improve, with the latest update Sunday that three of the victims remain in critical condition, one is in serious but stable condition, and a fifth is in fair condition.
Sparrow Health has been caring for the students since they arrived with gunshot wounds after a gunman began shooting inside Berkey Hall late Monday night last week.
One victim was identified as an international student from China named John Hao. According to a gofundme set-up for the 20-year-old by his roommate, which has since raised more than $350,000 before new donations were disabled, Hao had his spinal cord severed from the shooting.
The injuries left him paralyzed. As of Saturday, he had intubation tubes removed and appeared to be improving. According to the Chinese Consulate, another victim in the shooting was also from the country. 
A third victim was previously identified as Guadalupe Huapilla-Perez, a native to Florida.
Over the weekend, the deceased students Brian Fraser, Alexandria Verner, and Arielle Anderson were all honored at respective funerals and vigils. 
During a ceremony Saturday evening, family and friends gathered at a church in Grosse Pointe Woods to pay tribute to Anderson. The 19-year-old "always lit up a room and knew how to make someone's day better," said her cousin. 
Her family had last seen her the weekend before she died when she had come home to go to a Detroit Pistons game at Little Caesars Arena. 
"The day he dropped her off that Sunday, he didn't know that would be the last day he saw his daughter," said Mona Lloyd, Arielle's Aunt. "Her dad is broken. He will never be the same. Never. This is horrible. Everything about this is horrible." 
RELATED: 'A diamond to this family': Vigil held to honor MSU shooting victim Arielle Anderson
Both Fraser and Verner were also laid to rest this weekend - one in Grosse Pointe Farms and the other in Clawson. 
The school says it intends to reopen campus Monday, though Berkey Hall will remain closed for the rest of the year. 
During a press conference Sunday, the deputy spokesperson for the school said the university would be covering all medical expenses for the students injured, as well as the funeral costs for those that died.
2 Detroit police officers found dead from apparent murder-suicide in Livonia
Two Detroit police officers were found dead after an apparent murder-suicide in a Livonia apartment complex. Their bodies were found Sunday in a complex in the area of Six Mile and Farmington.
Livonia police officers were on patrol when they were flagged down by a family member for a well-being check, according to Livonia Captain Gregory Yon. Officers made entry inside and found two people dead.
Detroit Police Chief James White says the incident appears to be an apparent murder-suicide. The 22-year-old female and 26-year-old male officers were in a relationship.
An infant was unharmed inside the residence and was turned over to a family member, police said. 
Election denier to lead Michigan GOP
Kristina Karamo will be the new face of the Michigan Republican Party after being elected to the position of chair during their nominating convention in Lansing over the weekend. Karamo's elevation marks a major turning point for the party.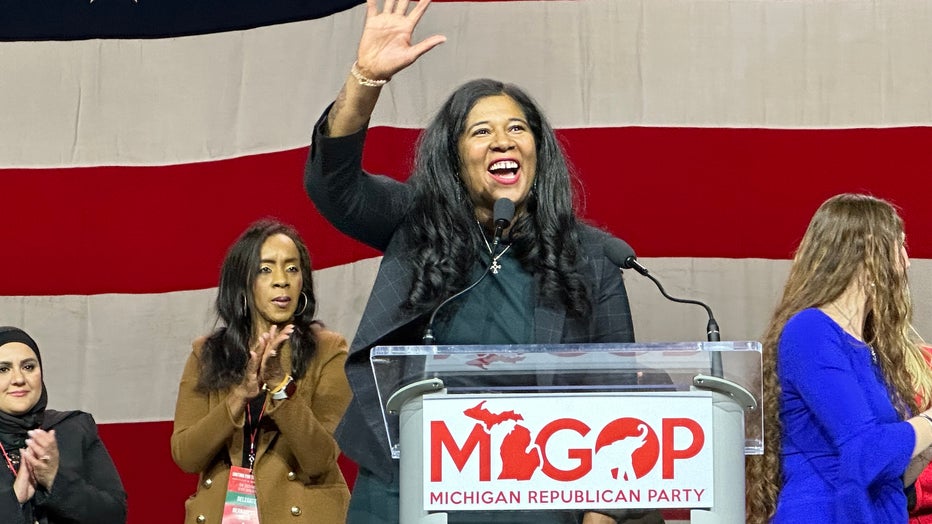 Karamo rode a wave of populist support after three rounds of voting during a long day at the Lansing Convention Center. She even beat Trump-backed candidate Matt DePerno for the race. 
Many conservative lobbyists and those that consult on Republican campaigns are nervous about Karamo's taking over the role, since she lost by 14 points in her race for secretary of state, has been known to spread conspiracy theories, and isn't known to fundraise.
Hostility toward the party's donor class may cause more problems for future elections as the state GOP is said to be in debt after some of its traditional supporters known to bankroll some of its candidates have declined to support it. 
Passenger ejected from roll-over crash 
Michigan State Police said poor driving behaviors on the highway led to another crash that led to three people suffering injuries after a car lost control and struck a concrete barrier in Detroit. One passenger was ejected from the car due to the crash.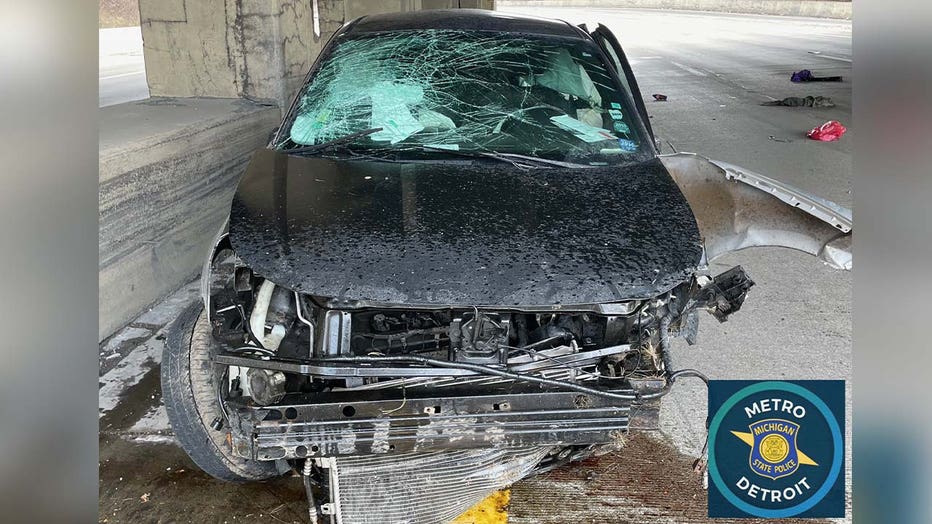 A sedan driven by a 22-year-old woman was traveling on the Lodge when she lost control and struck the median wall where it curved. The crash happened around midday Sunday at a notorious section of highway where M-10 takes a sharp turn north for those traveling west. 
State troopers said witnesses told police the car was driving recklessly, weaving in and out of traffic at a high rate of speed, when it lost control. When the car struck the median, it overturned. 
The driver, who was wearing her seatbelt at the time, suffered injuries to her head, neck, back, and hip. A second passenger in her 20s was ejected from the vehicle and was found with a laceration to her head - though she was alert and conscious. A 15-year-old male teen who was also in the car was taken to the hospital with an unknown injury. 
Detroit Riverwalk named best riverwalk in American 
Detroit Riverwalk has been named the Best Riverwalk in America for the third consecutive year.
The national award also kicks off the Detroit Riverfront Conservancy's 20th year in operation. The award came from the USA Today 10Best Readers' Choice Awards.
"The transformation of our riverfront over these past two decades has been tremendous," said Matt Cullen, Chairman of the Detroit Riverfront Conservancy. "To go from a blighted and underused riverfront to one that is recognized as the best in the country three years in a row is a testament to how much people love the riverfront and to what our community can achieve when we all work together."
For the 20th year, the riverfront is planning a grand opening on the Southwest Greenway, free summertime boat cruises, a documentary, a book, and dozens of special events this year.
Live on FOX 2
Daily Forecast
President's Day looks to be pleasant with temperatures in the mid 40s and clouds dominating the skies for most of the day. We're going to hover in the 30s for much of the week so don't plan on any warm temperatures gracing the last full week of February.
What else we're watching
MDOT is closing the I-94 ramp onto M-10, so it can do more overpass construction on Cass Avenue. Traffic will be detoured to southbound I-75 in order to access the Lodge.
The Emmanuel House Recovery Center is looking for partners to help support its mission of helping others struggling with mental health and addiction among veterans. While an emphasis on more assistance was verbalized by the president, the organization still needs help.
One person died after a fiery crash on I-696 in Farmington Hills this weekend. It happened Saturday when a passenger car was rear-ended by another vehicle. The at-fault driver was uninjured and an investigation is ongoing.
Gas prices ticked down slightly by 4 cents this week. The average cost for a gallon of regular unleaded gas is $3.27 per gallon.
A note about FOX 2 Detroit's streaming service: Currently, the local broadcast is not being shown in our app or on our website. It's down due to technical difficulties and there is no estimated time of repair, however, engineers did spend all the weekend working on the problem.
Biden makes unannounced visit to Ukraine
President Joe Biden made an unannounced visit to Ukraine on Monday to meet with President Volodymyr Zelenskyy, a gesture of solidarity that comes days before the one-year anniversary of Russia's invasion of the country.
Speaking alongside Zelenskyy at Mariinsky Palace, Biden recalled the fears nearly a year ago that Russia's invasion forces might quickly take the Ukrainian capital. "One year later, Kyiv stands," Biden said, jamming his finger for emphasis on his podium decorated with the U.S. and Ukrainian flags. "And Ukraine stands. Democracy stands. The Americans stand with you, and the world stands with you."
The Ukraine visit comes at a crucial moment in the war as Biden looks to keep allies unified in their support for Ukraine as the war is expected to intensify with both sides preparing for spring offensives. Zelenskyy is pressing allies to speed up delivery of pledged weapon systems and is calling on the West to deliver fighter jets to Ukraine — something that Biden to date has declined to do.