Eviction turns heated after protesters clash • Severe weather today • Gun seller sentenced in cop's murder
WEDNESDAY NEWS HIT - Protestors showed up at a Detroit tiny home Tuesday and clashed with bailiffs in an attempt to stop an eviction.
"As you can see all my (expletive) is on my lawn, and I'm being evicted," Taura Brown said.
According to court records, 44-year-old Brown has been taken to court at least nine times by different landlords in two counties for numerous tenant violations, including unpaid rent. 
This time, she has been in a court battle with Cass Community Social Services, the owner of her tiny home. She qualified for this home because she said she has Stage 5 kidney disease.
Last month, the court sided with Cass Community Social Services after claims that Brown didn't live in her tiny home more than 50% of the time and her name was on another lease in the city, which the court determined violated their agreement.
"There are people that are home even less than me, and they are not facing eviction, this is personal," Brown said.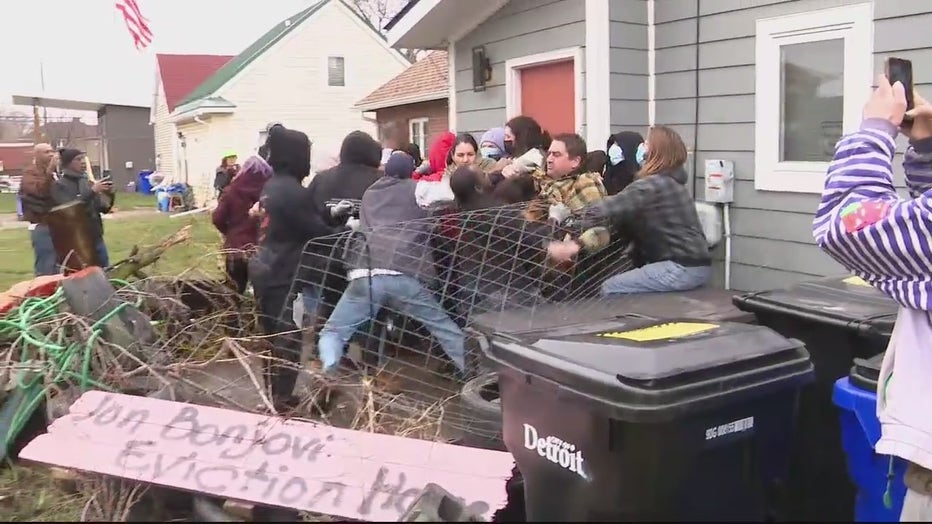 She claims she is being evicted after blowing the whistle about issues with Cass Community, a nonprofit.
Detroit Eviction Defense is siding with Brown.
"It's just extremely frustrating, heartbreaking. I feel really angry," said Sammi Lewis, with Detroit Eviction Defense.
There was a clash during the eviction, but bailiffs eventually got Brown's belongings out of the house.
"We are here only to keep the peace. We are not here to evict anybody, that is not part of the role of the Detroit Police Department," said Detroit Police Deputy Chief Deshawne Sims. "We did have to engage on a couple occasions to separate the parties, so the bailiffs could do their job."
Brown says this fight isn't over.
"I'm feeling confident fighting back. We are not done. We are just getting started," she said. 
36th District Court released a statement:
"Over the last 19 months, Taura Brown's case went through the judicial system and all proper legal procedures were followed. At each step, Ms. Brown exercised her rights as a tenant and received due process. Based on the merits of the case, 36th District Court Judge Shawn Jacque ruled that the plaintiff had no further legal right to remain in possession of the Monterey Street property. 
"There are always legal remedies to appeal a judge's decision whenever a party believes that a judge has ruled incorrectly. Ms. Brown's appeal to the Third Circuit Court was denied in October of 2022. The Court is sympathetic to all parties involved, and it is unfortunate when an individual is evicted, but the role of the Court is to follow and enforce the laws of the State.    
"Any violence specifically aimed at 36th District Court Officers who are performing a legal activity based on a Judge's Order is unacceptable and won't be tolerated. Just two weeks ago, two officers were shot and injured with an assault weapon while in the course of their normal duties. One of the Officers involved in that incident was present today, again facing danger while trying to do his job.  It has become dangerous for these Court Officers to work, and such violence must not continue. 
"While the Court respects the right of these individuals to protest, we do not condone violence. These Officers possessed a lawful Court order to proceed with this eviction, and any individuals who physically interfered with its execution only succeeded in inciting an altercation. There are legal ways to have your voices heard, and today's incident was not productive. 
"The 36th District Court remains committed to the equitable administration of justice. Counsel is now afforded to every tenant at the first hearing, and other improvements to the administrative process are currently being implemented to ensure the efficient processing of cases. Violent escalations do nothing to aid in these efforts, and must cease."
Severe weather incoming Wednesday
The weather could get a bit dicey Wednesday with a severe outlook ramping up by midday. How severe will be the question of the morning. The window to watch is between 11 a.m. and 3 p.m. Damaging wind, hail, and tornadoes are all possibilities.
While the morning's wet weather won't be much to worry about, it could nullify the worst of wind, hail, and even tornadoes that swirl through the region today. The Storm Prediction Center has Southeast Michigan in the Enhanced Category for any storms that pop this afternoon. 
Luckily, the northeast motion in the wind will relatively limit the potential for tornadoes. The evening cold front swinging through may provide the best opportunity for tornadoes, however that's dependent on what materializes throughout the day, which very well may limit the energy left over to work with. 
The exact picture is still a bit muddled, but there are some solid ingredients in play that are supportive of severe weather and potentially stronger tornadoes. Time will tell.
Man who sold gun that killed DPD officer sentenced
A man who bought a gun that another man used to kill Detroit police officer Loren Courts received a two-year prison sentence Tuesday. Sheldon Thomas, age 27, Century Arms Draco pistol in Eastpointe last June. During that purchase, he wrote that the gun was for himself. 
However, Thomas gave that gun to 19-year-old Ehmani Davis. The Department of Justice provided a photo that they say showed Thomas giving the gun to Davis in a parking lot near the gun store. A criminal complaint said Thomas admitted to buying the gun for Davis. He said he had made numerous attempts to buy a handgun for Davis.
Thomas also said Davis provided him with the money to purchase gun from Action Impact. He then stated he met with Davis after purchasing the firearm, and walked to a nearby gas station to give it to him, the complaint said. A month later, that gun was used by Davis to kill Courts before officers returned fire. Davis was killed.
"The tragic death of Detroit Police Officer Loren Courts is another terrible example of what happens when guns are supplied to those who are prohibited from possessing them," said U.S. Attorney Dawn Ison. "Fighting violent crime is a top priority in our office, and we are committed to holding accountable those who engage in illicit firearm transactions."
Reactions to Trump's indictment
How does Michigan feel about the indictment of a former president? Not very different, as it turns out.
Republicans, who had previously flocked to Donald Trump's defense ahead of the consequential hearing in New York Tuesday, continued supporting the president. Many referred to the case as political prosecution. 
"It's going to cause millions of dollars - tremendous security. You're going o have every terrorist in the world knowing where the president is going to be at that time for nothing other than, again, a political prosecution," said state Sen. Jim Runestad.
For Democrats, while some may be excited by the development, others have adopted a milder tone. "We need to let due process play out, let the judicial branch do its job and as member of congress, I'm going to do my job and be focused on the issues that people care about," said Congresswoman Debbie Dingell.
Tigers beat Astros for second win of season
After being swept by the Tampa Bay Rays to kick off the season, the Detroit Tigers have won their second game in a row after beating the previous World Series Champs 6-3. They can thank Spencer Torkelson for the help after his three hits.
That includes a two-run homer in the eighth inning. Prior to that, the schore had been tied one to one in the sixth before Riley Greene singled. Then Torkelson also singled, enabling the Tigers to take a 3-2 lead heading into final innings. 
On Monday, the Tigers won 7-6 in 11 innings. They'll also have one more game in Houston before returning to Detroit to kick off their own Opening Day. 
If you're looking for time, weather, and watch information on the upcoming home game, find all that and more here.
Live on FOX 2
Daily Forecast
Plan on some of the warmest temperatures of the year Wednesday, with potential to hit 70 degrees by the late afternoon. There are, of course, caveats: namely the incoming severe weather that could bring thunderstorms.
What else we're watching
DTE has more than 50 utility trucks at the ready when storms arrive Wednesday. Crews will be leaving for their assigned work this morning and will be ready to respond to outages, the company said.
A Resurfacing project kicks off Wednesday on Gratiot that could snarl traffic in Macomb County for the next several months. A total of $22.6 million has gone into the project, which spans 14 Mile to Wellington Crescent.
The Michigan governor plans to sign a new bill into law that repeals the state's 1931-era abortion ban. It will be the final step in a year-long process since the U.S. Supreme Court tossed out Roe V. Wade.
Several major officials from both the national and local levels will be at an elementary school in Canton to announce a new school nutrition initiative. Plan to hear more around 11:15 a.m.
The Flordia governor is coming to Michigan Thursday. Ron Desantis, who many view as a potential candidate for the Republican nomination for president, plans to attend the Midland County Republican Party's Spring Breakfast tomorrow. Protests are being organized as a result.
Walmart plans for 65% of stores to be serviced by automated supply chains by 2026
Walmart Inc. on Tuesday said it's planning for about two-thirds of its stores to be serviced through automation in the massive retailer's supply chain by the end of 2026.
"Through its extensive work, Walmart is reengineering its supply chain to fulfill customer needs with a more intelligent and connected omnichannel network that is enabled by greater use of data, more intelligent software and automation," the company said in a release. "The outcome improves in-stock inventory accuracy and flow whether customers shop in stores, pickup or have a delivery."
The company explained that, by the end of fiscal year 2026, roughly 65% of Walmart stores will be serviced by automation, about 55% of fulfillment center volume will move through automated facilities and average costs per unit could improve by approximately 20%.