FBI raids home where girl was raped, striking workers signal economic volatility, House abolishes tampon tax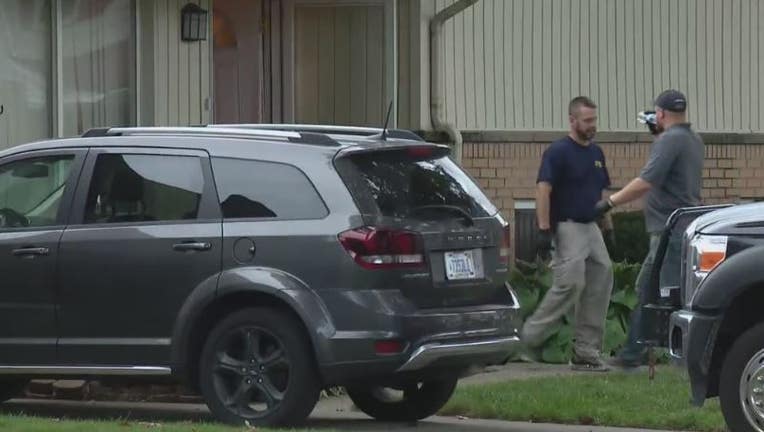 article
FRIDAY NEWS HIT - Details are continuing to trickle in regarding the suspected rape and abduction of a 9-year-old girl in Detroit who had gotten lost while walking home. 
Police spent the afternoon Thursday raiding a Detroit home on Trojan and Berg, following an arrest in the case. 
According to law enforcement, the suspect in the crime was taken into custody at his workplace in Oakland County. 
A joint investigation by Farmington Hills and Detroit police, along with the Oakland County Prosecutor's Office revealed that the victim had been walking east on Eight Mile Road toward Grand River Avenue at approximately 4:30 p.m. on Sunday when she was lured into a silver or white Jeep Renegade. 
The scene escalated before the suspect took the victim to a residence in Detroit, where he sexually assaulted and confined her. The victim was able to escape the incident around 7:30 p.m. after the suspect had fallen asleep. 
That's when the victim was discovered by a good Samaritan, who found her wrapped in a blanket. 
"I asked if she was okay. She said 'no, I'm not okay. I was kidnapped. Can you take me home?'" said the woman earlier this week. "She said not only was I kidnapped she was sexually assaulted. I could tell that she was calm but it was a state of shock."
Police continued to investigate until they located the suspect Thursday. 
The house where FBI officials were staged Thursday afternoon was the same location where the girl was assaulted. It's unclear if the residence is the home of the suspect.
Officials charges in the case may come Friday. Prosecutor Karen McDonald is personally reviewing the case, the county said.
Striking workers signal 'volatile times' for economy
Labor struggles are beginning to grow into other segments of the industry, with workers going on strike at several plants around the Midwest. Employees at Kellogg's cereal plants picketed against the company in Battle Creek while thousands of John Deere employees walked off the job this week.
These aren't isolated incidents, says business professor Marck Masters, who sees the contract disputes over low wages as a sign of frustration among workers and irritation with the system. 
"We could see a growing militancy on the part of some workers because they are tired of the cumulative effects of declining wages, they see inflation on the rise, and they see the devastating effects of the pandemic, in terms of lost businesses and jobs," he said.
An ongoing labor shortage means the striking workers may have more leverage now than they have in the past. While labor unions have seen declines in membership in years past, that may be changing due to worker's frustration not going away. "I think we're in for a very volatile time period over the next several months," Masters said.
Lawsuit alleges Dearborn Walmart manager harassed Arab employee
A lawsuit filed Thursday claims a manager at the Dearborn Walmart store repeatedly harassed an Arab employee. Seenaa Suhail Najim started working at the store last year. She eventually moved to Inkster after fleeing ISIS in Iraq in 2015.
Najim said that Walmart welcomed her despite the fact that she did not speak English. She said she was happy to have a job and be able to send money to her daughters in Iraq. "I was very happy that I worked at Walmart because I used to hear about Walmart a lot, all the time, and I said, 'Thank God I've been working at Walmart,'" she said.
Everything was going fine at work Najim said until a new manager started and allegedly started discriminating against her and calling her names. "Telling her, 'You stupid Arab, you stupid camel jockey, you stupid Muslim. Go home, go to your home country. Get out of here. You should learn how to speak English," said attorney Nabih Ayad. "And this didn't just happen once – it happened over and over and over again over months."
Ayad claims that Najim went to another manager who did nothing about the alleged harassment. "For sure, she insulted me a lot," Najim said. "Why would she do that?" Najim said her doctor advised her to stop going to work because she was experiencing anxiety, depression, and panic attacks.
Michigan House abolishes 'tampon tax"
The Michigan House advanced legislation Thursday that would eliminate sales taxes on menstrual products, bringing the state one step closer to abolishing the so-called "tampon tax." The legislation, if passed by the Senate and signed by Gov. Gretchen Whitmer, would eliminate the 6% sales tax on menstrual products as "luxury items." The proposal passed with bipartisan support 94-13.
Similar bills to end the tax have been introduced during each legislative session in Michigan since 2016, but have not made it to a floor vote in either chamber. 
Whitmer, a Democrat, initially proposed lifting the tax in her proposal for the 2022 budget with a provision that the tax revenue lost would not be pulled from the School Aid Fund. The House Fiscal Agency estimates that Michigan would lose out on $7 million in tax revenue each year, but maintains that funding will not be taken from schools.
At least 20 states have either ended the taxation of period products or never had the tax to begin with, according to Period Equity, a legal organization that advocates for making menstrual products tax-exempt. Other Midwestern states that don't tax such items are Illinois, Ohio and Minnesota.
Whitmer orders urgent response to Benton Harbor lead crisis
Gov. Gretchen Whitmer on Thursday ordered a "whole-of-government" response to elevated levels of lead in Benton Harbor's water and vowed to accelerate the replacement of the southwestern Michigan community's lead pipes.
Her directive that state agencies ensure residents have safe tap water came about a week after her administration, amid criticism of state and local officials' handling of the response, urged people to use only bottled water for cooking and drinking. The Democratic governor on Thursday also committed to replace lead pipes in 18 months, accelerating what had been a five-year timeline announced more than a month ago.
Benton Harbor, a predominantly Black and mostly low-income community of 9,700, is in Berrien County, 100 miles (160 kilometers) from Chicago. For three years, measurements have detected lead levels well above 15 parts per billion, the federal threshold for taking action. Following the Flint water crisis, Michigan put in place the nation's strongest lead-in-water regulations. But advocacy groups recently urged the Biden administration to help — alleging that city and state actions, including corrosion-control measures, had been poorly implemented and ineffective.
Lead can disrupt children's brain development, causing learning and behavior problems. Adults also can suffer nervous system and kidney damage.
What else we're watching
Inkster Rep. Jewell Jones will be back in court Friday following a psychological evaluation that he underwent after trying to bring a key into the Livingston County Jail by taping it to his foot. He's scheduled to appear around 8:30 a.m.
The Southern Wayne County Regional Chamber is honoring women in business with its 5th annual awards ceremony today at 11 a.m. The unveiling will be in Southgate and will be presented by Beaumont Health.
A new ax-throwing venue has opened in Detroit, this time in Corktown. The other locations already open are in Ferndale and Partridge. 
An elementary school in East Lansing will not celebrate Halloween or Valentine's Day this year, over concerns that some kids' feelings are hurt during the in-school celebrations. 
Whitmer is likely to veto new voter ID bills that cleared the state Senate Thursday. They ban the mailing of unsolicited absentee ballot applications while requiring personal information to be provided on the ballot. Those who show up at the polls without an ID would no longer be able to sign an affidavit. 
Live on FOX 2
Daily Forecast
Rain will win the day Friday with showers expected for most of the morning and throughout the afternoon. The weekend could also get rain early on before drying out Sunday. Temperatures will hover in the low 60s before falling into the 50s Saturday. 
Court again lets Texas continue banning most abortions
Texas can continue banning most abortions after a federal appeals court on Thursday rejected the Biden administration's latest attempt to undo a novel law that has become the nation's biggest curb to abortion in nearly 50 years.

It pushes the Texas law closer to returning to the U.S. Supreme Court, which in September allowed the state to move ahead with banning abortions once cardiac activity is detected, usually around six weeks. No exceptions are made in cases of rape or incest.
Since then, Texas women have sought out abortion clinics in neighboring states, some driving hours through the middle of the night and including patients as young as 12 years old.