Primary results: Detroit's Proposal P goes down, Duggan wins big, write-ins come up short
DETROIT (FOX 2) - Mayor Mike Duggan steamrolled to a big Primary win, while the controversial Proposal P was shot down by Detroit voters. 
Proposal P failed by a margin of nearly 70 percent to 30 percent. Proposal P would have rearranged the city's departments, as well as change how residents paid for water and sewage and would have implemented a task force to study reparations.
Results: 
Incumbent Mayor Mike Duggan posted a massive lead for Detroit's top office with nearly 50,800 votes so far, with Anthony Adams, the former deputy mayor under Kwame Kilpatrick, a distant second with almost 7,000 votes.
Mayor Mike Duggan captured 72% of the vote, cruising to a Primary win in his bid for a third term as the city's mayor.
"I just deeply appreciate the support the people of Detroit have given me for eight years," he said. "They have been behind me every step of the way. and it looks like we may have carried every precinct in the city and I am very appreciative."
Duggan appears he will be facing Adams, a Detroit attorney.
"In a very crowded field, never having run a city-wide race, very little reporting, we have come through to have a message of hope for the city of Detroit," Adams said. 
In other races, Detroit City Clerk Janice Winfrey has a large lead over four other candidates.
Among City Council candidates, the at-large bids look to be going to Janee Ayers, who will retain her seat, and former state lawmaker Coleman A. Young Jr. will get the chance to join her in the building named for his father with the most at-large votes.
In District 1, incumbent Councilman James Tate holds a big lead on the west side, scoring 72% of the vote. In District 4, things were more competitive as Latisha Johnson won with 31% of the vote and M.L. Elrick coming in second at 24.39% of the vote.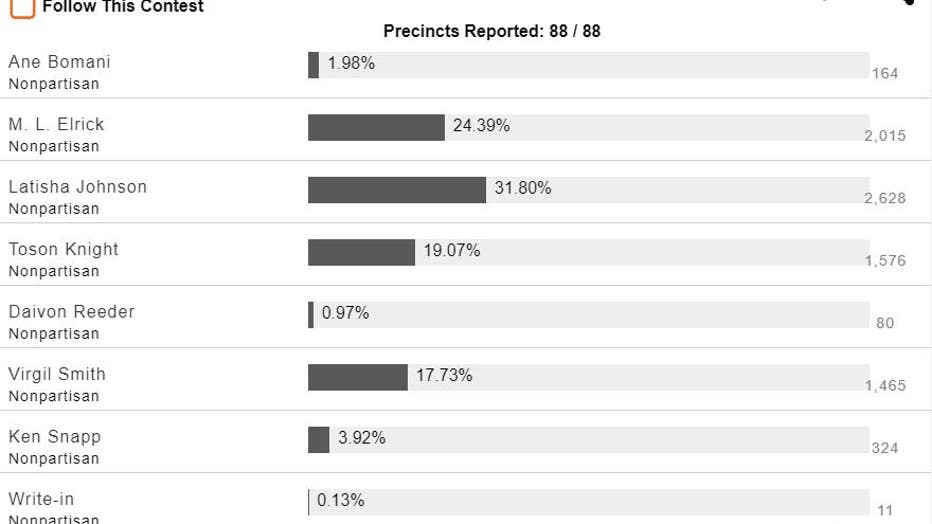 In District 7 Fred Durhall beat Regina Ross 29.9% to 24.2% on the west side. 
Meanwhile, Amer Ghalib held onto a lead for the Hamtramck mayoral race over Karen Majewski and Asm Rahman.
Related: A guide to Proposal P and what Detroit residents are voting for 
In Macomb County, Martin Genter and Douglas Wozniak scored nominations for the Democratic and Republican parties respectively in a State Senate race for the 8th District
The race is to fill current Macomb County Prosecutor Pete Lucido's seat.
Sterling Heights sided with Michael Taylor to serve the next four years as mayor. He beat out Ken Nelson.
Warren also approved millage renewals for its streets and roads, as well as for its police and fire protection. So did Shelby Township approve millages for the police and fire pension as well as a police services proposal.
In both Pontiac and Taylor, incumbent mayors are using write-in campaigns. Taylor's Rick Sollars, who has been indicted, and Deidre Waterman, Pontiac's first female mayor failed to file campaign finance paperwork or pay fines in time.
Waterman appears to have lost to Tim Greimel with Alexandra Riley in second place to make the general election cut. 
In Taylor, Sollars appears to be losing, but it may take up to 14 days to tabulate and have certified, the write-in votes. In the early going, Pastor and former Congressional candidate State Rep. Alex Garza had 35.46% of the vote and City Council Chair Tim Woolley 22.06%. In third place is Jeff Jones with 21.75% and Sollars, as a write-in, sits narrowly behind them as of now.
Pontiac also approved Proposal A, which allows the city to form a charter revision commission. It failed two years ago. 
In Dearborn's early results, State Rep. Abdullah Hammoud holds a large lead with 42% of the vote, while Gary Woronchak holds a slim lead over the other candidates for the second spot.
Incumbent Mayor John O'Relly is not running to keep his seat due to health issues.