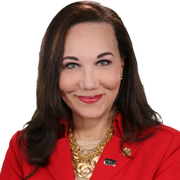 Lori Pinson
Meteorologist
Hello Detroit! It's so good to be home again! 
I grew up with Vernors (the champagne of ginger ale), weekly family outings to Ford Wyoming Drive-In (regardless of the weather) and Sanders caramel cake as my birthday cake of choice. I've fished the Detroit River and flown radio control planes with my Dad at River Rouge. I went to Pistons and Tigers games with my Mom (still do!) Our relatives worked on the Scott Fountain and Windsor Tunnel. In short, I am Michigan Proud!
I've worked all over as a meteorologist. Philadelphia, DC, Lancaster, Cincinnati, even here in Detroit for the CBS program, First Forecast Mornings. I was the Chief Meteorologist in Baltimore when I won an Emmy and NWA Broadcaster of the Year for creating "Signed Weather". I went back to school to learn ASL so our hard of hearing and deaf viewers could understand my forecast in their language. It was one of the most rewarding things I've done in television! 
I have both the Certified Broadcast Meteorologist (CBM) and National Weather Association (NWA) seals of approval. I was appointed to serve as a seal evaluator for the NWA, upholding the guidelines set for potential seal candidates.
I have over 5 years of post graduate meteorology work, most recently studying at Johns Hopkins University for Environmental Science & Policy. 
In addition to weather, I love to write! I've been fortunate enough to receive numerous Society of Professional Journalist and Associated Press awards for writing and Best Weather!
Look for my award winning Fox 2 series, "Lori's Hidden Michigan". Together we can explore little known places in our state! 
When I'm not on the air at Fox 2, I'm traveling with my husband or dining somewhere delicious (yes, I'm a foodie!). At home I enjoy cooking or taking on my Dad's legacy in the role of Mrs. Fix-It. I'm always working on a project! Now that I'm back home, my Mom has an unending honey-do list for me, but I still have time to talk to you! Feel free to contact me through Facebook, Instagram or Twitter at Lori Pinson Fox 2!
The latest from Lori Pinson