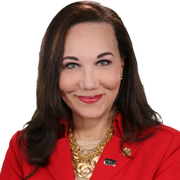 Lori Pinson
Meteorologist
Lori Pinson is an award-winning meteorologist on FOX 2 providing weather Saturday through Wednesday mornings. She holds both the American Meteorological Society's Certified Broadcast Seal of Approval and the National Weather Association's Seal of Approval, Pinson's post-graduate work includes studying at Johns Hopkins University for Environmental Science and Policy.
Lori received the coveted Emmy award for creating an inclusive on-air weathercast for the deaf and is a recent recipient of the Michigan Association of Broadcasters Best Weather award and Best Use of  New Media award for her Emmy nominated online series "Lori's Science Corner", created in collaboration with the National Science Teaching Association. Her original award-winning series, "Lori's Hidden Michigan" spotlights the state's little-known treasures.
Combining science and journalism, Lori won numerous Associated Press and Society of Professional Journalist awards, was named the National Weather Association Broadcaster of the Year and was most recently honored with the Salute to Excellence award from the National Society of Black Journalists.
Though Detroit is home, Lori was a Chief Meteorologist in Baltimore before working in Pennsylvania, DC, and Ohio and as a national science correspondent for the London-based network ITN.  
When not on the air, Lori renovates antique furniture, is a Lector at church, and works tirelessly in her community, lending her voice and time to numerous charities and causes. 
The latest from Lori Pinson