Details emerge from deadly triple shooting • TSA worker's removal • Man murders ex-girlfriend
(FOX 2) - Terrifying details emerge from a deadly triple shooting at a Detroit gas station, an airport security worker's removal after he was seen aggressively handling a dog while working, and an ex-boyfriend's actions after killing a previous girlfriend: here are this week's top stories from FOX 2's Week in Review.
1. Frontier Airlines accidentally flies Florida-bound passenger to foreign country without a passport. A New Jersey woman who was trying to get to Jacksonville instead ended up on a flight to Jamaica after she said her gate changed. 
2. 'Please don't shoot us': Friends shot by angry customer after stopping at Detroit gas station. A man is mourning the death of his best friend after the pair had stopped at a gas station when another customer became irate and started shooting. One person died and two others were injured.
3. Sources: Man picked up kids from school to say goodbye after killing ex-girlfriend at Southfield hotel. The man believed to have killed his ex-girlfriend and hurt her new boyfriend after tracking her down at a Southfield hotel was able to stop and pick up his kids from school and say goodbye before police caught up with him and killed him as he was reaching for his assault rifle.
4. TSA canine handler at DTW under investigation after aggressively pulling dog. A video from Detroit Metro Airport went viral after it showed a canine handler with the TSA aggressively handling the dog while working. Police security said the man was removed from his duties following the video.
 5. 'Raise your hand': Passengers vote to kick woman off Frontier Airlines flight. A woman was removed from a Frontier Airlines flight after passengers voted to have her kicked off, according to video footage that surfaced online. The incident occurred on a recent flight from Trenton, New Jersey to Atlanta, Georgia.
6. Men who cheated in Ohio fishing tournament get prison time, lose $130K boat. Two men who cheated during a fishing tournament in Ohio by stuffing walleye with lead weights and fillets in an attempt to win the cash grand prize have been convicted of a felony and will spend time behind bars - plus they'll have to forfeit the $130,000 boat used during the tournament.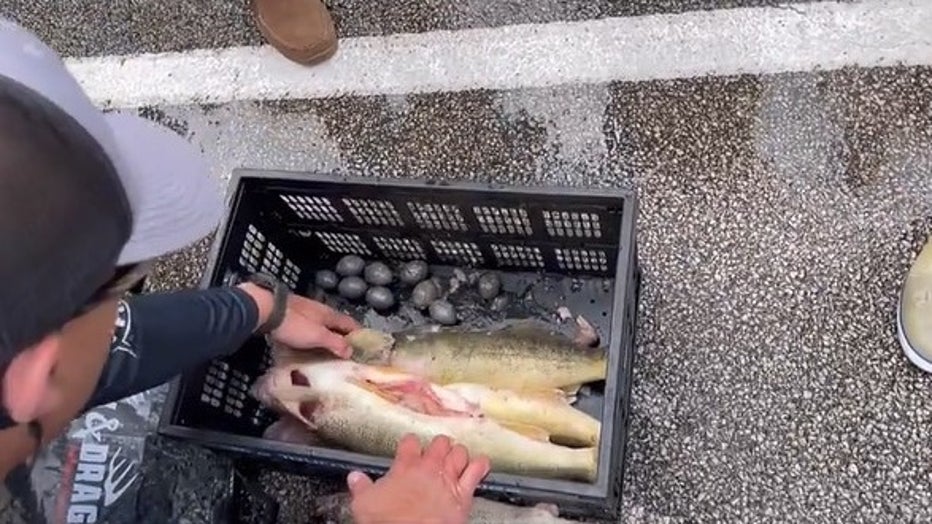 Weights were stuffed inside of walleye during a fishing tournament on Lake Erie in September. Photo via Cuyahoga County Prosecutor's Office.
7. Chesterfield Twp officer saves girl's life, fired months later. Just months after a Chesterfield Township Police Officer saved a little girl's life, he was badly injured and suffered severe PTSD. Now his family wants to know why the department wasn't more supportive in his time of need.
8.  Michigan teen uses slingshot to save sister from abduction while mushroom hunting. The Michigan State Police is lauding a 14-year-old boy for saving his younger sister from being abducted from their backyard while she was mushroom hunting earlier this week.
9. Detroit home where Aretha Franklin grew up for sale. You could live in the house where Aretha Franklin lived when she was a child. The home at 7415 La Salle Blvd. near W. Grand Boulevard is on the market for $379,900. 
10. 'White Boy Rick' arrested in Miami, accused of attacking girlfriend during fight. It's been almost three years since White Boy Rick was freed from prison following 30 years behind bars after he served as an federal informant. On Tuesday, however, Richard Wershe Jr, was back behind bars after allegedly attacking his girlfriend during a fight at his condo in Miami.