Family's first baby girl in 130 years • 11 hospitalized in Detroit fire • Teen injured in drive-by shooting
FRIDAY NEWS HIT - For the first time in over 130 years, a Michigan family has welcomed a baby girl.
Little Audrey Clark is a unicorn unlike any other. She was born on St. Patrick's Day to Andrew and Carolyn Clark and will have an incredible story to tell for the rest of her life as she's the first girl born to the Clark family since the late 1800s.
"I have two older brothers and they both have boys. My dad had three boys and his dad had three boys and my great-great-grandfather had two boys and then my great-great-great grandfather, he had five children and the last one that was born in 1885 was a girl," Andrew said.
The Clark family of west Michigan didn't think they would break the streak, especially since their firstborn was a boy.
"We just assumed we're going to have another boy because, obviously, history showed itself with Cameron," Carolyn said.
When they decided to expand their family, they had to find out before the baby was born.
"We were just like, 'I have to know'. We, once again, just assumed it was a boy. But you know it's always a 50-50 chance and you never know," Carolyn said.
At their gender reveal party, they didn't even know. But their cousin did and baked rainbow cookies with pink frosting in the middle.
"We were just all kind of shocked that it was actually pink on the inside," Carolyn said. "It was a very pleasant surprise but we were all just shocked and in disbelief."
Then the pink presents started pouring in.
"Our parents have just been spoiling her before she was even here - you know - buying all the bows and tutu's and outfits," Carolyn said. "She's got enough clothes that she doesn't have to wear the same outfit twice."
Big brother Cameron is smitten with his baby sister. He's generous with kisses and determined to her safe from bad guys.
"Yeah I'll punch those guys away," the 4-year-old said.
The boy is already protecting the precious baby girl - who is the rarest of jewels in the Clark family line of boys. And they couldn't be happier.
"We were very shocked that this unicorn emerged and made her debut," Carolyn said.
"I just thought history was going to continue and be a litter of boys but we are blessed and we're happy," Andrew said. "Our little rainbow baby born on a special rainbow day."
11 hospitalized in massive apartment fire
The glow from a massive structure fire on Detroit's west side could be seen for miles. A total of 20 people have been displaced with 11 being hospitalized for injuries suffered during the fire. According to Detroit Fire, seven people were taken to Henry Ford Hospital, three to Sinai Grace, and one to Detroit Receiving.
"We knocked on doors. Some couldn't get out because they were on the top floor so they had to let the ladders up and go in and break the windows out," said Cedrick Gill. 
Gill lives on the first floor of the apartment, which is located at LaSalle Boulevard and Davison. He spoke to FOX 2 against the backdrop of his home on fire. The blaze broke out around 3:30 a.m. before expanding to the entire structure, which is about five stories tall. 
"As you can see, we're extinguishing this fire. We're making sure everyone is out. We do have 20 residents displaced and will have warming bus for them," said Detroit Fire Department Chief James Harris. "We do have the situation under control. But like I said, it is a huge structure, a five-story apartment building."
Detroit teen injured in drive-by shooting
Police are investigating the non-fatal shooting of a 15-year-old teen in Detroit this week. The female victim had been walking in the area of Seven Mile and Albany when she was struck by gunfire, according to police.
The incident happened around 1 p.m. on April 5. 
Detroit police said the shots were fired from a black-colored Ford Fusion that had tinted windows. 
The victim was taken to a local hospital where she had her injuries treated. She was last listed in stable condition. If anyone has information on the shooting, they're asked to call DPD's 11th precinct at (313) 596-1140 or Crime Stoppers at 1-800-Speak Up.
Whitmer on her first 100 days
An expanded income tax credit. The repeal of Right to Work. And the end of a 90-year-old abortion ban. It's been a busy 100 days for Michigan and it's newly-elected government. Gov. Gretchen Whitmer has been at the helm of some of those pushes.
"It's been a whirlwind. We've gotten a lot done… We've been working very hard to make sure we repeal the retirement tax, expand the Earned Income Tax Credit that helps a lot of people in Michigan. We quintupled it. We landed a huge Ford investment."
She's juggled both Republican criticism over how Democrats have passed legislation and from the business community over the party's bolstering of union rules in Michigan. 
Despite the blistering pace that Whitmer's administration has moved at, there is still more work to do, she said. The topic of gun reform following the Michigan State University shooting. She also gave a non-answer answer to the question of any future political campaigns. 
Detroit man charged with eight felonies after sexually assaulting two elderly women
The man accused of raping two elderly women over the past two weeks has been charged with several felonies.
Kenneth Davis, 28, of Detroit, was arrested earlier this week after police released a sketch of him following reports that an 80-year-old had been sexually assaulted outside her home. Davis allegedly sexually assaulted another woman days later behind a building.
He was taken into custody on April 4 and appeared in court on April 6, before being remanded to jail. Davis was arrested after Detroit police worked with the assistance of Michigan State Police over the past week.
Cell phone footage showed Davis being arrested on Tuesday after Detroit Police's investigation. One officer said the case is one of the most violent he's worked in his career at the department. He'll be back in court on April 18.
Live on FOX 2
Daily Forecast
 This weekend will max out in the 50s and come with clear skies. But it's next week when the real action begins and temperatures climb into the 70s and potentially even touch 80.
What else we're watching
After a hard-fought game (and season), the Detroit Red Wings are officially out of the playoffs. Detroit lost to the Buffalo Sabres 7-6 in a shoot-out.
Two people were arrested after stealing a vehicle in Monroe County Thursday night. Police were assaulted while trying to take one of the suspects into custody. Both troopers suffered minor injuries. 
It's National Beer Day. That comes with some meaning in Michigan which is overflowing with some of the best craft beer in the country. Find the latest info on all the new beer releases from FOX 2 here.
A new survey from the University of Michigan found that about 39% of Michigan nurses intend to leave their jobs next year. It's a devastatingly high number for an industry that has already experienced high levels of burnout. 
Bunnyville at the Detroit Zoo is in full swing this weekend. It comes with a bounce house, face painting, and a golden egg hunt. Find more information here.
Stunning image of Uranus and its rings captured by James Webb telescope
Once again, the James Webb Space Telescope has delivered a stunning image of one of the solar system's ice giants: Uranus.
The new image, which was taken on Feb. 6, 2023, was released by NASA on Thursday and shows Uranus and its rings in amazing detail.
"The Webb data demonstrates the observatory's unprecedented sensitivity for the faintest dusty rings, which have only ever been imaged by two other facilities: the Voyager 2 spacecraft as it flew past the planet in 1986, and the Keck Observatory with advanced adaptive optics," NASA said in a news release.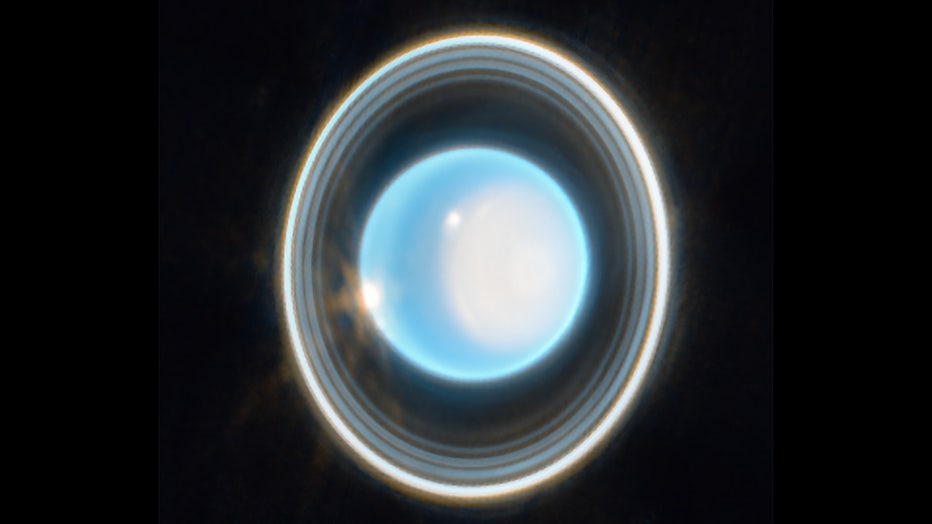 This zoomed-in image of Uranus, captured by Webb's Near-Infrared Camera (NIRCam) Feb. 6, 2023, reveals stunning views of the planet's rings. The planet displays a blue hue in this representative-color image, made by combining data from two filters (F (NASA, ESA, CSA, STScI. Image processing: J. DePasquale (STScI))
The image clearly displays Uranus' northern pole, which is currently in its late spring season. The northern pole will not experience its summer season until the year 2028.