Mother of 3 missing for a month • Widespread rain and strong wind today • Crime ring out of Family Dollar
THURSDAY NEWS HIT - A mother of three packed her van and left her life behind - allegedly for a man she never met. That happened back on New Year's Eve and now Lynn Kim's cousin says someone needs to speak up and track her down.
"There is literally no trace, and that's not her," said Shannon Christian.
Christian is trying to track down her cousin and her friend Lynn Kim because that's what Lynn would do for her. "No matter what we would always have each other's back, and we always have for the most part, she has always been there for me," she said.
The two were very close until November, the same time Lynn had met someone online on meetme.com. "She met this guy, he lived in Bronx, New York, and that's where she was going," Shannon said.
Things changed quickly from there. "She would stay on Facetime with him, from morning until night," she said. "He wouldn't let the kids go into her bedroom."
Shannon says Lynn started cutting people out her life, and it came to a head on New Year's Eve.
"December 31st she took off with some of her stuff, and from what I just found out today, January 4th, was (the last time) any contact was made," said Shannon.
That's when this mystery man delivered those searching for Lynn, an ominous message.
"Saying things like, 'You'll never find her. We're in California,'" she said.
She texted her three kids 'I love you' and then nothing since.  
"Six years old having nightmares, for his mom," Shannon said
And it's not just Shannon who is worried.
"Her mom is from South Korea and she barely speaks any English, her mom has been emailing her, no response," she said. A missing person's report has been filed in Clinton Township where Lynn and her kids live, while those searching for her are desperate for answers.
"Lynn if you're okay, you need to let us know that you are fine," Shannon said. "You are loved."
There is more reason for concern, Shannon says Lynn's social media accounts have gone dark as well - and her phone is off. Clinton Township police say this case is under investigation but other than that - no further updates are available.
Lynn Kim's three children are with relatives right now.
Read more about the mom's disappearance here.
Strong winds, widespread rain, and warm temperatures today 
It'll be rainy, warm and windy today! 
We'll start with the rain, which will be widespread and heavier at times through the morning commute.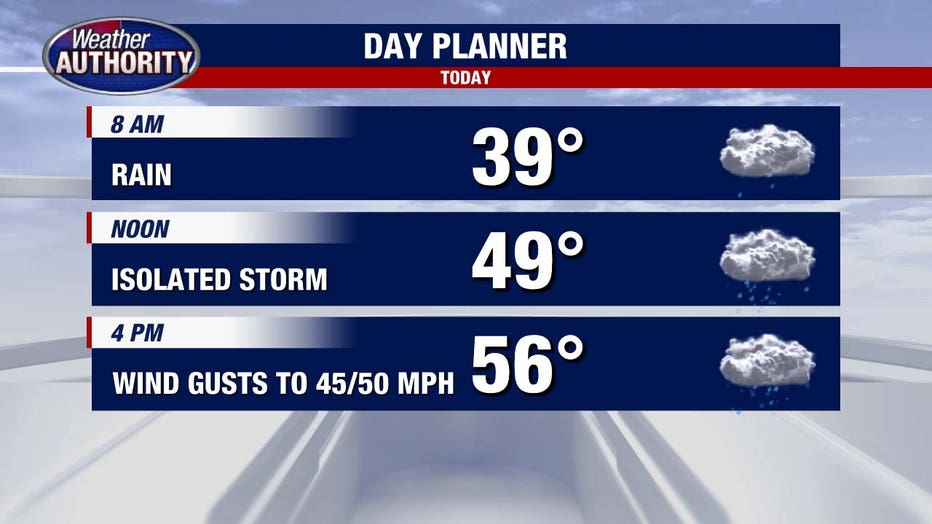 An isolated strong/severe storm is possible midday or early afternoon, along with a few showers lingering later this afternoon. 
As the center of the system moves in and deepens our wind will pick up. 
Gusts up to 40-50 mph may lead to pockets of power outages. A wind advisory runs for Livingston/Oakland/Macomb/Washtenaw/Wayne/Monroe/Lenawee Counties from 10 a.m. to 10 p.m.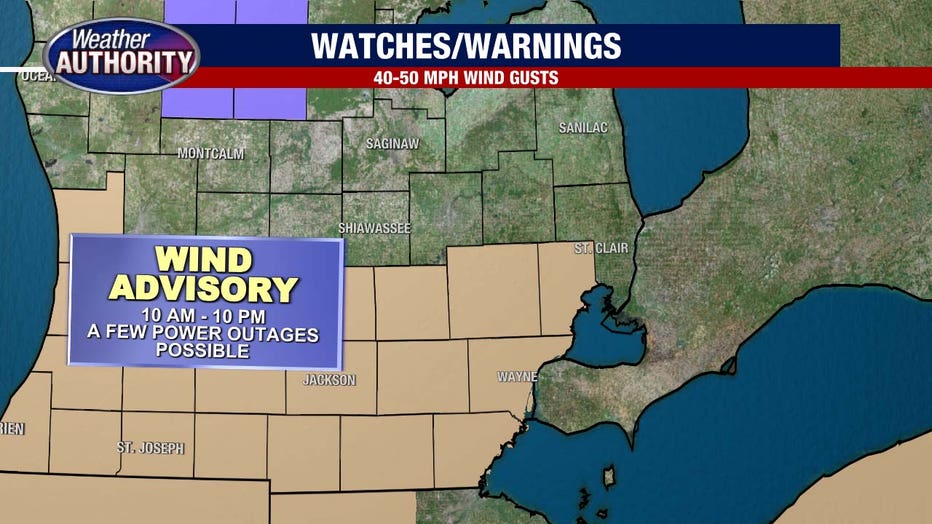 And finally, your temperatures are coming up! 
Highs slip into the 50s this afternoon. The record high for today is 56 degrees, set back in 1966.
We'll quiet down considerably Friday with nothing more than a flurry and a colder feel that lasts into the weekend. Next week it's back to the warmth - 40s & 50s. 
Read more about today's forecast here.
Crime ring out of Family Dollar broken up
Police announced on Wednesday that a serial break-in ring are responsible for at least 30 to 40 crimes in Wayne, Macomb, and Oakland counties were arrested after a chase and standoff in Detroit. And investigators say that more arrests will be on the way - with at least five more coming as a result of the joint Warren and Detroit police effort.
A group of accused thieves were caught on surveillance video trying to break into the Hit The Cloud 2 smoke shop near Warren and Chalmers in Detroit early Wednesday morning. The problem is, Warren police were watching too - and when Detroit police showed up to take them in, investigators say they fled.  
Officers pursued the suspects to the Jefferson Square Apartment Complex where sources say they ditched the car and entered a home. After a standoff that lasted hours, the suspect was taken into custody without incident. 
Cops would find the group of six to 10 suspects responsible for a wave of break-in crimes in the tri-county area including businesses robbed in Troy, Clawson, Madison Heights, Harper Woods, and Detroit.
2 arrested in connection with string of Metro Detroit storage unit thefts
Two people accused of breaking into storage units across Metro Detroit were arrested last week in Dearborn.
Police said Ashlee Marie Fickel, 36, and Sam Thomas Kokenos Jr., 39, were stopped Sunday while leaving a storage unit in the 23000 block of Kean Street. Police said they recovered stolen property from the pair, as well as evidence from other burglaries.
Dearborn police linked Fickel and Kokenos, who both live in the city, to other storage unit thefts in Allen Park, Melvindale, Oak Park, and Warren. The suspects were charged with breaking and entering, larceny in a building, possession of a stolen financial transaction device, possession of burglary tools, and possession of a controlled substance. Fickel's bond was set at $10,000 cash, and Kokenos was set at $15,000 cash.
Anyone who believes they may be a victim of these thefts is asked to contact Dearborn Police Corp. Zachary Baraboll at 313-943-2275.
Oakland County woman wins $110,689 in random Michigan Lottery drawing
When an Oakland County woman received an email saying she won $110,689 from the Michigan Lottery, she thought it was a scam. 
"I knew that by playing the Monthly Jackpot game online, I was earning entries into a second chance giveaway," said the 47-year-old woman, who chose to remain anonymous. "I never thought I would win the second chance drawing, so I was just hoping for an instant win while playing the games."
On the Dec. 14 second chance drawing, she was selected. "I was checking my email one day and saw an email from the Lottery informing me that I'd won a $110,689 Monthly Jackpot prize and I thought it was a scam. I decided to wait until the next day to do anything about the email because I was certain that I hadn't actually won," she said. 
"When I got a call from the Lottery a few hours later confirming my prize, I was so excited! Winning is such an unbelievable feeling."
Live on FOX 2
Daily Forecast
Rain, then wind, along with some heat are all on the docket for weather this Thursday. Widespread showers are expected for much of the morning and afternoon, while much of the lower Michigan is under a Wind Advisory for the day. Metro Detroit could also get record-high temperatures too.
What else we're watching
A ship with an unlucky history has been discovered at the bottom of Lake Superior. Named the Nucleus, it went down more than 150 years ago after a bad storm caused it to spring a leak while it was hauling iron ore.
State police say two people are being evasive about a freeway shooting that left a man injured in both his legs. The passenger in the car took the man to the hospital after he said he heard two gunshots while driving on I-96.
DTE plans to charge electricity customers a heightened rate during peak energy-use hours. The rate hike will take place from 3-7 p.m. on weekdays.
The Michigan state Senate voted to repeal a part of the state's 2016 Read by Grade Three law. The law has been in the cross hairs of Democrats for years.
Meanwhile, the Oakland County Executive Dave Coulter is expected to testify before a state Senate committee in support of expanding protection under the Elliott-Larsen Civil Rights Act.
'We regret our mistake': Animal shelter accidentally euthanizes dog
North Carolina animal shelter is apologizing for accidentally euthanizing a 2-year-old dog. Pitt County Animal Services said the procedure was carried out on Feb. 2 after the dog was placed on a 10-day bite quarantine.
"Through human error, the owner's desire for the dog to be returned was incorrectly entered into the computer system," the shelter posted on Facebook.
The shelter offered its regrets and sincere apologies. The shelter said procedural changes are underway to prevent similar mistakes.