Resolutions and gas station shootings • Man arrested after shots fired outside Warren HS • T-swift in town
FRIDAY NEWS HIT - Two recent criminal cases involve an Arab-American Detroit gas station clerk charged for the death of an African-American customer. It raises the question if relations can improve between these two communities in the city.
"If you would have told me that two cases involving gas stations, early morning hours, locked doors and shootings would happen here in the span of a month, I would not have believed that," said Wayne County Prosecutor Kym Worthy.
Worthy addressed the media Thursday morning before a gas station clerk was charged with first degree murder. He allegedly shot a customer through the locked glass door on Monday after the dispute began over beef jerky.
"I can't understand how somebody would take a life over beef jerky or $4 or $3 or a bag of chips," said Nasser Beydoun, Arab-American Civil Rights League.
But it happens. Last month a Detroit gas station clerk was charged with involuntary manslaughter after police say he hit a door lock button, keeping customers inside the store.
He was protected behind the counter by bulletproof glass when one of the customers shot the other three customers — killing one of them.
It was allegedly over a $4 refund.
"You know it's unfortunate, but gas stations in the City of Detroit are starting to become death traps," said Teferi Brent, activist with Dignity for Detroit. "They're becoming death traps for our citizens."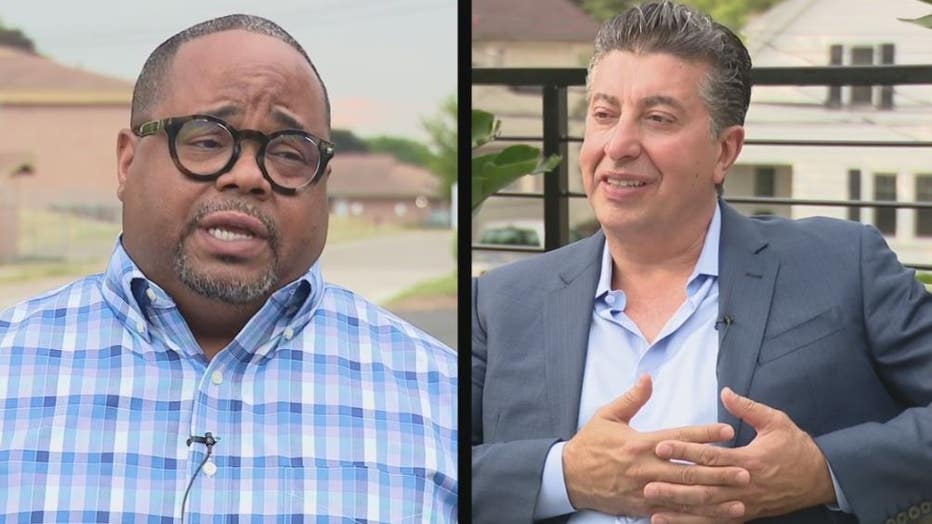 Teferi Brent, left, and Nasser Beydoun.
There is now a push to require gas stations to close earlier and a renewed effort to reinforce the work these two men have been doing for years.
"It is now time for Arab-American leaders and African-American leaders to sit down and have a serious conversation about what's happening in our neighbors and our communities," Brent said.
"You try and educate your employees and try and make sure they understand to treat their customers with respect," Beydoun said. "You tell them no guns in the station."
Detroit police immediately shut down the gas stations on Vernor and W. McNichols after the shootings, because the businesses were operating without proper licenses.
22-year-old arrested after shooting outside Warren high school
A 22-year-old man is in custody after a shooting during a fight outside Michigan Collegiate High School in Warren on Monday. Police said at 2:40 p.m., six gunshots were fired in what they're calling a planned fight that evolved into the suspect, who is from Detroit, shooting multiple shots into the air.
The gunman is an associate of a student who was suspended from the school after an earlier fight, police said. According to Warren Police Commissioner Bill Dwyer, the gunman was with several other people who are not students at the school, and the fight was retaliation for the earlier fight. No one was hurt. 
Police identified the shooter and arrested him at his work in Farmington on Thursday afternoon. The handgun was recovered when he was taken into custody. He is expected to be arraigned Friday.
"Brazen acts like this are completely unacceptable and will never be tolerated," Warren Police Commissioner Bill Dwyer said. "Students have a right to feel safe at school. 
Taylor Swift comes to town
You may have heard, but Taylor Swift is in Detroit this weekend. For some, it's going to be the most exciting night of their lives. For others, it's the perfect reason to avoid all the traffic and crowds that will descend on a very busy downtown.
For the Swifties making their way to the Motor City, it may be worth figuring out parking before making the trip. You can find tips on navigating the city to find the best spot here.
Or perhaps you've waited to the last minute but somehow still intend to buy a ticket. Find out how much they are here. 
Or, if everything is planned out and all that's left to do is enjoy the concert, you might want to see a set list. Swift has been changing the songs she's been singing slightly at each concert. But a good idea of what she'll play can be found here. 
Anything else to know can be found by tapping here..
Smoke fades and rain expected this weekend
Smoke levels are fading, but an air quality alert continues through noon. We can thank our winds for the improvement as they swing from the Northeast to the Northwest. 
A bit of haze is possible, though I think we'll manage more sun than yesterday. 
The rain's back for the weekend. Sunday continues to be the favored timeframe. The exact details remain to be seen, but wet weather of some sort will continue into Monday and Tuesday. 
Preliminary rain totals will range from half an inch to a full inch, which is welcome as our drought continues to expand.
Shortage of cancer drugs impacting hospitals
Hospitals around the country, including here in Michigan, are being impacted by a shortage of a drug that treats several cancers. 
"Two drugs are short – one is called Carboplatin and one is called Cisplatin," said Laura Appel, the executive vice president of the Michigan Health and Hospital Association. "They are used to treat several types of cancers – for example, bladder, lung cancer, ovarian cancer, testicular cancer."
This shortage started overseas. "There is a manufacturer overseas that, whether they were unable to continue production or there was a quality issue, it is not clear to me, but they discontinued production," Appel said.
That has sent the cost of some drugs skyrocketing. It's forcing lawmakers in Michigan to address the issue while hospitals seek alternative prescriptions and treatments. 
Live on FOX 2
Daily Forecast
Plan on reduced air quality and more sun than yesterday as the weekend readies for rain and expected nice weather. The smoke that's been dampening our atmosphere is also expected to clear up by then.
What else we're watching
Motor City Pride Festival is happening this weekend. Detroit Police will be in force to make sure the event goes smoothly. The show will take over Hart Plaza this weekend.
General Motors is also getting access to Tesla's vast charging network, shortly after Ford secured a similar agreement with the electric automaker.
More construction this year will require lane and ramp closures all weekend on I-96 at M-14 in Wayne County. Starting Friday, The eastbound M-14 ramp to I-275 will be closed. I-275 will also be down to one lane from Ann Arbor Road to Five Mile Road.
The Detroit Incinerator smokestack will be imploded this weekend. The scheduled demolition follows a year of dismantling of the facility after it was closed down.
A love triangle in St. Clair County has turned deadly after one woman suffered severe head trauma following an assault from another woman.
Ramp collapse at Stahlman Park in Surfside: About 20 teens injured, 5 life-flighted
Multiple injuries have been reported after a ramp collapsed at Stahlman Park in Surfside on Thursday.
According to the Surfside Fire Department, at least five teenagers were life-flighted to Memorial Hermann in Houston, about six teens were taken to local hospitals via ambulance, and approximately 10 more were taken to a hospital by a private vehicle.
"The tone [on the scanner] came over as casualties and a deck collapse," said Assistant Chief Justin Mills from the Surfside Beach Volunteer Fire Department. "It was hectic. There was a lot going on."
Their injuries are non-life-threatening, according to Brazoria County authorities.