Superintendent resigns over 5G tower • Home explosion in Mt. Clemens • Everything to know for Opening Day
THURSDAY NEWS HIT - Wyandotte's School Board voted to accept the resignation of Superintendent Catherine Cost on Wednesday, amid controversy over a 5G cell tower on Washington Elementary.
"I'm hoping they find somebody to fill her shoes that will put our children first and be a positive light in this district," parent Alexandria Cotner said.
An agreement between the district and T-Mobile led to the cell phone provider placing a 5G tower on the chimney of Washington Elementary. In exchange, the school gets a little over $1,000 a month. This deal was reached in 2018, but the tower was only recently placed at the school.
This has led to tense school board meetings as parents demand answers about the possible health impacts on children.
"I believe that she's (Cost) been a huge barrier in getting something done here. I believe that she dropped the ball at every step along the way from 2018 when this contract was signed up through as of yesterday, so I am very happy that we seem to be moving in the right direction," said attorney Josh Castmore, one of the biggest organizers pushing back against the tower.
More: Scientist says cell equipment on top of school is a health danger
It's been an ongoing battle between parents, the district, and the cell phone provider. 
During one meeting, T-Mobile reps walked out.
Explosion blows Mt. Clemens home off foundation
An investigation is underway after an explosion rocked a Mt. Clemens townhome Wednesday night.
According to the Macomb County Sheriff's Office, a townhome in the area of Mark Drive and N. Rose Street exploded around 9:30 p.m. Two men who were inside made it out safely, though they suffered non-life-threatening injuries.
A neighbor said the men were shirtless and covered in glass when they came outside.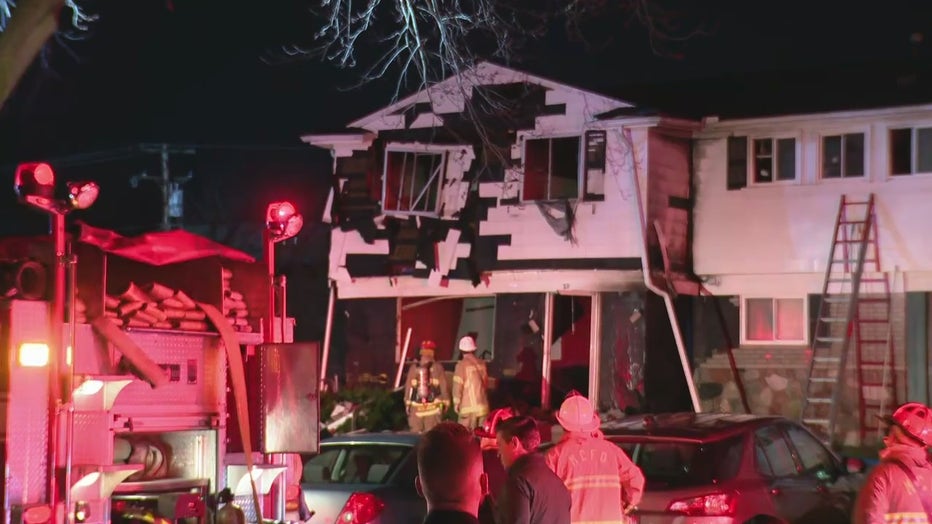 The fire captain said the home was blown off of its foundation. Crews put the fire out the fire in under an hour. The cause is unknown.
Opening Day with the Detroit Tigers 
The return of baseball to Detroit is one of the city's favorite days to celebrate. The revelry that precedes the first pitch at Comerica Park is a testament to how highly regarded the day is. FOX 2 is here to help you along the way.
If it's things to do around the park, check out this link. There's plenty of tailgating at Grand Circus Park, the Old Shillelagh, and the Fillmore all have fun going on. 
And then there's the bag policy at Comerica Park. A pitfall for any unsuspecting fans, there are strict rules around what can go into the park. The largest container allowed in are single-compartment wallets. Check the list of what's allowed inside here.
As for the weather, it's not going to be the worst Opening Day in recent memory. Temperatures will climb into the high 40s by the first pitch and no precipitation is expected. Get the most updated forecast here. Play ball!
Read more about the upcoming game here.
Suspect arrested during raid of drug operation
A man was arrested during a raid Wednesday afternoon in Detroit's University District. Neighbors in the 18000 block of Murland told FOX 2 that police in tactical gear made a reference to a search warrant over a speaker before entering the home.
"They came in there with helmets. They was like real protective, like it was something really serious going on," neighbor Adam Collins said. Sources say they were there for a drug operation bust.
"I seen them walking in and out of the house - police, dogs. I'm like what is going on? I'm sitting there watching, I see somebody come out in handcuffs," Collins said. Neighbors said the man led out in handcuffs was taken away in a Livonia police car.
According to neighbors, the house was purchased almost two years ago, but it wasn't occupied full-time until about six months ago. Neighbors said they weren't familiar with the person taken into custody. The suspect taken away by police has convictions for drugs and first-degree sexual assault dating back 23 years. He is not being named because charges haven't been filed. 
Michigan woman, unborn child killed after erratic driver causes crash
A 28-year-old pregnant woman and her unborn child died after an erratic driver caused a crash Wednesday in St. Clair County.
The St. Clair County Sheriff's Office said multiple 911 callers reported that a white Ford Ranger pickup truck was driving erratically in the vicinity of Wadhams, as well as North and Lightle roads in Clyde Township just after 8 a.m.
Within minutes, the 17-year-old male from Port Huron was traveling north in the 4700 block of North Road when he crossed the center line and hit the victim's Ford Focus head-on. 
The teen suffered only minor injuries.
Live on FOX 2
Daily Forecast
It will remain partly cloudy for the bulk of the morning and afternoon with temperatures climbing into the low 50s. 
What else we're watching
Ron Desantis is coming to Michigan Thursday. Dubbed the 'anti-Florida' in many ways the two states represent diverging views in America. One is turning increasingly conservative and has been at the front of the culture war, the other increasingly liberal and recently passing gun control, abortion, and civil rights legislation.
A former Michigan House Speaker and three others are expected to be charged in a federal probe looking at potential bribing of public officials for marijuana businesses. According to the Detroit News, Speaker Rick Johnson will be charged. An announcement is expected at 10 a.m.
Dr. Rahul Gupta, the director of the White House Office of National Drug Control Policy is in Michigan today. His first event is a narcan vending machine in Wayne State. Tomorrow, the drug czar will head to the Ambassador Bridge to visit the border.
MDOT is studying what to do about the I-96 and M-39 interchange. Sitting on the border of Detroit, the two highways make up a massive section of cement. MDOT is weighing how to better improve the two major road ways.
Today marks 100 days of the governor's second term in office. It's been a jam-packed session with a Democratic legislature. FOX 2 will have more on Gretchen Whitmer's time in office tonight.
Here's why there could be pink snow at Yellowstone this summer
If you're looking for an outdoor adventure this summer, Yellowstone National Park may be an option because this could be your chance to see pink snow. 
The bright colors of the snow are produced from snow algae, which are single-celled organisms that adjust in temperatures near freezing, according to a blog post from the U.S. Geological Survey on April 3.  
Cold-adapted microorganisms aren't limited to only pink snow. As the temperature rises, the algae can gather energy from the sun to create pigments that can produce snow in the colors green, orange, brown, or gray, the USGS notes.