Winter storm warning issued for Friday's snow • 5G tower on elementary school • Free Clubs for Kia, Hyundias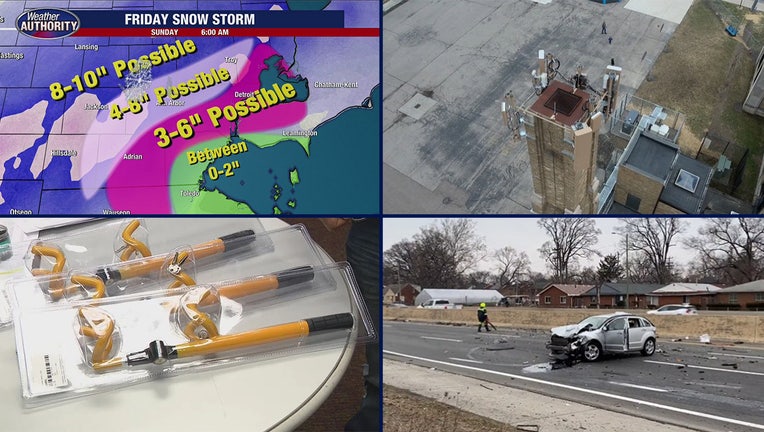 article
DETROIT (FOX 2) - We're bracing for a major winter storm on Friday that could bring up to ten inches for some parts of southeast Michigan or zero inches. It all truly depends on where you live.
A winter storm warning was issued starting at noon on 1 p.m. for most of southeast Michigan. And that's right when we expect the snow and rain to arrive in Southeast Michigan – but this is just a precursor of the afternoon. 
When it moves into Metro Detroit, it's going to be just below freezing, which means it's a bit warmer than a January storm would be and it is packed with moisture.
Let's get to what you're looking for: how much snow are we expecting. That all depends on where you live. By Saturday, some parts near Ohio could see no snow on the ground while Flint could have 10 inches!
For the most part, we're looking at between 3 and 6 inches in Wayne, Macomb, and Lenawee counties. Meanwhile, Washtenaw, Livingston, and Oakland counties are going to be in the 4 to 8 inch range. Northern Livington County, Jackson, Shiawasee, and Genesee counties are all in the 8 to 10 inch range by the time we get to 6 a.m. on Saturday.
When you go to clear out the snow, you're going to want to do it in shifts. Don't let it pile up on your driveway and then try to clear it all at once. Go out during the storm and clear the way and then head back out a few hours later to do it again.
This is going to be extremely wet and heavy snow. So take your time.
Southeast Michigan school closings: evening activities canceled
The impending snowstorm is not canceling classes all day on Friday but many schools have canceled activities and PM classes.
A winter storm warning was issued for southeast Michigan starting at 1 p.m.on Friday through 2 a.m. on Saturday. We expect to see around 3 to 6 for some and 4-8 for others – while Monroe County could see zero. By 6:30 a.m. on Friday, roughly 50 schools canceled afternoon or evening activities because of the storm
Parents will want to keep a close eye on updates from their schools but you can also track all of our closings on our page.
Check the school closings list here. 
5G cell tower installed on top of elementary school, police clears meeting
A new 5G cell tower being built atop a Wyandotte elementary school has some parents questioning the placement - which is just a few feet from the playground.
And it was all installed and complete – all with a monthly payment of $1,000 per month to the district.
The tower at George Washington Elementary School is near the playground. The school district entered into an agreement with T-Mobile and will get paid monthly for having the tower. 
The district set up an informational meeting for parents at the Washington Elementary but the mood quickly escalated Thursday night.
"So we want answers want to know why we weren't notified five years ago," asked a parent.
"Sir we're giving you those answers," said Wyandotte Superintendent Catherine Cost.
But they never got those answers, in fact they never even got to ask the questions in a packed cafeteria.
They are concerned about radio frequency waves and possible long-term health effects.
The American Cancer Society says there's no strong evidence that proves radio frequency waves are harmful — however the organization says this does not mean exposure to RF waves from cell phone towers has been proven to be absolutely safe.
Parents were furious, especially as the school superintendent paused the meeting unexpectedly.
With the superintendent out of the room, parents took over the meeting, asking for a pause on the process.
"We do need to find out when this tower is becoming operational, said parent Alexandria Cotner. "Our goal for this meeting was to get a pause, please. We need a pause until all the information is gathered, all of our questions answered."
"I'm a lawyer I have a background in law, I have a background in zoning and real estate law," said parent Josh Castmore. "This is not where one of these towers is supposed to exist. So as far as I'm concerned, T-Mobile is already in breach of their agreement with us and we should terminate this agreement immediately."
That brought out a raucous applause from the audience as superintendent Cost returned and quickly ended the meeting.
Police were called and all were ordered to leave the school.
Read more about the 5G tower and what happened at the meeting.
MSU Gospel Choir hosts Worship Night on State Capitol
On the State Capitol steps and under the mighty dome, a gospel message was sent into the heavens in the name of healing.
The Michigan State University Gospel Choir hosted a Worship Night for anyone and everyone still reeling from the deadly mass shooting on campus on February 13th.
"To have what happened here a couple of weeks ago; to now have the atmosphere of worship to God means a whole lot because we're setting another atoning atmosphere," said Michelle McGregor, MSU alum.
Some of the choir members were supposed to be at Berkey Hall the night shots ranging out.
"The young lady who God gave this event to, Ana, the one who keeps speaking, Ana Johnson was supposed to be there for a study group and because our car was broke down she was waiting on someone to get her, and she never made it," said McGregor. "It's truly a blessing that God protected her because she was supposed to have been there."
Read more on MSU Gospel Night on the grounds of the State Capitol here
Detroit gives away free Clubs to Kia, Hyundai owners after rash of thefts
Detroit police are giving out The Club steering wheel locks to owners of Kia and Hyundai vehicles after a rash of thefts.
Kia and Hyundai vehicles with keyed ignitions lack an immobilizer. This makes them easy to steal with a USB cable, leading to a spike in thefts.
Read: Police warn Kia, Hyundai owners to stop leaving USB plugs in cars
The thieves, who are often teens and children who joyride in the cars, refer to themselves as the Kia Boyz and post their crimes to TikTok. Videos showing how to steal the vehicles quickly spread online and the trend made its way around the country. 
In Detroit, thefts of these car brands jumped from 59 in 2021 to nearly 500 in 2022, prompting a need to help owners make them harder to steal.
Hyundai provided the Detroit Police Department's Commercial Auto Thefts Section 200 of the locks to give away for free.
Find out how to to get a lock from the city of Detroit.
Man wanted for taking photos of student in Henry Ford College bathroom
Police are looking for a suspect who stuck a phone under the wall and into a stall where a Henry Ford College student was using the bathroom Tuesday.
According to an email from the school, the student was in a restroom on the third floor of the G building on the main campus in Dearborn around 4 p.m. A male wearing a surgical mask put a phone into her stall, apparently in an attempt to take photos of her. 
Related: Employee accused of putting camera in bathroom at Van Buren Township gym
The student immediately contacted campus safety and alerted other students, who were able to take photos partially showing the suspect.
Campus safety is working with Dearborn police. Anyone with information is asked to contact campus safety at 313-845-9630.
Live on FOX 2
Daily Forecast
Here comes the snow. Friday will be all about the pending snowstorm that we're tracking all day - with up to ten inches possible.
What else we're watching
Alex Murdaugh to be sentenced Friday after being found guilty in murders of wife, son
Alex Murdaugh, the disgraced South Carolina attorney who was convicted of murder in the shooting deaths of his wife and son, will be sentenced Friday.
Murdaugh, 54, faces 30 years to life in prison without parole for each murder charge when he is sentenced, which in South Carolina is typically right after the verdict but can be delayed if a judge chooses.
Judge Clifton Newman set sentencing to take place Friday morning at 9:30 a.m. local time.
The jury deliberated for less than three hours before finding Murdaugh guilty of two counts each of murder and possession of a weapon during the commission of a violent crime at the end of the six-week trial.